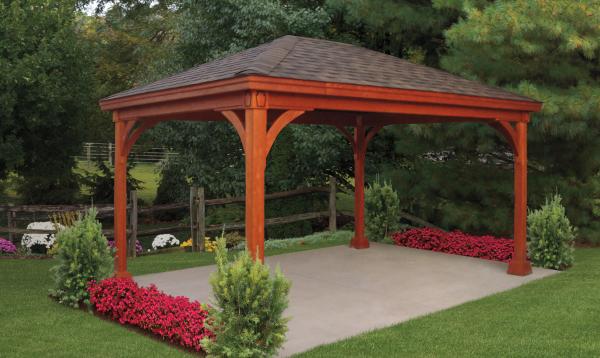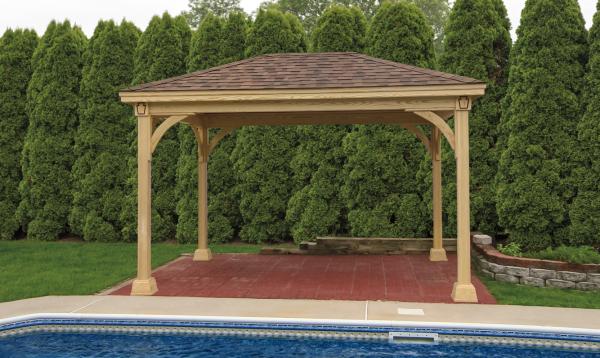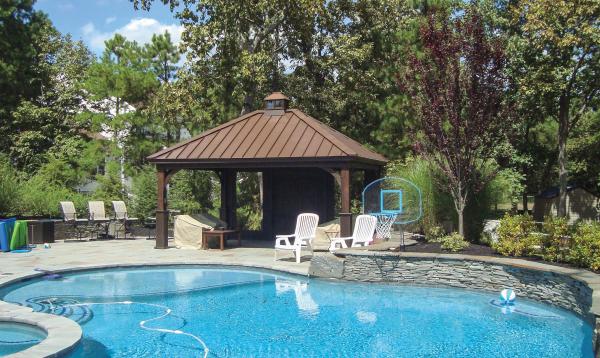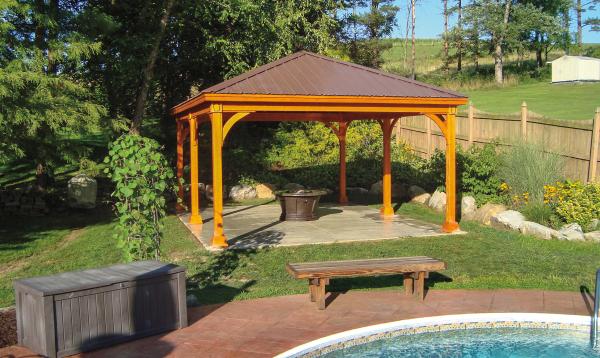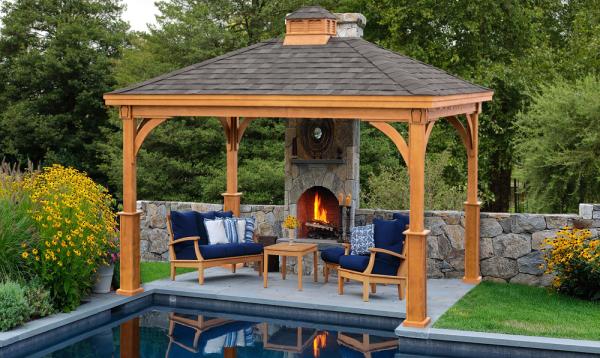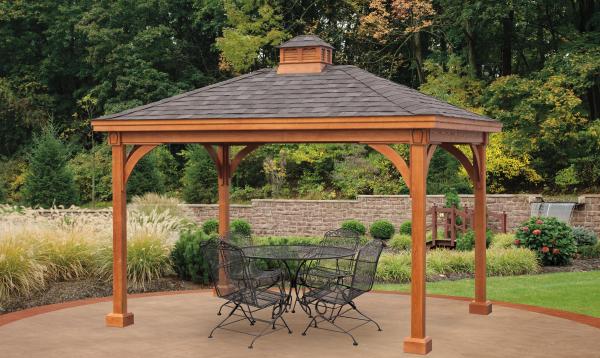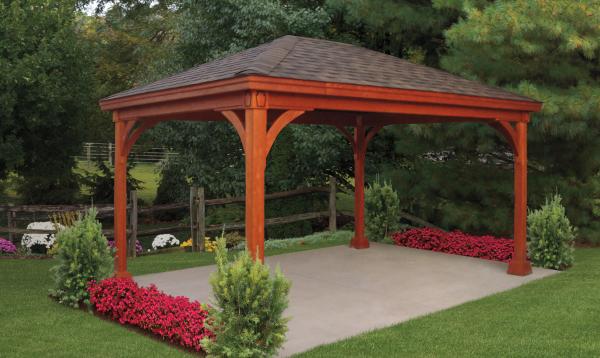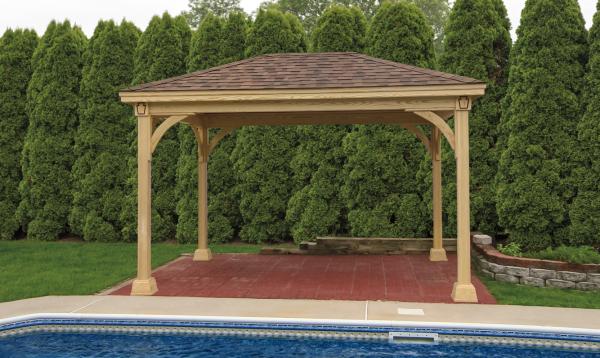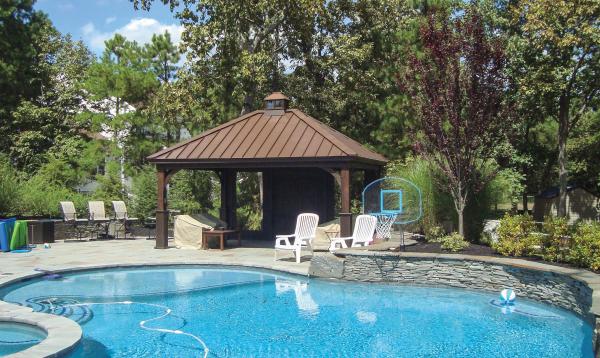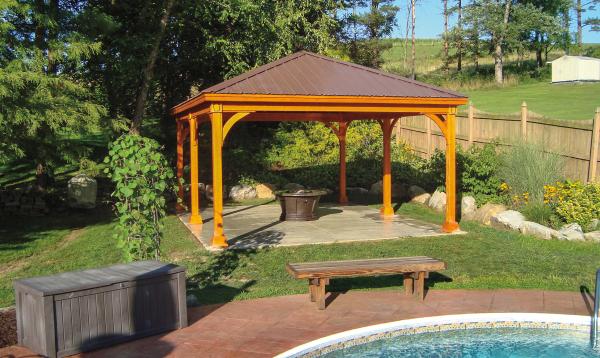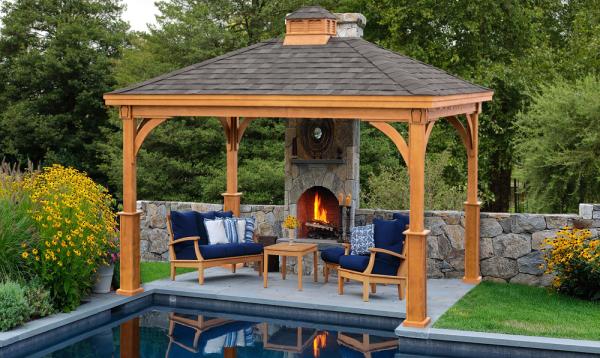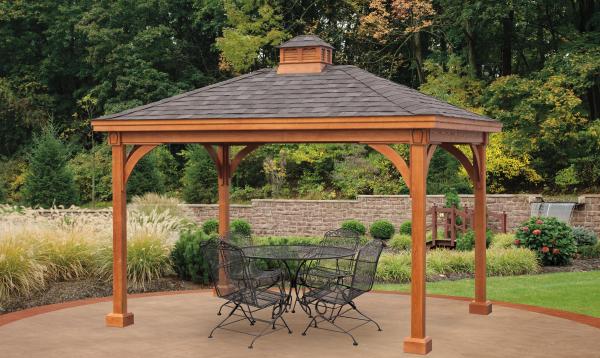 Imagine a shady, poolside retreat to relax under after hours of fun in the pool. Picture the perfect pavilion for throwing backyard BBQs to enjoy time with family and friends. Envision intimate outdoor family dinners alfresco on cool autumn evenings. 
Can you see the Keystone wood pavilion in your backyard? This rustic, handscrafted pavilion gives you a natural look for your backyard structure, letting you enjoy fresh air, sunshine, and all nature has to offer on beautiful sunny days or lazy rainy ones. Adding a wood pavilion to your property will transform your backyard into an outdoor living oasis to be enjoyed in comfort in all kinds of weather.
Are you picturing the Keystone in your backyard yet? If you're ready to talk design and pricing, give us a call at 877-272-7252 or fill out the form here to request more info or get an estimate!
Specifications
Keystone Pavilion Standards
Hip Roof or Open A-Frame
30 Yr. Architectural Shingles & Tar Paper
Unstained, PT Pine
5"x5" Standard Posts
Corner Cap with Keystone Emblem
2"x8" Header Beams with Braces
1"x6" Tongue and Groove Roof Sheathing
12' Overhang
Popular Options & Upgrades
Electrical Package
Superior 7" Post
Stained & Sealed Wood
Square or Rectangle Cupola
The Keystone wood pavilion comes standard with a distinctive brace and cornercap with a keystone emblem (after all, they're handcrafted in PA!). It also includes unique post trim and your choice of several stain options. Choose from asphalt shingles or a metal roof.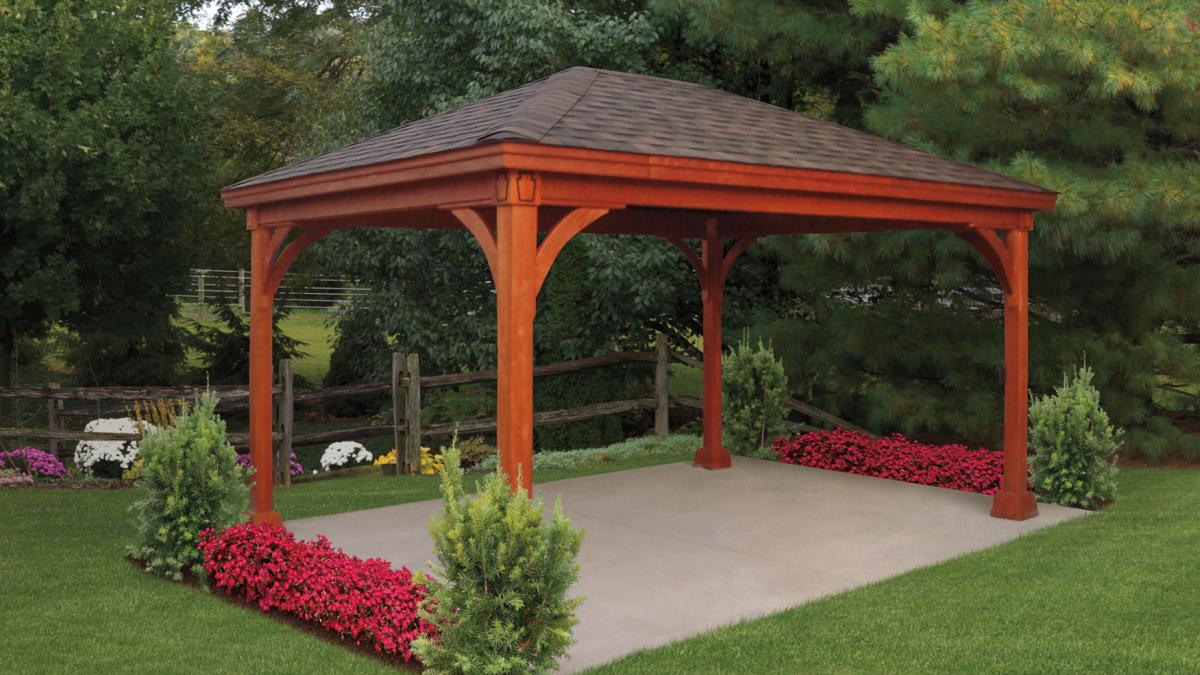 Available Sizes
10 x 10, 10 x 12, 10 x 14, 10 x 16, 10 x 20,
12 x 12, 12 x 14, 12 x 16, 12 x 18 , 12 x 20, 12 x 22, 12 x 24, 12 x 28
14 x 14, 14 x 16, 14 x 18 , 14 x 20, 14 x 24, 14 x 28, 14 x 30, 14 x 32, 14 x 36, 14 x 40
16 x 16, 16 x 20, 16 x 24, 16 x 28, 16 x 30, 16 x 32, 16 x 36, 16 x 40
20 x 20, 20 x 24, 20 x 28, 20 x 30, 20 x 32, 20 x 36, 20 x 40
Custom Sizes are Available
Amish-Built, High Quality Pavilions
Built by Amish craftsmen in Lancaster County PA, your Amish Pool House or Pavilion is prefabricated and either delivered and installed on your property, or assembled efficiently on-site. That means you get to avoid the usual noise, clutter, and dirt of most home renovations. Your property stays clean and organized and ready for entertaining within days! We can work with your landscaper or pool contractor to coordinate projects to eliminate downtime so your project can be finished in the most efficient manner available.