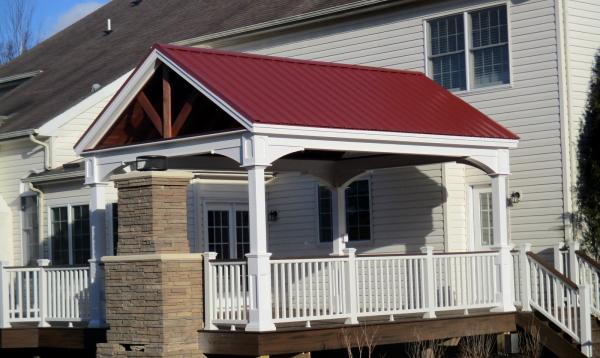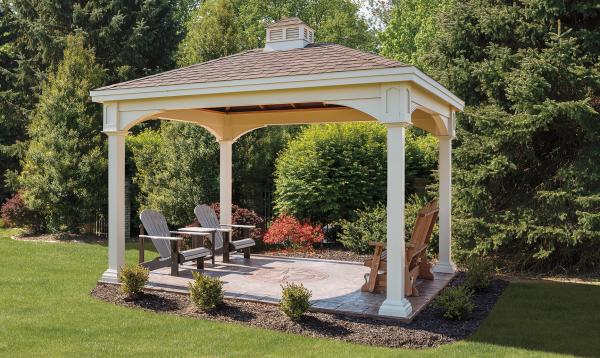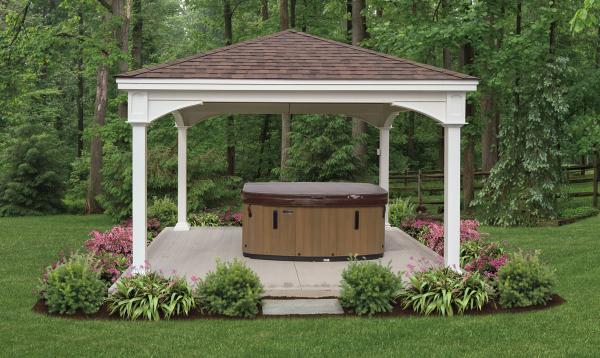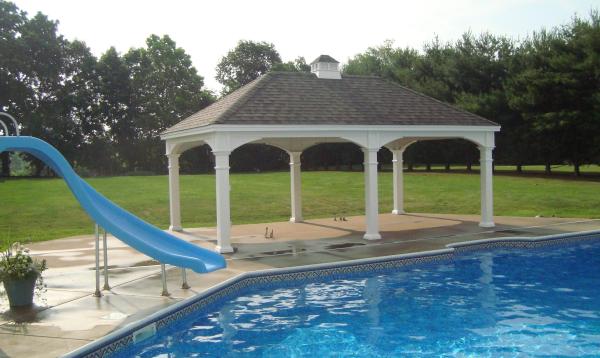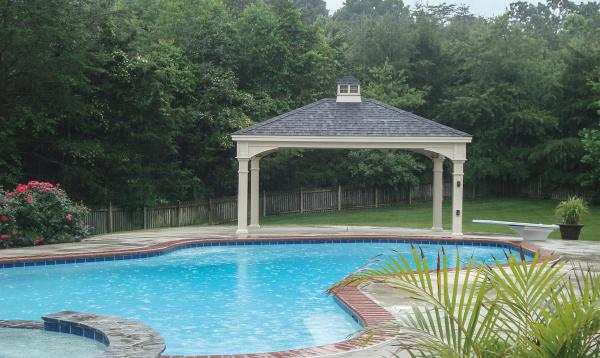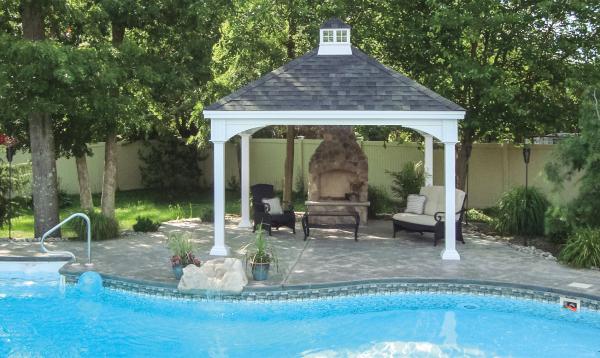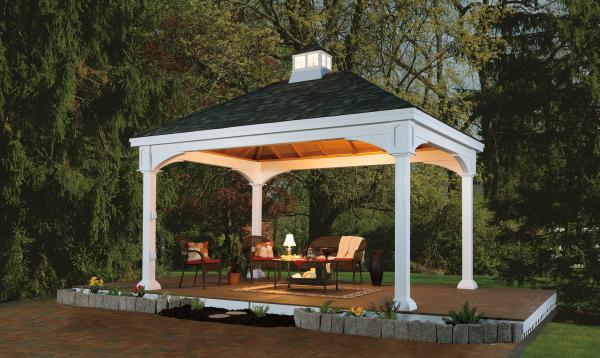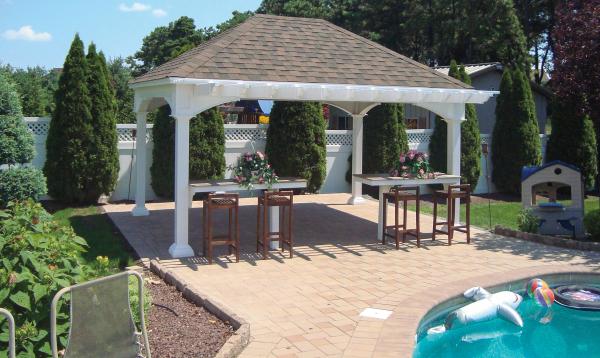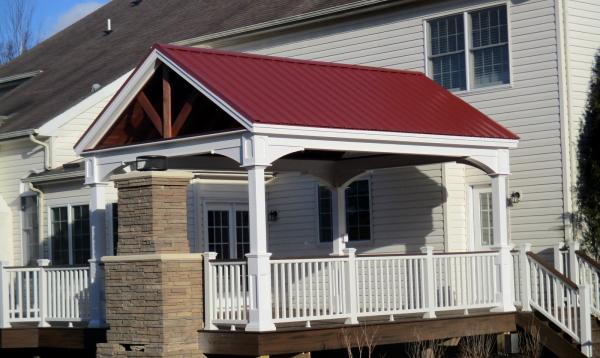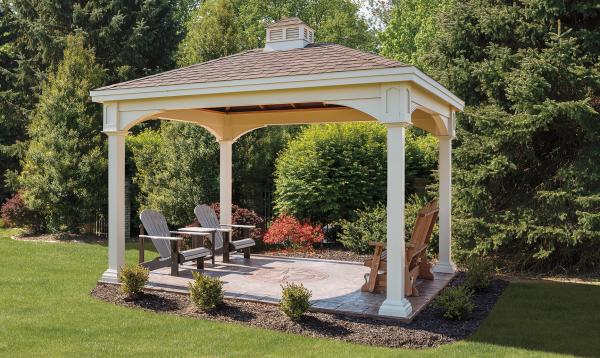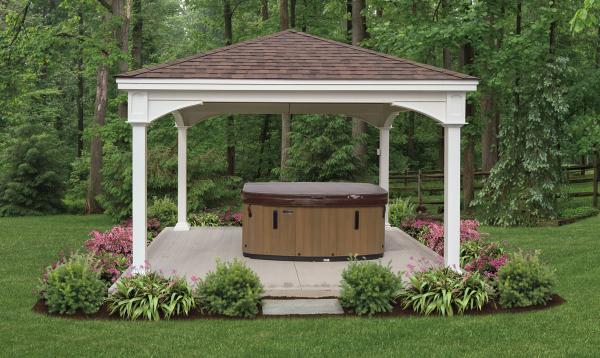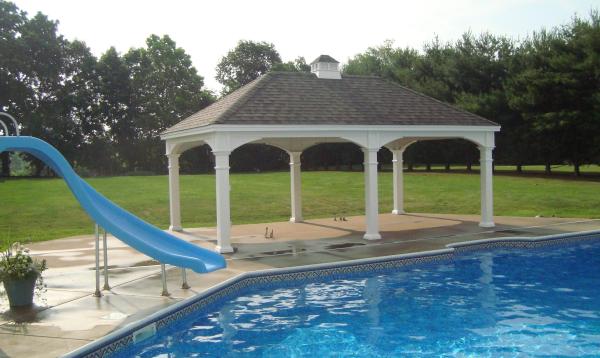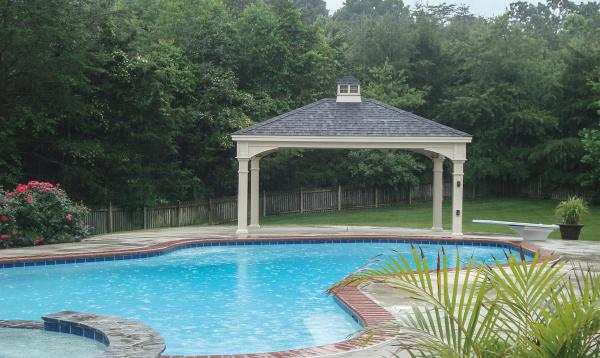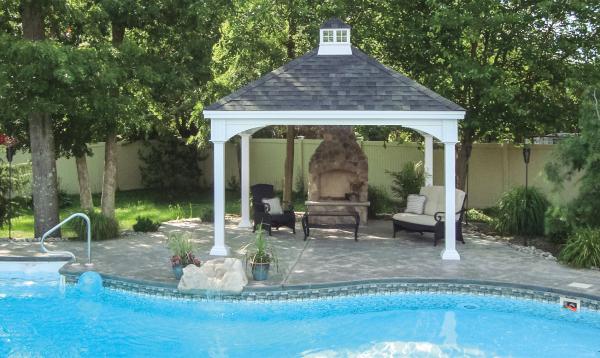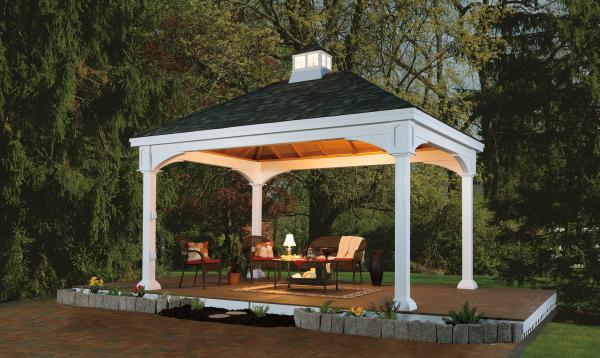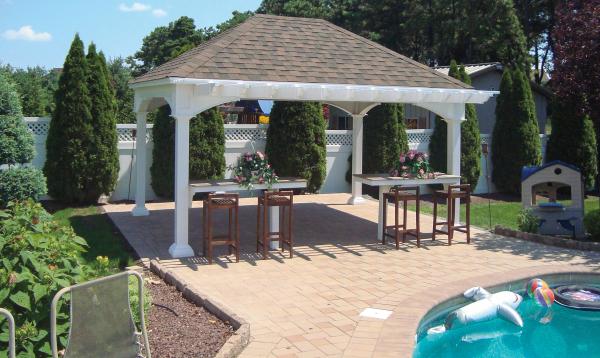 With it's distinctive recessed panel posts, header trim, and corner braces, our Manchester Pavilion design brings elegance and distinction to any backyard. Transform your yard into the ultimate outdoor living oasis with the perfect pavilion. The Manchester comes with plenty of options, from vinyl and shingle color, roof type, cuploa, electrical package, and more.
Enjoy dinner outdoors on your brand new pavilion or use it as a place for your spa or hot tub. It also makes a great poolside pavilion to give your guests a little shade on a sunny day. We can customize your Manchester pavilion kit to fit your needs and assemble it on-site for you. If you'd like a pavilion with with floor, we can deliver and install it fully assembled.
If you're ready to talk design and pricing, give us a call at 877-272-7252 or fill out the form here to request more info or get an estimate!
Specifications
Manchester Pavilion Standards
Hip Roof
30 Yr. Architectural Shingles & Tar Paper
White Vinyl with 6"x6" Vinyl Posts
2'x8' Header Beams with Braces
1"x6" T&G Roof Sheathing
Sealed Ceiling (choice of 6 colors)
12" Overhang with Soffit
Popular Options & Upgrades
Electrical Package
8" Square Superior Posts
10" Tapered Round Columns
Cupola & Weathervane
There Is No Off-Season With a Homestead Structure
Looking for a solution that allows you to use your outdoor space all year long? Our custom backyard pavilions allow you to add a fireplace firepit, or other heating element to the design of your pavilion to keep you comfortable all year round.
Or, browse our pool houses to see if that's more what you're looking for. With the ability to fulling finish our pool house interiors, you can design a backyard getaway that is as fun in the winter as it is during pool season.
Manchester with Fireplace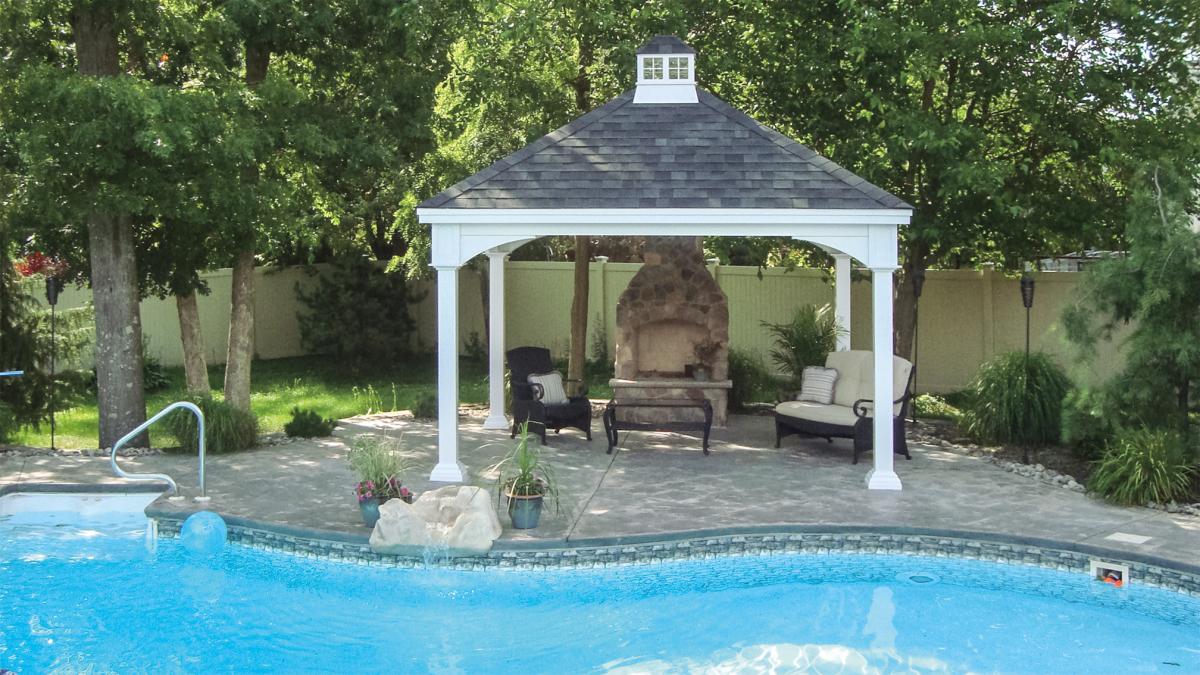 Available Sizes
10 x 10, 10 x 12, 10 x 14, 10 x 16, 10 x 20,
12 x 12, 12 x 14, 12 x 16, 12 x 18 , 12 x 20, 12 x 22, 12 x 24, 12 x 28
14 x 14, 14 x 16, 14 x 18 , 14 x 20, 14 x 24, 14 x 28, 14 x 30, 14 x 32, 14 x 36, 14 x 40
16 x 16, 16 x 20, 16 x 24, 16 x 28, 16 x 30, 16 x 32, 16 x 36, 16 x 40
20 x 20, 20 x 24, 20 x 28, 20 x 30, 20 x 32, 20 x 36, 20 x 40
Custom Sizes are Available
Amish-Built, High Quality Pavilions
Built by Amish craftsmen in Lancaster County PA, your Amish Pool House is prefabricated and either delivered and installed on your property, or assembled efficiently on-site. That means you get to avoid the usual noise, clutter, and dirt of most home renovations. Your property stays clean and organized and ready for entertaining within days! We can work with your landscaper or pool contractor to coordinate projects to eliminate downtime so your project can be finished in the most efficient manner available.