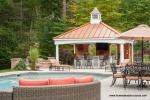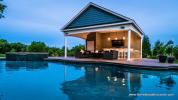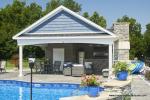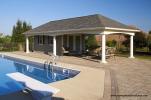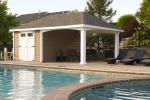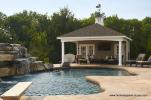 With a timeless style, the Avalon compliments a backyard retreat as an elegant pavilion blended with all the amenities of a pool house. A design that lends well to entertaining guests or simply enjoy time with family by the pool, the Avalon is the perfect way to create an outdoor living space with all the comforts of home.
As our most versatile pool house with endless possibilities, the Avalon is also our most popular. Do you dream of having a cool place to entertain guests? Add a bar, a refrigerator, and even a Kitchen. Gathering around the table with friends and family, making memories that will last a lifetime! That is priceless!
If a pool storage shed with space to store supplies is on your priority list we can incorporate that into your Avalon Pool House. Add a changing room or bathroom to keep those wet footprints out of the house, or a wall for privacy or shade from the sun. The options are endless and we would love to build the perfect pool house for you.
Available Sizes:
10 x 16 - 10 x 20
12 x 16 - 12 x 18 - 12 x 20 - 12 x 24
14 x 16 - 14 x 18 - 14 x 20 - 14 x 24
16 x 16 - 16 x 20 - 16 x 24
Custom Sizes are available