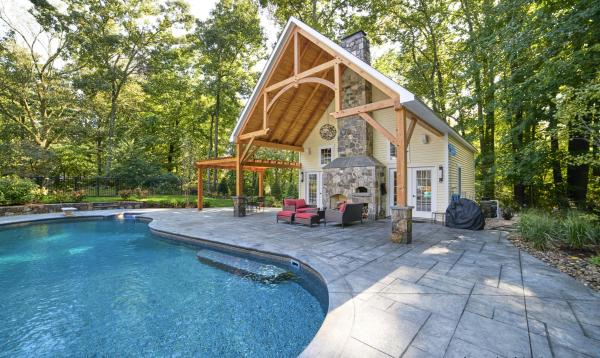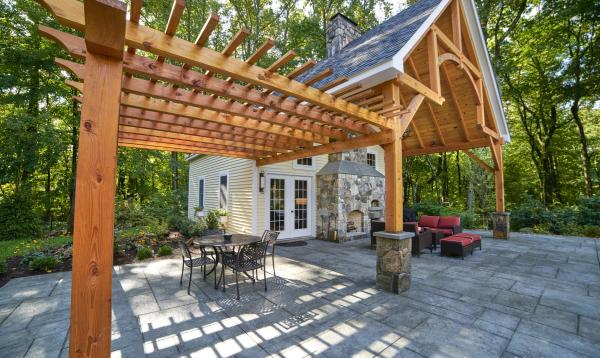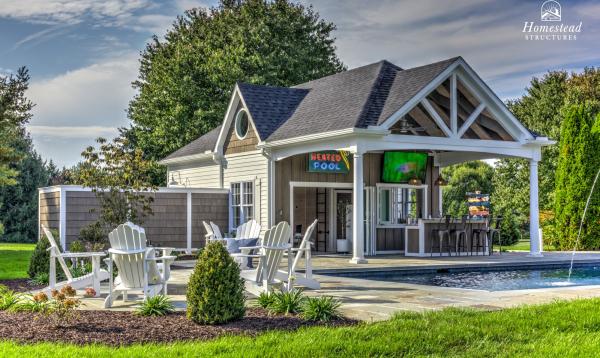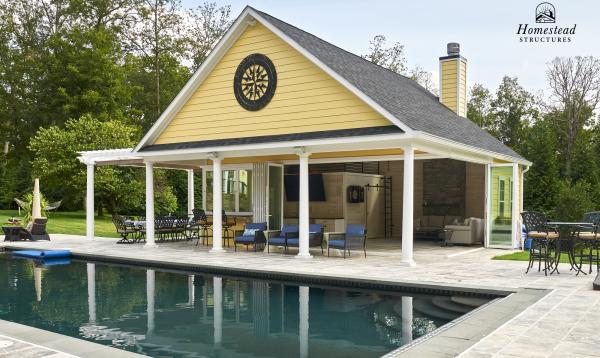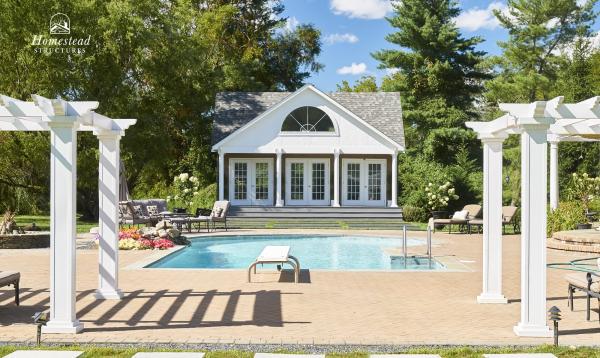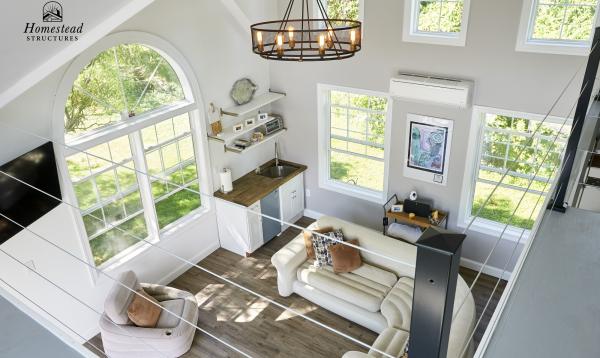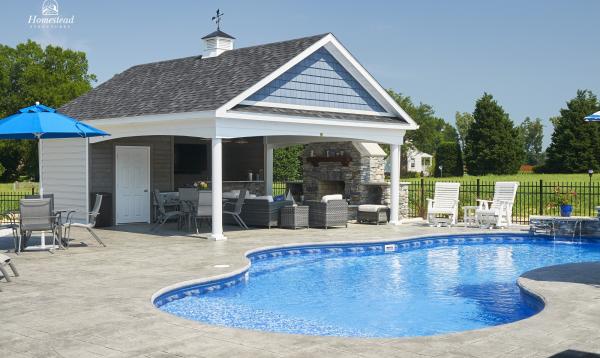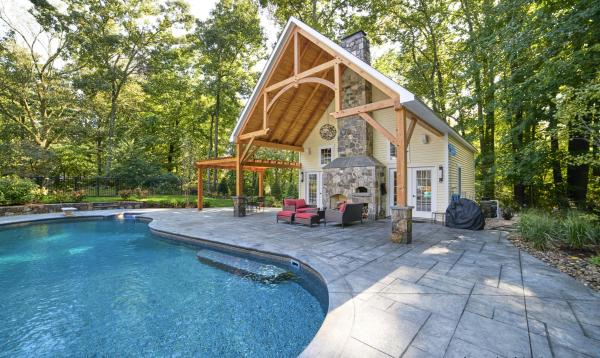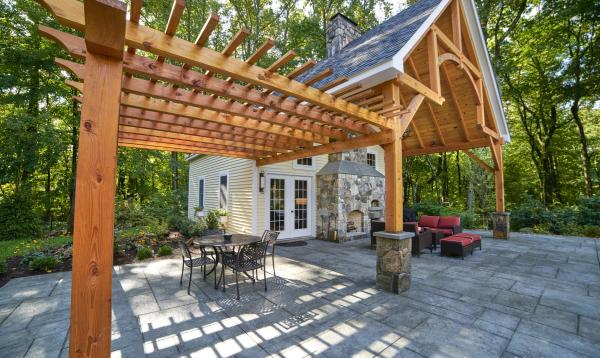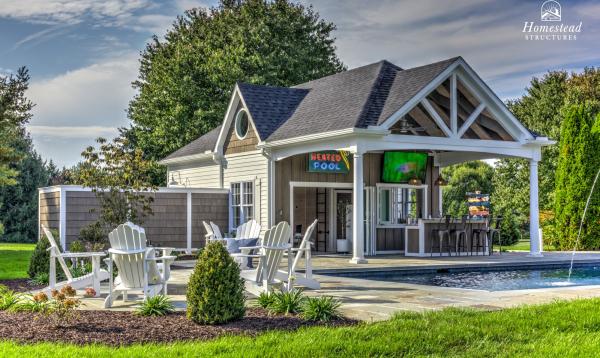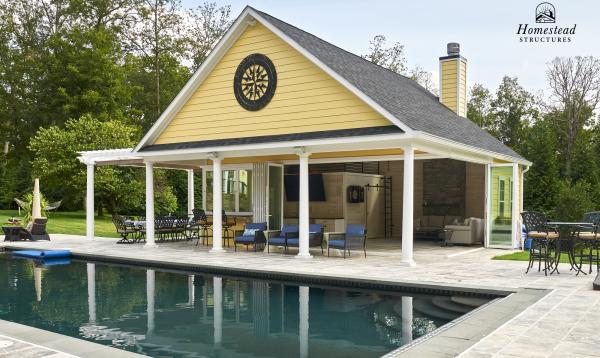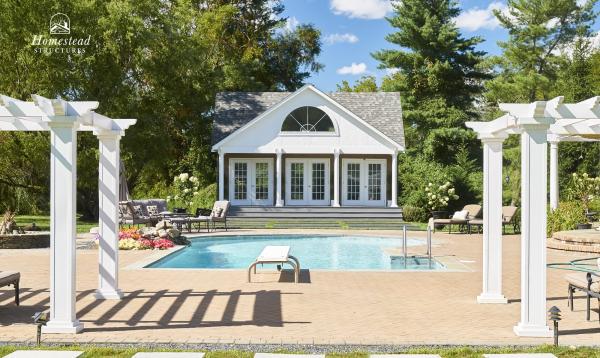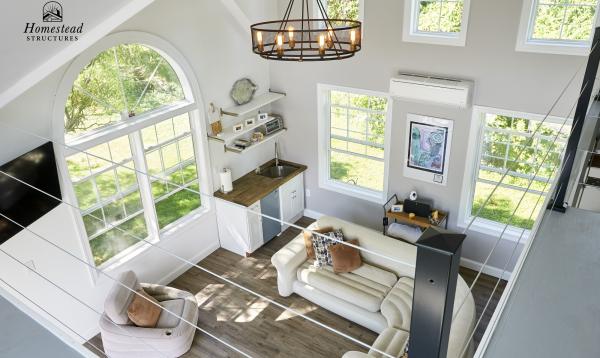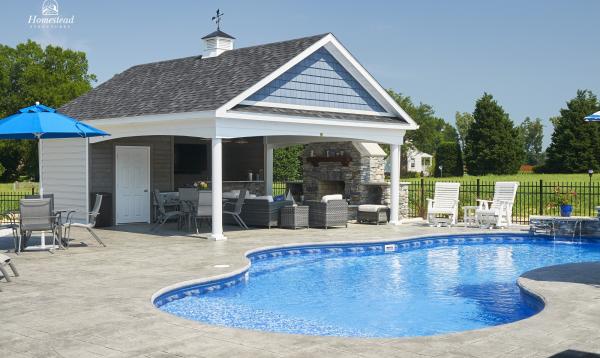 If you can dream we can build it. Custom buildings from the Homestead Collection are dreams brought to reality by our capable craftsmen. Show us a picture, or a rough sketch, share an idea, and we will help you catch your vision for the ultimate pool that reflects you and fits your unique needs. With unlimited custom options available, we help you stay within your budget and have it completed in a timely manner.
The sky's the limit with a custom build pool house. Start planning your backyard transformation today!
Specifications
Outdoor Kitchens
Bathroom/Changing Rooms
Exterior Showers
Guest Rooms
Fireplace
Granite Countertop
Metal Roofing
Timber Frame Construction
Stone Veneer
Customize Your Pool House
Roof options include everything from architectural shingles to the durability of standing seam metal roofs. Add a custom cupola and a weathervane, for your distinctive look. Do you love the natural warmth and beauty of timber framing? Add it your custom porch, or in the interior in the size that works best for you.
With a variety of different sidings such as D-Temp, board and batten, clapboard, vinyl, cedar shakes, vinyl shakes and stone veneers, it's easy to find a style that matches your tastes.
Finish off your interior for a true outdoor living oasis! Interior options include a full bathroom, a changing room, a kitchen, lounging area, loft, and even a bedroom. Consider a tile floor, or a basic linoleum, or bring the beauty of wood indoors with our hardwood flooring option. The sky's the limit when it comes to your custom-built pool house.
You'll start with a design consult with our experienced sales team. Talk to them about what you like, send sketches, pictures, tell us what you like on our website, etc.
From there, they'll get you a a free project estimate. Once all the details are agreed upon, you'll sign your Sales Order and put down your deposit so our expert designers can work on your drawrings and 3-D renderings. We want to make sure every detail is right before we start the building process!
We'll also help guide you through the permitting process (it varies per township) and provide sealed drawings if necessary. Our goal is to make getting your new pool house as hassle-free as possible! Ready to request your free estimate today?
Amish-Built Custom Pool Houses
Built by Amish craftsmen in Lancaster County PA, your Amish Pool House is prefabricated and either delivered and installed on your property, or assembled efficiently on-site from a kit prefabricated at our shop. That means you get to avoid the usual noise, clutter, and dirt of most home renovations. Your property stays clean and organized and ready for entertaining within days! We can work with your landscaper or pool contractor to coordinate projects to eliminate downtime so your project can be finished in the most efficient manner available.