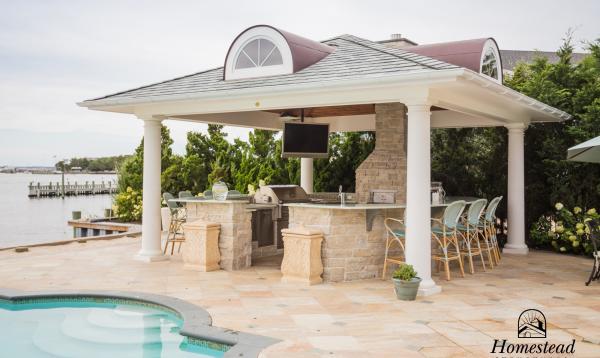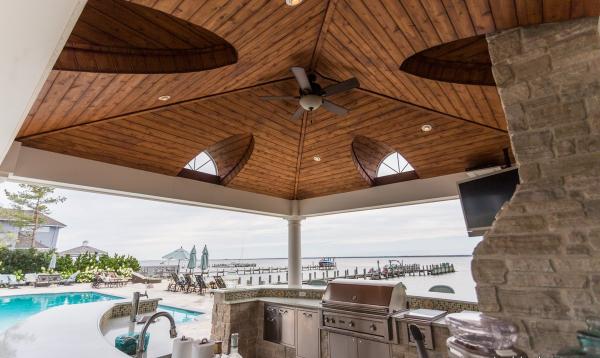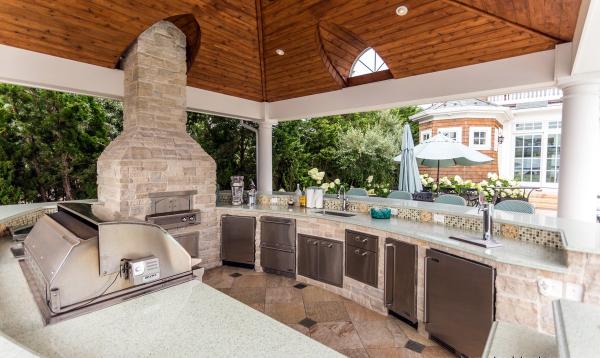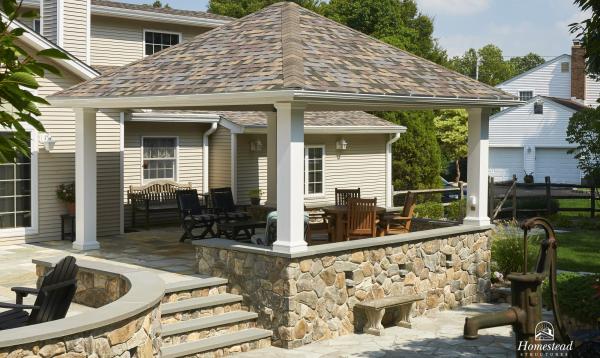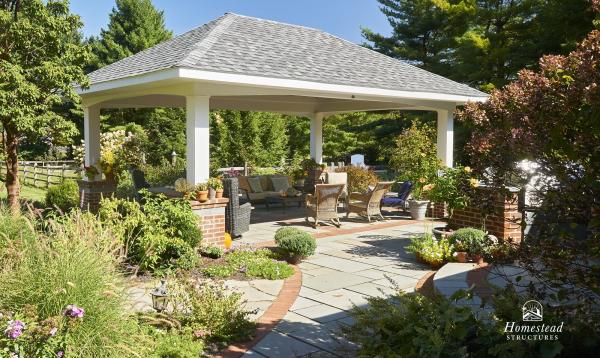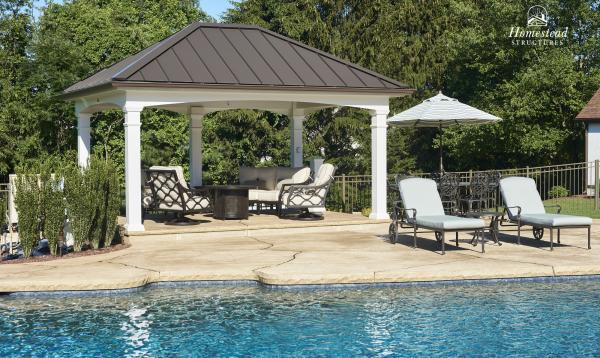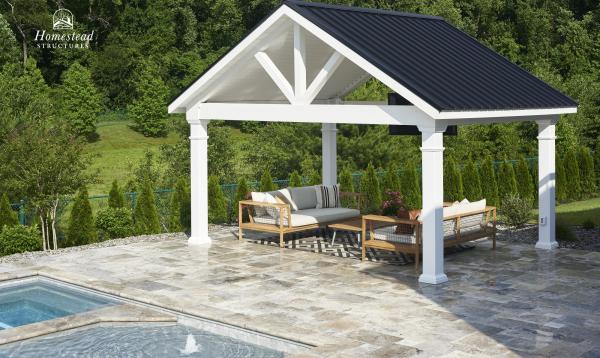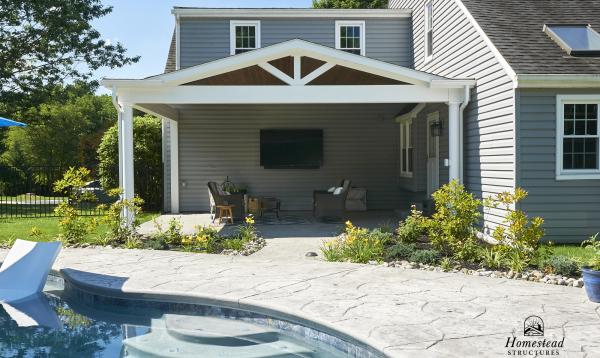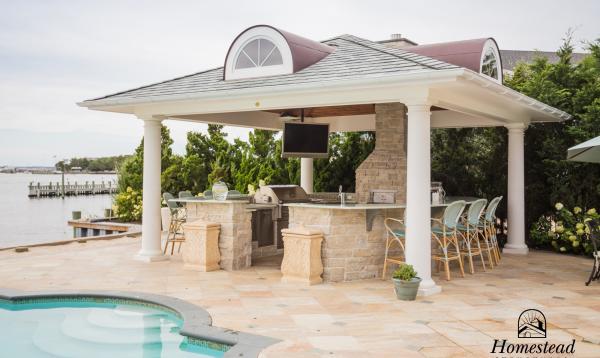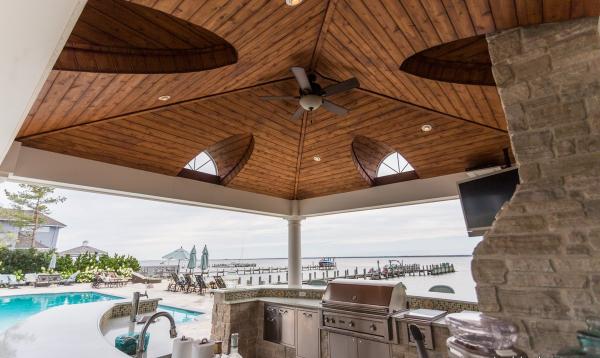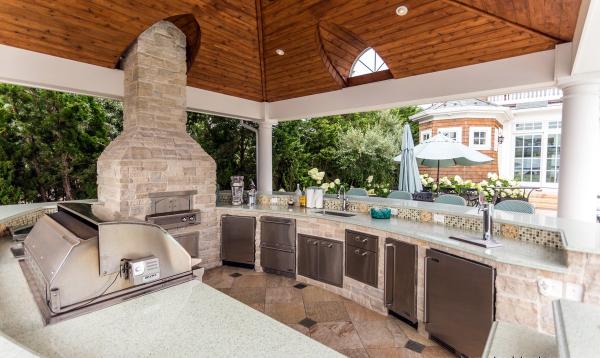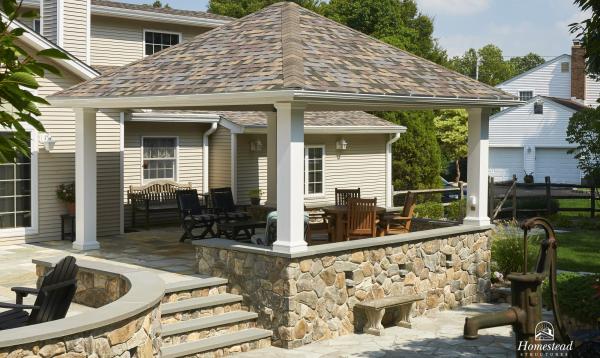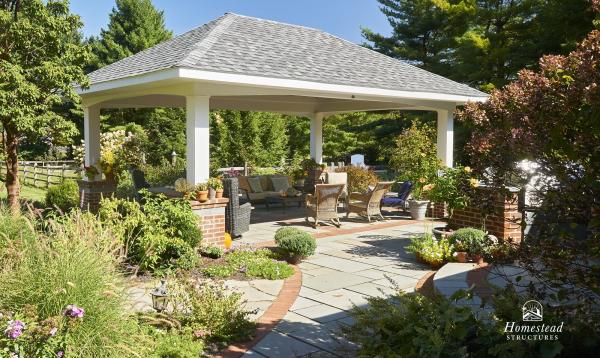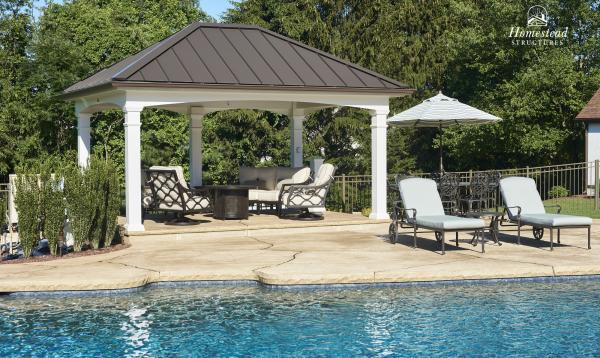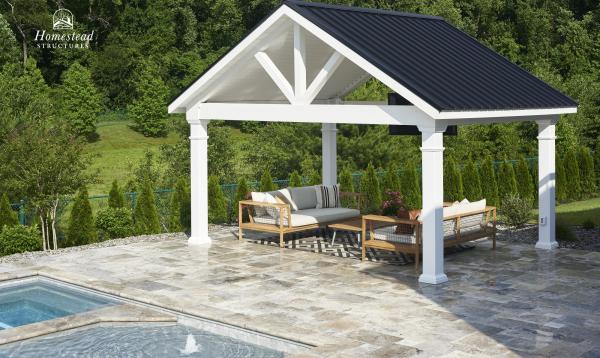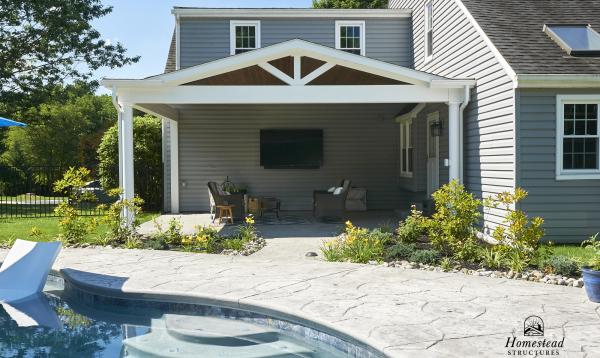 Dreaming of the perfect pavilion for your backyard? Here, at Homestead Structures, our Vintage pavilions are a customer favorite, since they provide the perfect area to entertain beside the pool. One of these pavilions can take your backyard pool from classic to timeless.
With custom options that range from the basic electrical package to a bar counter with a built in pizza oven and drink dispenser, create the oasis you've been missing with this Homestead-approved favorite.
Architectural drawings and 3-D renderings can help you visualize how your Pavilion can enhance your relaxation time.
Specifications
Vintage Pavilion Standards
Hip Roof
30 Yr. Architectural Shingles & Tar Paper
8" Round Vinyl Columns (with solid wood post inside)
Miratec Beams
Vinyl Ceiling
8" Overhang
Popular Options & Upgrades
Electrical Package
Ceiling Fan & Light Combo
Bar Counter with Granite Countertops
Kitchen Appliances
Fireplace
Pine Tongue & Groove Ceiling
Standing Seam Metal Roof
Customer Testimonial - Custom Vintage
We decided to put together a space for our family to engage the exterior with the interior. The process of creating our Pavilion began with taking the natural elements of the Shore combined with the elements of the main home. Homestead was able to find everything we needed from stone to cedar wood ceilings, all of our appliances, stone countertops, slate roof - whatever we wanted they said they could find and they delivered! They even built our outdoor changing/shower rooms. Our new pavilion is fully furnished with everything we could want in an outdoor kitchen and is officially our favorite place to entertain!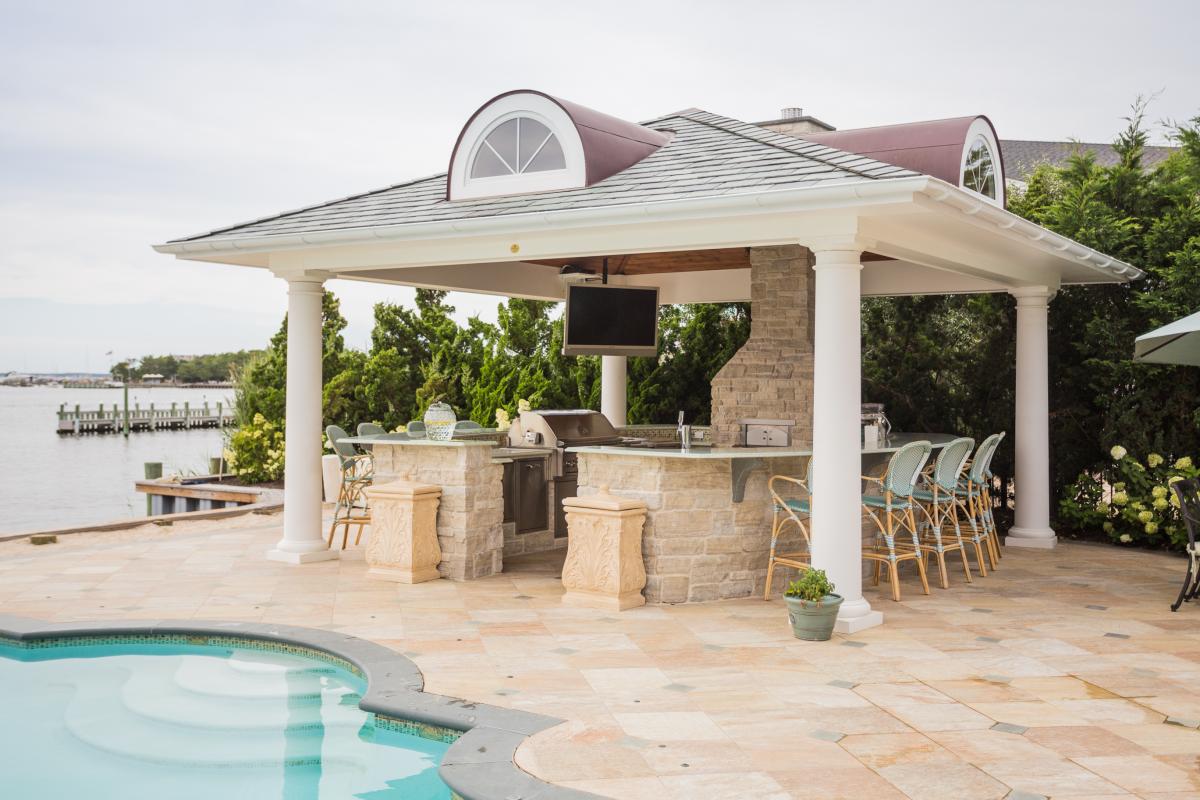 Available Sizes
10 x 10, 10 x 12, 10 x 14, 10 x 16, 10 x 20,
12 x 12, 12 x 14, 12 x 16, 12 x 18 , 12 x 20, 12 x 22, 12 x 24, 12 x 28
14 x 14, 14 x 16, 14 x 18 , 14 x 20, 14 x 24, 14 x 28, 14 x 30, 14 x 32, 14 x 36, 14 x 40
16 x 16, 16 x 20, 16 x 24, 16 x 28, 16 x 30, 16 x 32, 16 x 36, 16 x 40
20 x 20, 20 x 24, 20 x 28, 20 x 30, 20 x 32, 20 x 36, 20 x 40
Custom Sizes are Available
Amish-Built, High Quality Pavilions
Built by Amish craftsmen in Lancaster County PA, your Amish Pool House is prefabricated and either delivered and installed on your property, or assembled efficiently on-site. That means you get to avoid the usual noise, clutter, and dirt of most home renovations. Your property stays clean and organized and ready for entertaining within days! We can work with your landscaper or pool contractor to coordinate projects to eliminate downtime so your project can be finished in the most efficient manner available.