Custom Vinyl & Wood Pergolas
Custom Vinyl & Wood Pergolas
Adding an air of luxury & sophistication to your outdoors
Add an air of charm to your backyard entertainment with an outdoor pergola.
From intimate outdoor family dinners to upscale backyard BBQs with friends, a wooden or vinyl pergola makes the perfect addition to your outdoor living space. With their old-world style and charm, pergolas bring an ambience of charm, sophistication, and peace to any backyard space. Whether you're looking for a deck or patio pergola, the perfect structure for your poolside, or a garden pergola to enhance your yard, Homestead Structures can help design the perfect custom pergola to suit your needs and style.
If you're ready to elevate your outdoor space and enjoy your beautiful new pergola by next summer, this fall is a great time to start the process. It will give you plenty of time to design your pergola, prepare the area, and landscape and furnish your patio once your structure is installed. To get started, just fill out the form above to discuss pergola ideas and designs with our outdoor living specialists and get a free quote for your pergola project.
There are many benefits to adding a pergola to your backyard:
Pergolas provide just enough shade to give you a cool spot to lounge during the hottest hours of the day.
They can double as arbors and trellises, allowing you to grow vine or climbing plants for an even more natural look.
They add a focal point to your outdoor living space and make a perfect place for entertaining that guests won't soon forget.
They can be built as an attachment to the back of the house, on a patio, or as a a free-standing structure, perhaps by the pool.
Gorgeous outdoor living spaces and structures can add a lot of value to your home and property.
You can easily add a pergola cover or shade to add more protection from the elements, including rain and sun.
"They gave us a lot of confidence that they knew what they were doing and that we would end up with what we wanted and we really did end up with what we wanted.  It's changed our backyard, changed our pool and it's a family structure that we use all year-round. "

- Tim Roesing
Things to Consider Before You Buy a Pergola
Do you want an attached pergola, or a free standing pergola?
Will you be placing it on a stone patio, wood deck, or in the grass or garden?
Do you prefer the look of a vinyl pergola or wood pergola?
If you want a wood, what type of wood - cedar, redwood, eastern pine, heavy timber, etc.?
What size pergola is ideal for your space?
Do you wish to add a canopy, shade or roof of some type to your pergola?
Pergolas for Sale in PA, NY, NJ, MD, DE & More
Homestead Structures is happy to provide fine custom pergolas to the Mid-Atlantic area, including Pennsylvania, New Jersey, New York, Maryland, and Delaware. We also service MA, CT and VA, and can ship our kits anywhere in the U.S. We can build both vinyl, wood and aluminum pergolas to your specifications. Popular sizes include 8' x 8'. 8' x 10', 10' x 10', 12' x 12' and 12' x 16' pergolas. To get an idea of pergola costs and prices, give us a call at 877-272-7252 or fill out the form.
If you're looking for something more shaded the can be used in all kinds of weather, you may want to check out our outdoor pavilions.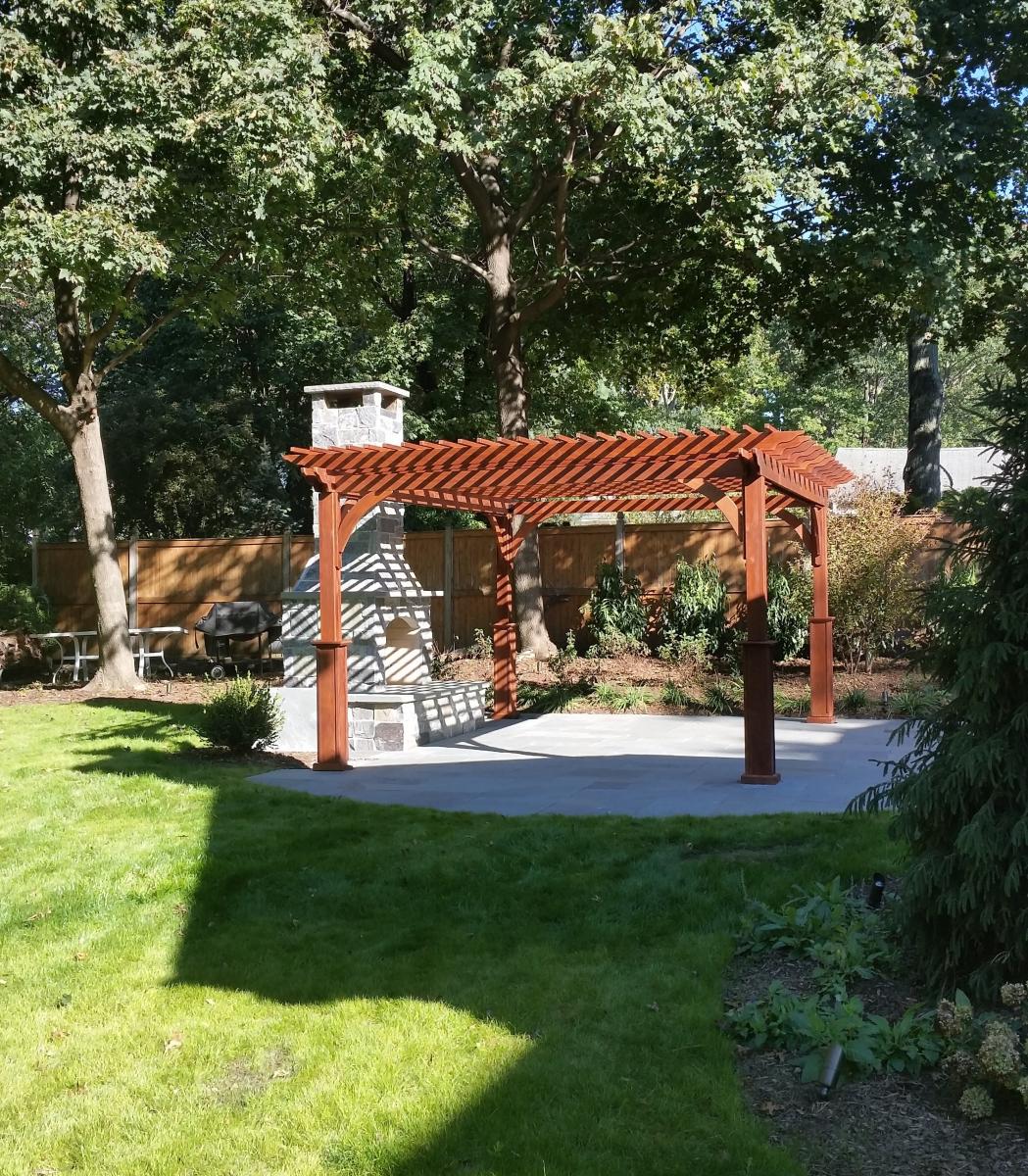 Need Financing?
Homestead offers payment plans and has partnered with Light Stream in order to offer you a variety of payment options for your new pool house or outdoor living structure.
Need Inspiration?
Browse our photo gallery to find inspiration for your pool house design and see for yourself the hand-crafted appeal of our custom structures.