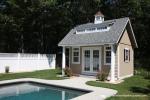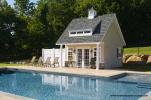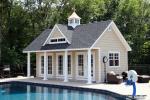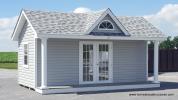 Echoing a classic southern feel, the Heritage pool house features a spacious design with double doors, windows for excellent cross ventilation and optional porch columns. Available with upgrades for personalization and style, the Heritage is an elegant backdrop for poolside parties and gatherings, providing functional space for practical needs while complimenting any natural outdoor setting.
Inside the option of a fully finished interior can give you all the comforts of home on a smaller scale. A full kitchen with a refrigerator and a stove, a sink and even a dishwasher to make cleanup a breeze. Consider adding a changing room and/or a bathroom to keep wet footprints out of the house and enhance the value of your custom poolhouse.
Enjoy the bright, airy effects of a cathedral ceiling or add a loft for valuable storage space. A full (or Partial) second floor can enhance your space and make the Heritage the pool house that gives you all the enjoyment that you want.
Available Sizes:
12 x 12 - 12 x 14 - 12 x 16
14 x 14 - 14 x 16 - 14 x 18 - 14 x 20
16 x 14 - 16 x 16 - 16 x 18 - 16 x 20 - 16 x 24
18 x 14 - 18 x 16 - 18 x 18 - 18 x 20 - 18 x 24
Custom Sizes are Available