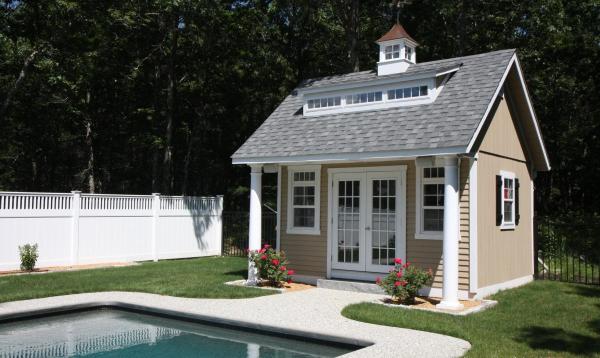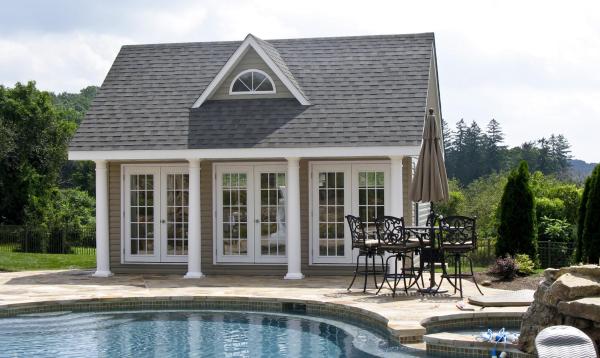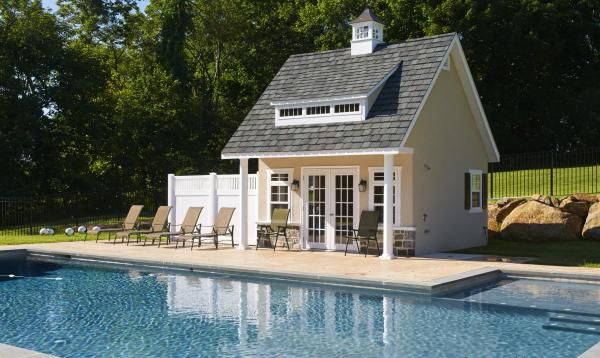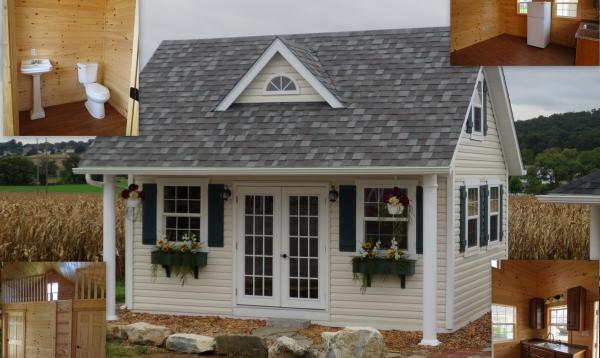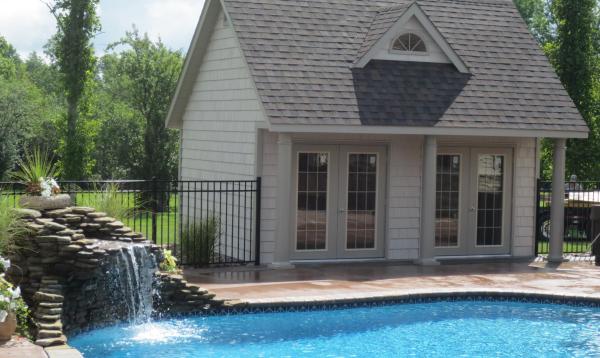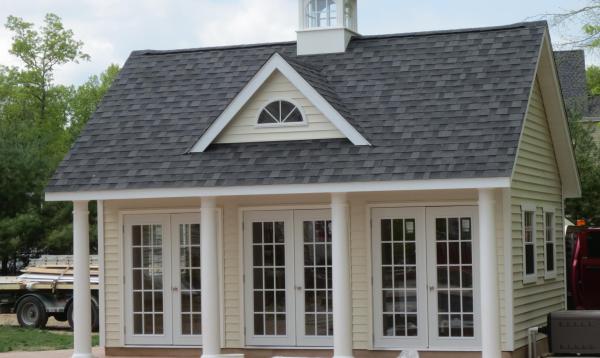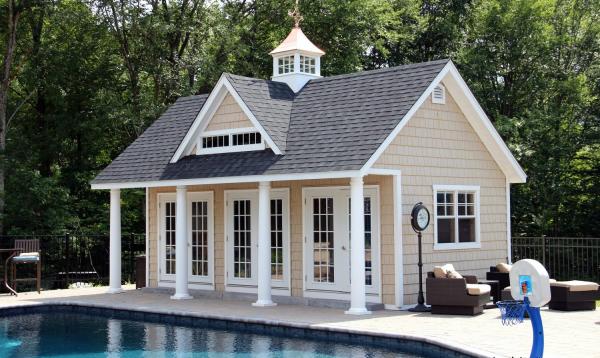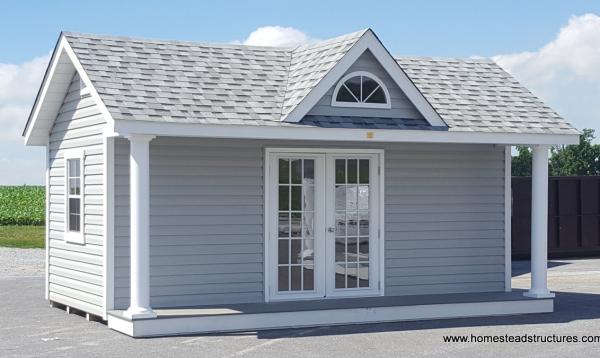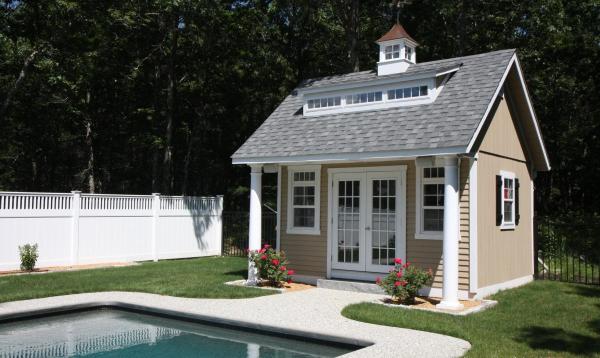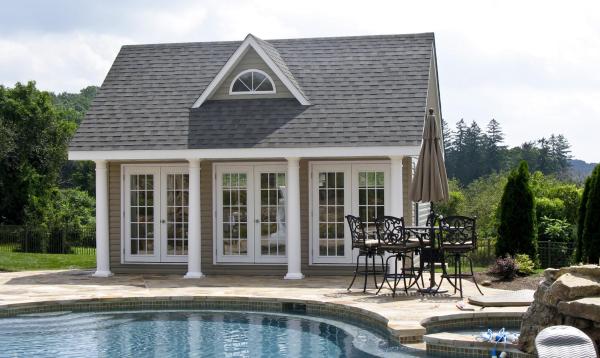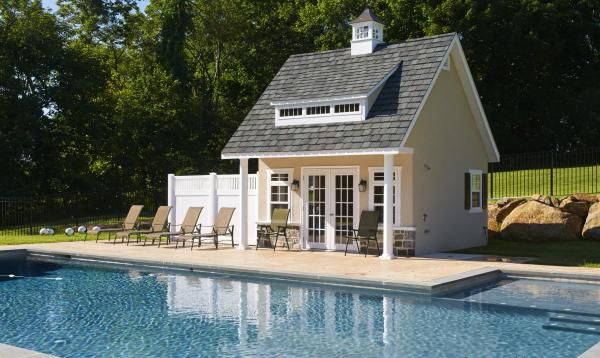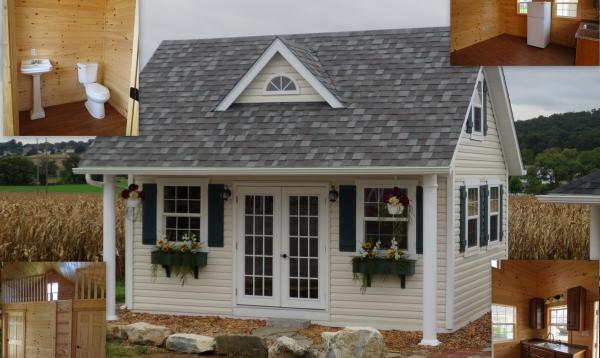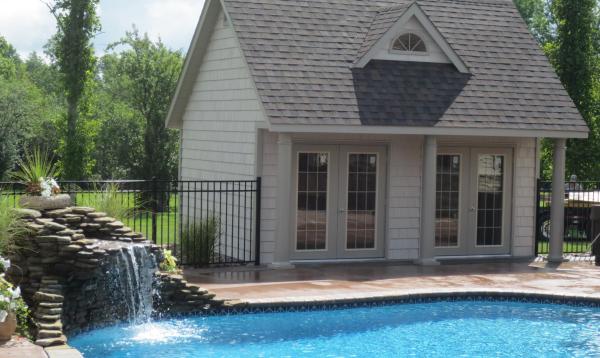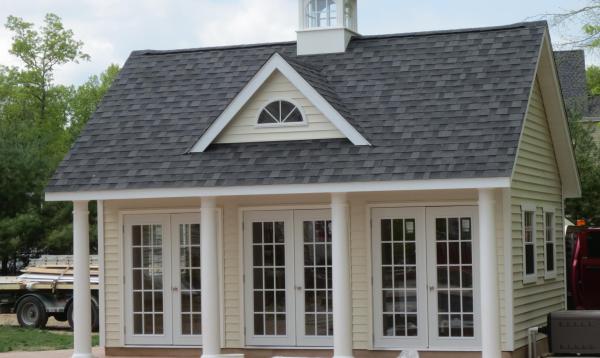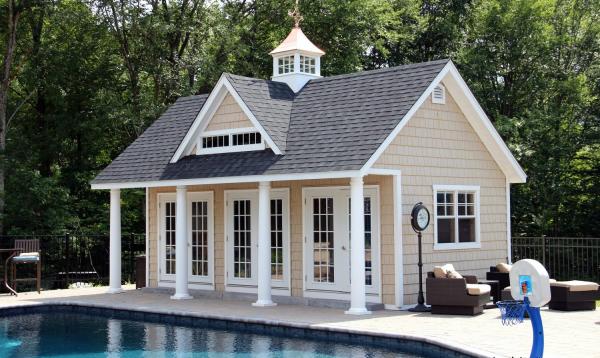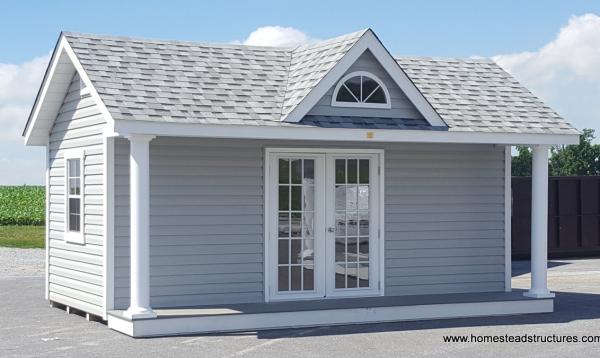 Echoing a classic southern feel, the Heritage pool house features a spacious design with double doors, windows for excellent cross ventilation and optional porch columns.
Available with upgrades for personalization and style, the Heritage is an elegant backdrop for poolside parties and gatherings, providing functional space for practical needs while complimenting any natural outdoor setting.
Specifications
A-Frame Roof
DuraTemp or Vinyl Siding
Miratec Trim
Pre-Hung Single 15-Lite Glass Door
(2) 24"x36" Windows with Screens
3' Porch with 8" Rounded Vinyl Columns
30 Yr Architecural Shingles & Tar Paper
LP Soffit Vent & Classic Gable Vents
Heritage Classic
7/12 Roof Pitch
6' 10" Wall Height
Heritage Century
9/12 Roof Pitch
7'4" Wall Height
Heritage Liberty
12/12 Roof Pitch (10/12 on 16' & Wider)
7'9" Wall Height
Room for a 2nd Floor
Leave your Heritage unfinished for extra storage for pool equipment and toys or finish it off for the ultimate pool house experience.
Inside the option of a fully finished interior can give you all the comforts of home on a smaller scale. A full kitchen with a refrigerator and a stove, a sink and even a dishwasher to make cleanup a breeze. Consider adding a changing room and/or a bathroom to keep wet footprints out of the house and enhance the value of your custom poolhouse.
Enjoy the bright, airy effects of a cathedral ceiling or add a loft for valuable storage space. A full (or Partial) second floor can enhance your space and make the Heritage the pool house that gives you all the enjoyment that you want.
Envision the Possibilities
Customers have can add a variety of features to their custom Heritage, because we know that details matter. Big things like dormers and cupolas, and little things like the perfect light fixture.  
With a variety of sizes and options, from authentic wood siding or upgraded vinyl siding to stone veneer siding, the Heritage Pool House can be customized to fit your needs and your budget.
We love bringing all those details together and with our in house 3-D rendering capabilities you can  see the details before we start building. Homestead can design a custom pool house that is perfectly suited to you. Our drawings & renderings can help you envision how the Heritage will enhance your pool time!
Available Sizes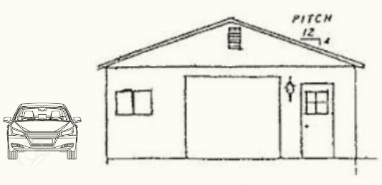 12 x 12 - 12 x 14 - 12 x 16
14 x 14 - 14 x 16 - 14 x 18 - 14 x 20
16 x 14 - 16 x 16 - 16 x 18 - 16 x 20 - 16 x 24
18 x 14 - 18 x 16 - 18 x 18 - 18 x 20 - 18 x 24
Custom Sizes are Available
Amish-Built, High Quality Pool Houses
Built by Amish craftsmen in Lancaster County PA, your Amish Pool House is prefabricated and either delivered and installed on your property, or assembled efficiently on-site. That means you get to avoid the usual noise, clutter, and dirt of most home renovations. Your property stays clean and organized and ready for entertaining within days! We can work with your landscaper or pool contractor to coordinate projects to eliminate downtime so your project can be finished in the most efficient manner available.