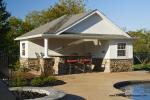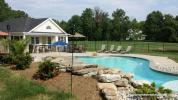 A classic and tasteful design tailored for parties and outdoor gatherings, the Wellington is a graceful addition to any outdoor venue or home space. Available in different sizes or upgrades, this pool house blends functional amenities such as walk in showers and interior finishes, into luxurious comfort offering much to add to your event and memories.
Featuring a bar that can include the option of a built in grill or even a pizza oven for entertaining ease. Imagine a granite countertop, and a refrigerator to make this the ultimate outdoor kitchen. Let the durability and natural beauty of stone (or the finish of your choice) shine through by adding it to the exterior of your bar and pool structure.
The interior of your Wellington pool house can be fully customized with a changing room, a bathroom, a kitchen, a lounge room, or whatever makes the Wellington pool house best suited to your needs. Add a TV so no matter what you can still watch the game, or an outdoor shower to cut down on those wet footprints through the house. 
Available Sizes:
14 x 20 - 14 x 24 - 14 x 28
16 x 20 - 16 x 24 - 16 x 28
Custom Sizes are available