Premier Garden Sheds & Garden Storage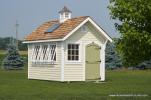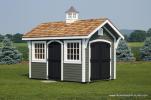 If you're an avid gardener, you would probably love to have a place to store all your tools and gardening supplies so you can easily find them when you need them.
You may also want a garden shed to provide some much needed workspace too, so you can plant seeds, transplant container plants and much more.
A practical, yet beautiful addition to any backyard or garden, our garden sheds offer aesthetic style, durable construction and ample workspace for avid gardeners and landscapers. Choose from traditional A frame designs or add a bit of flair with our Belle Roof garden sheds.
Homestead is able to custom Design your Garden Shed and provide a 3D Rendering Image of how your Garden Shed will look!