Timber Frame & Wooden Pavilions
Timber Frame & Wooden Pavilions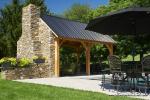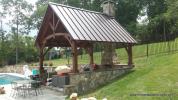 Bring the natural warmth and beauty of wood to your home with a Timber Frame Pavilion. Combining state of the art precision with centuries old craftsmanship, a Timber Frame Pavilion will give you lasting beauty and years of enjoyment. Creating an organic living space  in your backyard has never looked this good.
Available in custom sizes, a Timber Frame Pavilion can be built onto your existing patio or deck or it can be freestanding structure. With customizable options that range from a standing seam metal roof, to a basic electrical package and endless possibilites, in between. Add a Timber Frame to your landscape for an elegant backdrop for all of your family gatherings.
With our in house design team Homestead can custom design the Pavilion that is perfectly suited to you. Architectural drawings and 3-D renderings can help you visualize how your Pavilion can enhance your relaxation time.
Available Sizes:
10 x 12, 10 x 14, 10 x 16, 10 x 20,
12 x 16, 12 x 18 , 12 x 20, 12 x 22, 12 x 24, 12 x 28
14 x 16, 14 x 18 , 14 x 20, 14 x 24, 14 x 28, 14 x 30, 14 x 32, 14 x 36, 14 x 40
Custom Sizes are Available