Siesta Poolside Bar & Cabana
Siesta Poolside Bar & Cabana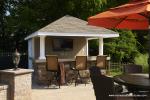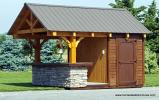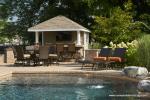 The perfect place to gather friends and family on gorgeous summer days and nights, the Siesta poolside bar features an inviting place to sit and relax while enjoying great food and conversation. Also providing for practical needs, this pool cabana design figures space for storage and privacy, combining functionality with hospitality and entertainment into one fun package. The Siesta takes the traditional bar shed to the next level! Fill out the form today for a free project estimate!
Entertaining is easier than ever with a Siesta, since this versatile pool cabana can be designed as simple or as extravagant as you wish. Adding a refrigerator, or a built in grill, and cabinets underneath the bar makes entertaining or just hanging out by the pool even more fun. Other options that can enhance the value of your Siesta pool house include a light and fan combo for warm summer nights, and tile or granite countertop.
The enclosed room in the back can be a simple pool equipment shed for pool toys and pool supplies or it can be used for a changing room with a finished interior. Add a fully finished bathroom, or an outdoor shower and keep those wet, grassy footprints out of your house! With a variety of sizes and siding options, from authentic wood siding to vinyl siding and even a stone veneer on the bar and sides, the Siesta pool shed with bar can be custom designed to meet your needs and your budget. When you're ready to design your perfect pool cabana, give Homestead a call!
Available Sizes:
8 x 12 - 8 x 16
10 x 12 - 10 x 14 - 10 x 16 - 10 x 18 - 10 x 20
12 x 12 - 12 x 14 - 12 x 16 - 12 x 18 - 12 x 20
Custom Sizes are available