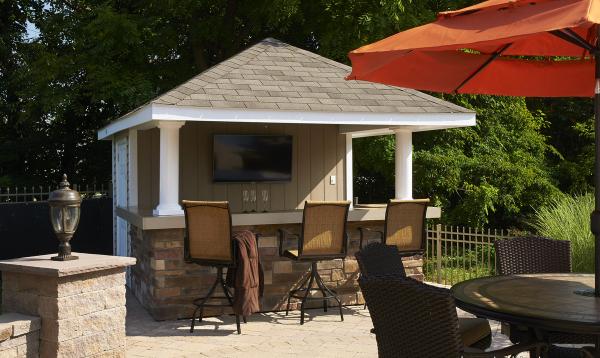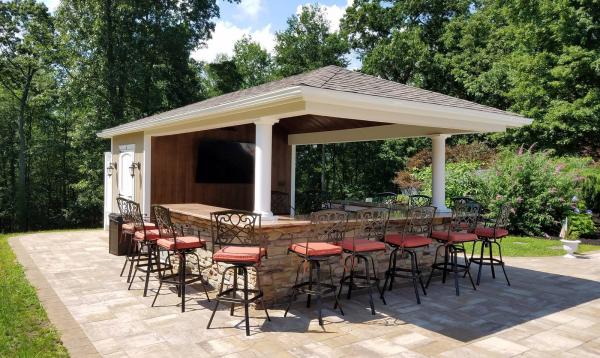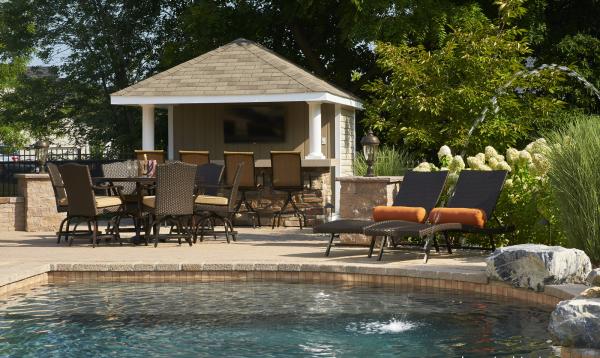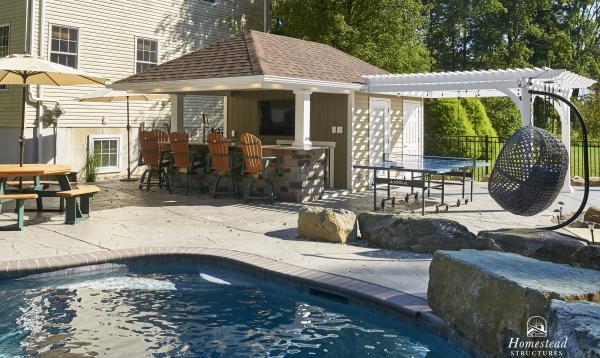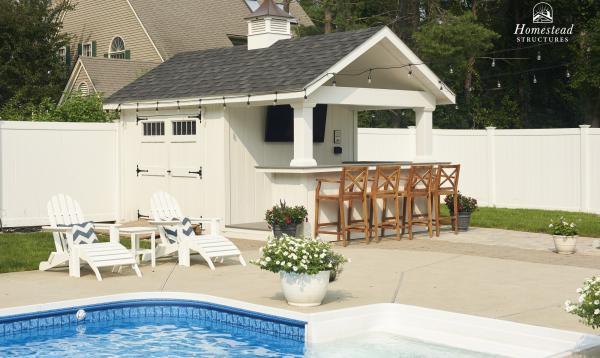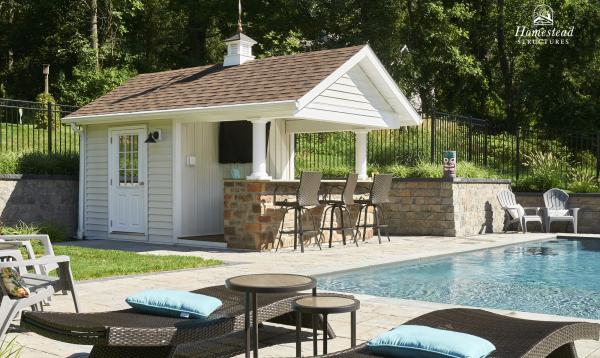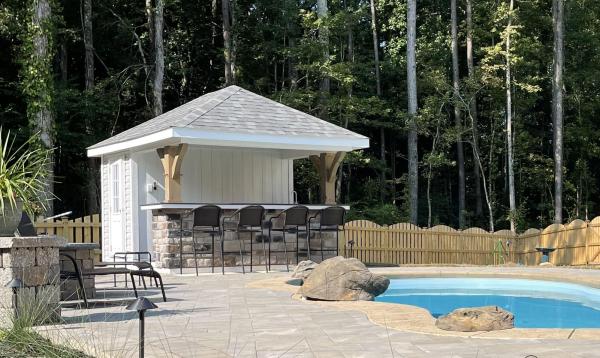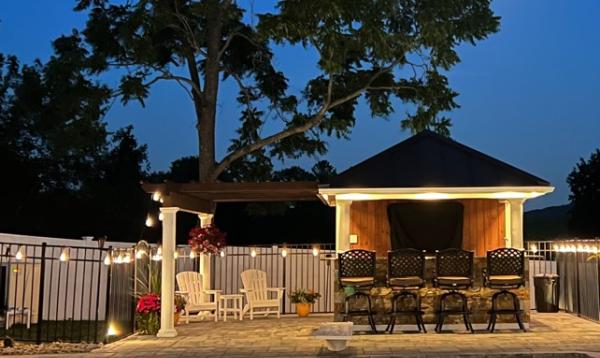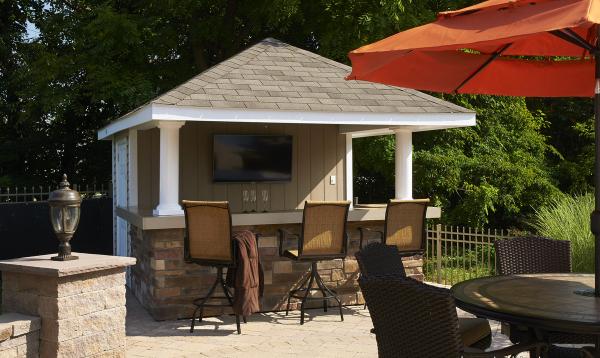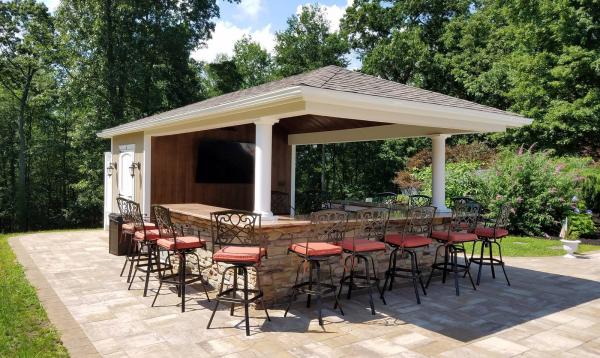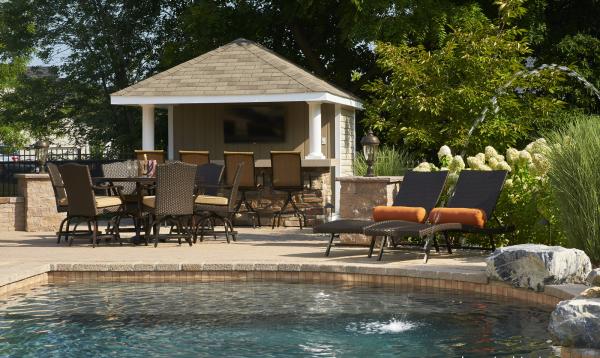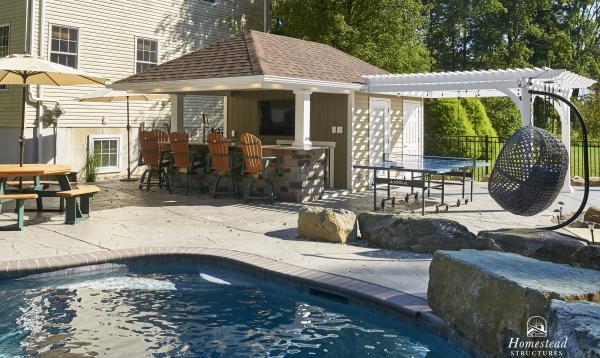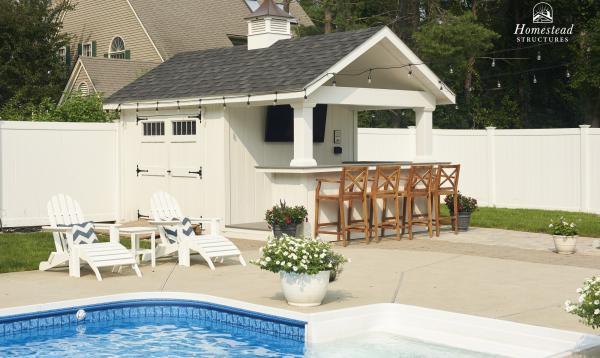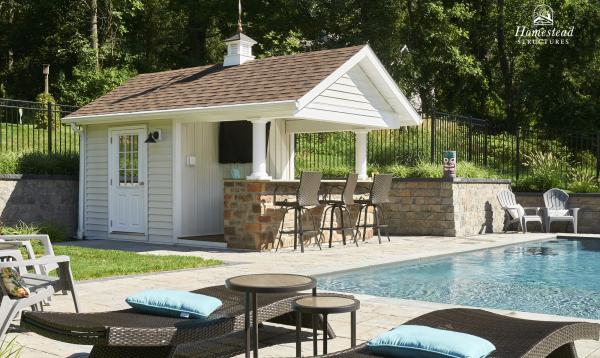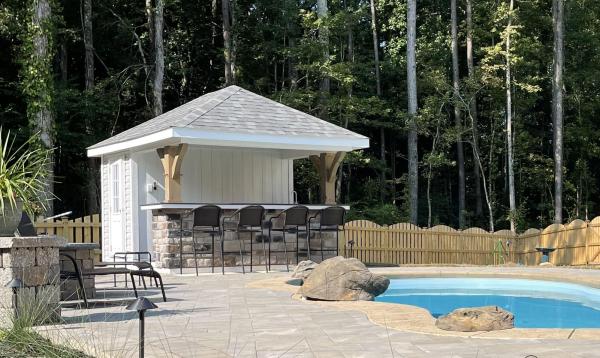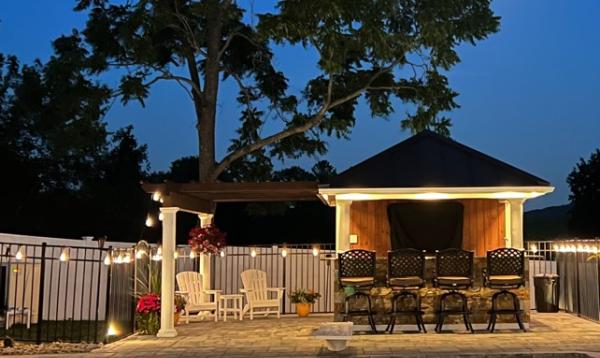 The perfect place to gather friends and family on gorgeous summer days and nights, the Siesta poolside bar features an inviting place to sit and relax while enjoying great food and conversation. Also providing for practical needs, this design figures space for storage and privacy, combining functionality with hospitality and entertainment into one fun package. The Siesta takes the traditional bar shed to the next level! Fill out the form today for a free project estimate!
Specifications
Hip or A-Frame Roof Style
DuraTemp or Vinyl Siding
Miratec Trim
Pre-Hung Single Solid House Door
(2) 24"x36" Windows with Screens
6' Bar Areas (3-Sided with Trex Counter Top)
Trex Decking on Porch Floor
8" Rounded Vinyl Columns
30 Yr Architecural Shingles & Tar Paper
LP Vented Soffit
2' Roof Overhang
Electrical Package
Ceiling Fan & Light Combo
Granite Counter Tops
Grill/Fridge Cutout In Bar
Bar Shelves/Cabinets
Extra Roof Overhang
Finished Interior
The Perfect Pool Bar for Entertaining
Entertaining is easier than ever with a Siesta, since this versatile pool cabana can be designed as simple or as extravagant as you wish. Adding a refrigerator, built-in grill, or cabinets underneath the bar makes  hanging out by the pool even more fun! Other options that can enhance the value of your Siesta pool house include granite countertops, a light and fan combo for warm summer nights, a sink and grill for the ultimate outdoor kitchen.
The enclosed room in the back can be a simple pool equipment shed for pool toys and pool supplies or it can be used for a changing room with a finished interior. Add a fully finished bathroom, or an outdoor shower and keep those wet footprints out of the house. With a variety of sizes and siding options, from authentic wood siding to vinyl siding and even a stone veneer on the bar, the Siesta Pool Bar can be customized to fit your needs and your budget.
Available Sizes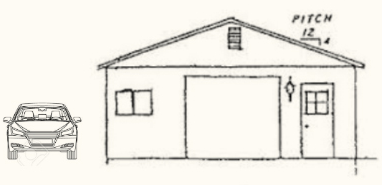 8 x 12 - 8 x 16
10 x 12 - 10 x 14 - 10 x 16 - 10 x 18 - 10 x 20
12 x 12 - 12 x 14 - 12 x 16 - 12 x 18 - 12 x 20
Custom Sizes are available
Amish-Built, High-Quality Pool Houses
Built by Amish craftsmen in Lancaster County PA, your Amish Pool House is prefabricated and either delivered and installed on your property, or assembled efficiently on-site. That means you get to avoid the usual noise, clutter, and dirt of most home renovations. Your property stays clean and organized and ready for entertaining within days! We can work with your landscaper or pool contractor to coordinate projects to eliminate downtime so your project can be finished in the most efficient manner available.