Backyard Pavilions
Enjoy your yard in rain or shine with an elegant pavilion
Create the ultimate outdoor living space with a gorgeous new pavilion in your backyard. 
Pavilions provide outdoor living at its best. Enjoy your backyard on hot days by staying cool in the shade. Don't worry about cancelling plans due to weather.  Rain or shine, a backyard pavilion gives you the flexibility to stay outside and spend more time outdoors with family & friends. Visit our photo album to see more pavilion designs and inspiration. 
Pavilions are sometimes referred to as gazebos, pagodas, or rotundas. Typically though, a gazebo is a more rounded structure, octogonal in shape, and while it has open walls like a pavilion, a railing sometimes runs the circumference of the structure, enclosing it more than a traditional pavilion. If you're looking for an open-air design, a pavilion is the way to go.
Amish-built, with quality you can trust - contact us to design a custom backyard or poolside pavilion that's uniquely suited to your tastes and we'll help you design the create the backyard oasis you've always dreamt of!
Call 877-272-7252 today or fill out the form at the top of the page to start designing your new outdoor entertainment space.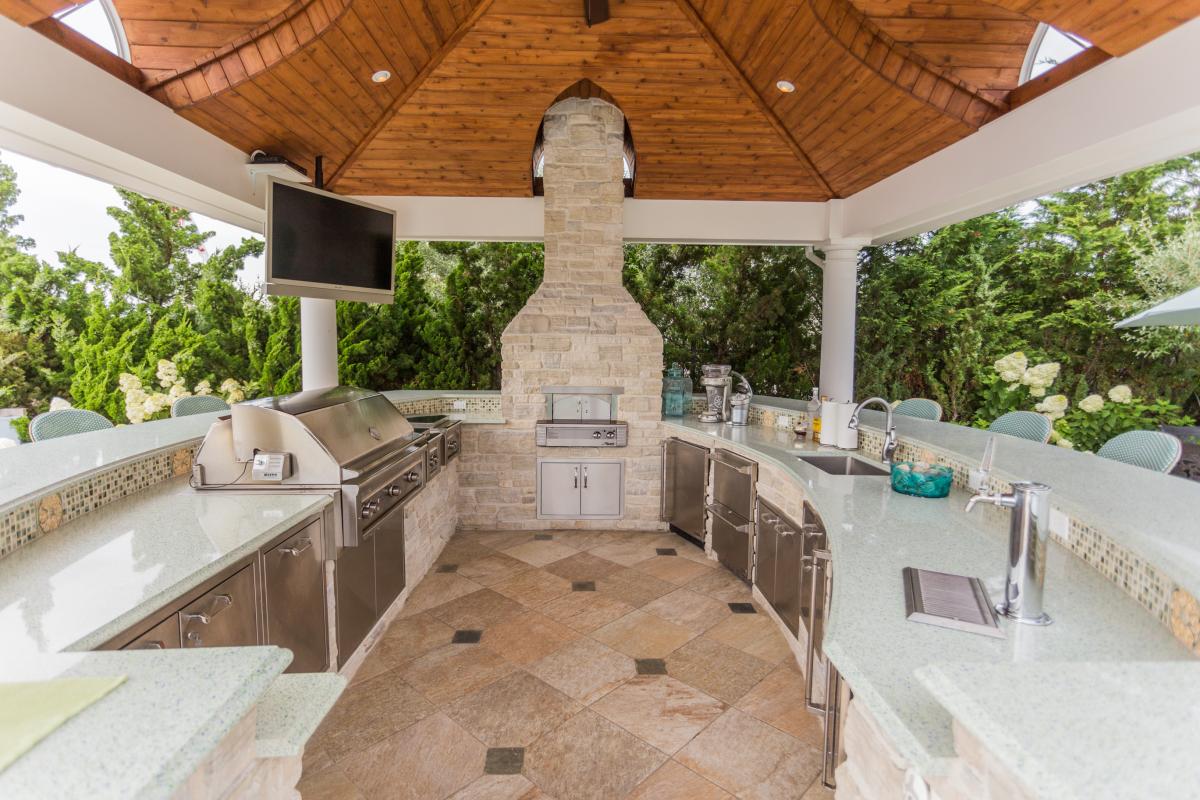 We decided to put together a space for our family to engage the exterior with the interior. The process of creating our Pavilion began with taking the natural elements of the Shore combined with the elements of the main Home. Homestead was able to find everything we needed from Stone to Cedar Wood Ceiling to all Appliances to Stone Counter Tops to Slate Roof, whatever we wanted, they said we can find that for you, and they Did!

- Kim Rolnick
Typical Pavilion vs. Typical Gazebo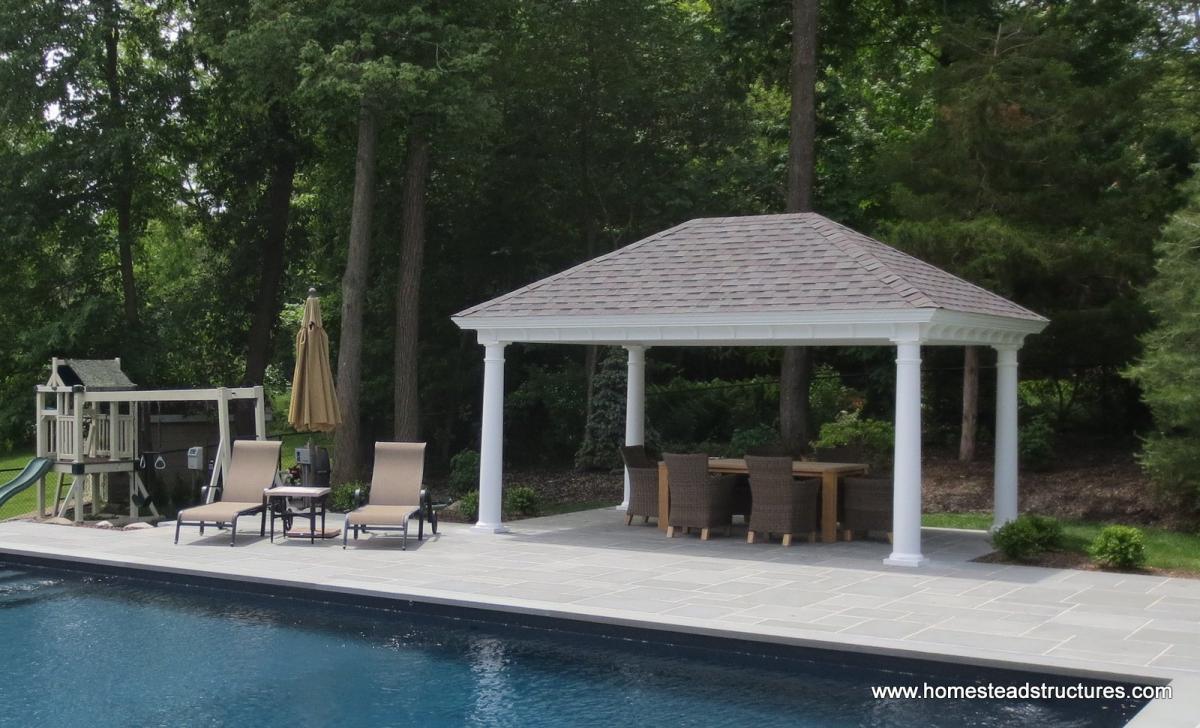 12' x 16' Pavilion
10' Vinyl Gazebo
There's nothing quite like an outdoor living room.

Relax, de-stress, and enjoy comfortable time together with your family and friends outside the walls of your home and energized the way only outdoor living can give!

Go beyond the ordinary with an outdoor kitchen.

Cook a romantic dinner, grill outside with all the convenience of a kitchen, or serve up some great eats for your guests. Make it easy for your visitors to grab a drink and feel at home. An outdoor kitchen makes entertaining a breeze.

Sophisticated outdoor entertainment.

A pavilion is more than a beautiful structure, it's a classy yet practical place to entertain outdoors all while providing a beautiful backdrop for your landscape and a lasting, sheltered backyard oasis. 
Need Financing?
Homestead offers payment plans and has partnered with Light Stream in order to offer you a variety of payment options for your new pool house or outdoor living structure.
Need Inspiration?
Browse our photo gallery to find inspiration for your pool house design and see for yourself the hand-crafted appeal of our custom structures.