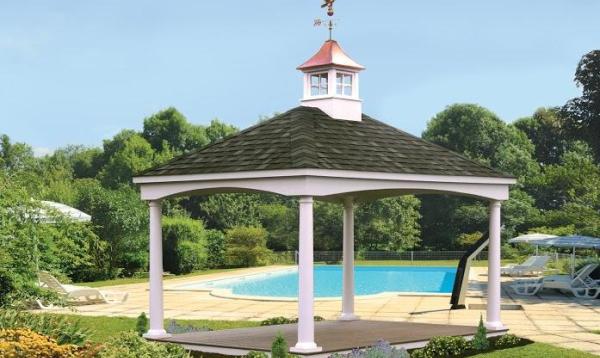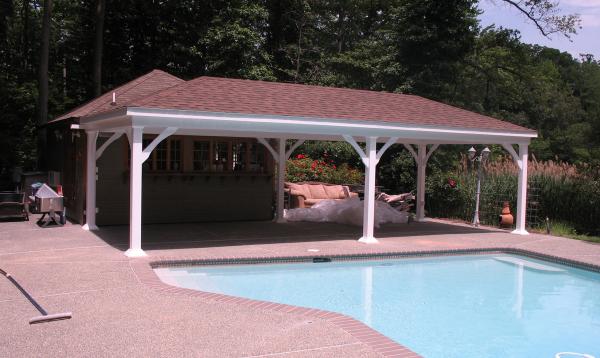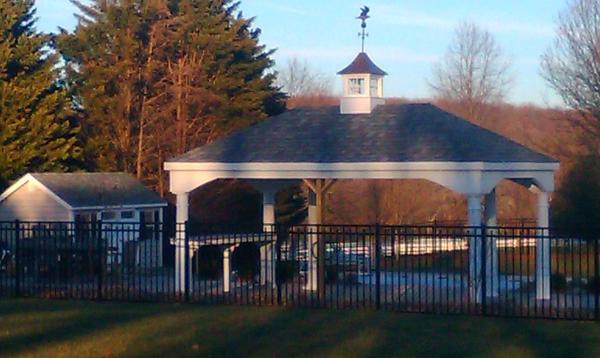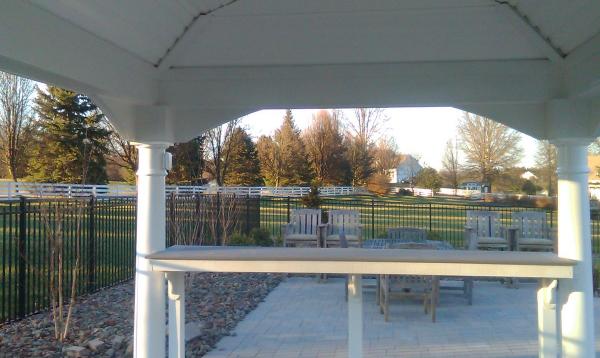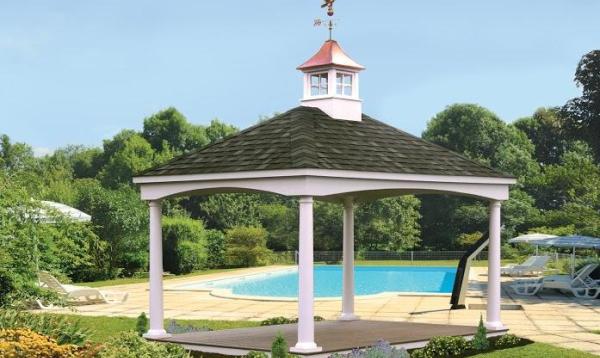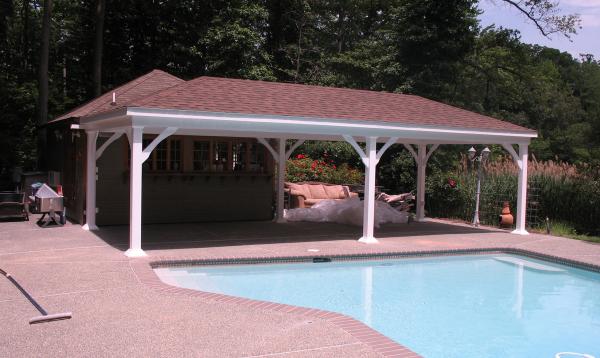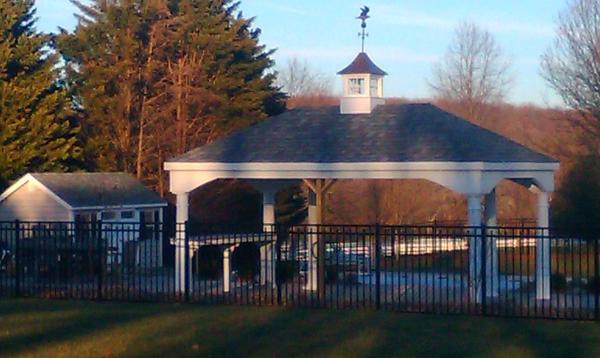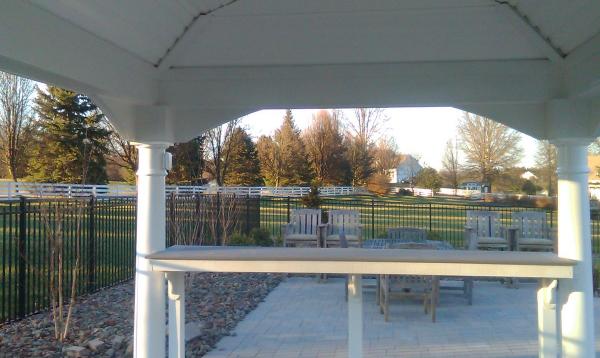 Sometimes we all need a little getaway and what better getaway then your own backyard? Introducing our Estate Pavilion, for a respite from your everyday duties.
The Estate is available in custom sizes that can accommodate your unique needs and with options that can range from the simple electrical package to the more extravagant granite bar counter with a full outdoor kitchen. Here's your shade from the summer sun, your shelter from the rain and your favorite spot to relax. Because you deserve it.
With our in house design team Homestead can custom design the Pavilion that is perfectly suited to you. Architectural drawings and 3-D renderings can help you visualize how your Pavilion can enhance your relaxation time.
Specifications
Estate Pavilion Standards
Hip Roof
30 Yr. Architectural Shingles & Tar Paper
8" Round Vinyl Columns (with solid wood post inside)
Arched Miratec Beam
Vinyl Ceiling
4" Overhang
Popular Options & Upgrades
Electrical Package
Ceiling Fan and Light Combo
Pine Tongue & Groove Ceiling
Fireplace
Customer Testimonial - Custom Pavilion
"Our backyard gets southern exposure, so the afternoon sun is brutal. We needed somewhere shady to rest. We had a stone patio built, and now the pavilion takes up about half of it. We put some nice outdoor furniture – a table, chairs, some lounges and it's been great.
The Homestead crew did a beautiful job on the construction; it was efficient, really great. The inspector came out and wanted them to add hurricane ties, which they did without a problem – that pavilion isn't going anywhere! The crew was good about cleaning up, very neat and pleasant to work with. I'd recommend Homestead to any of my family and friends!"
Jerry & Rosanne L.
Wycloff, NJ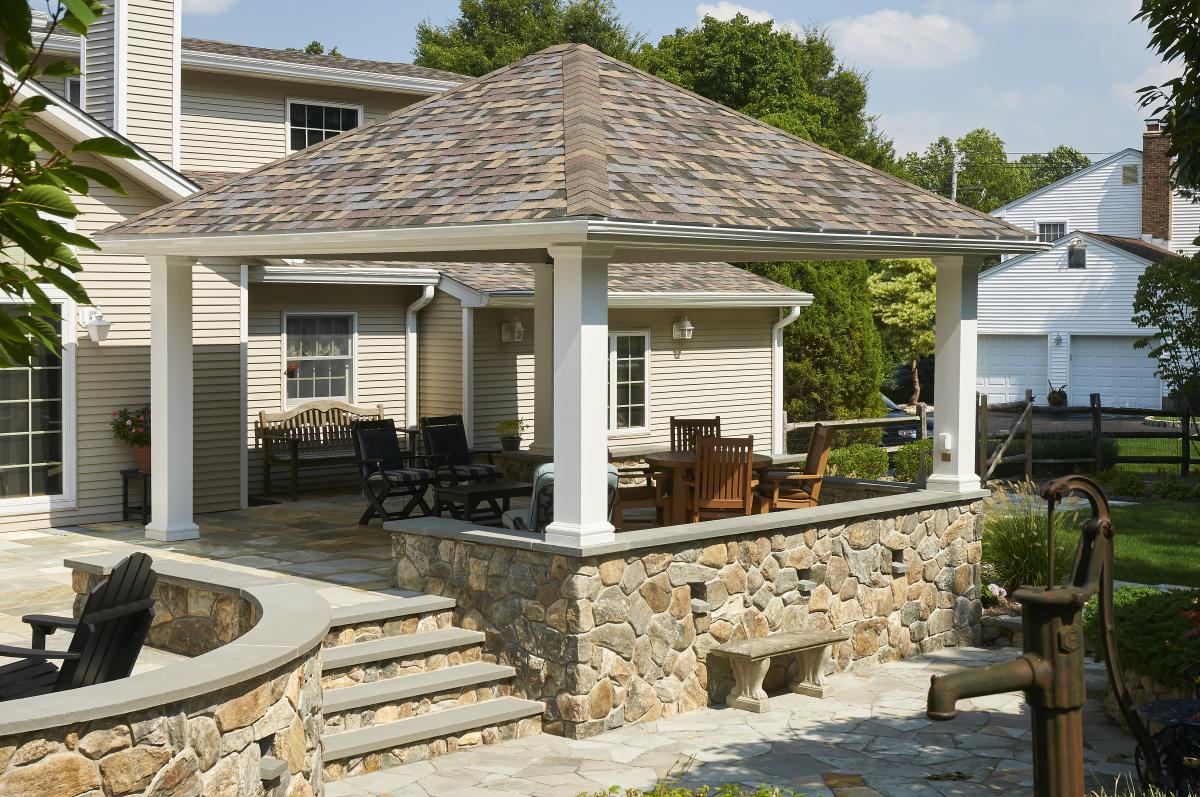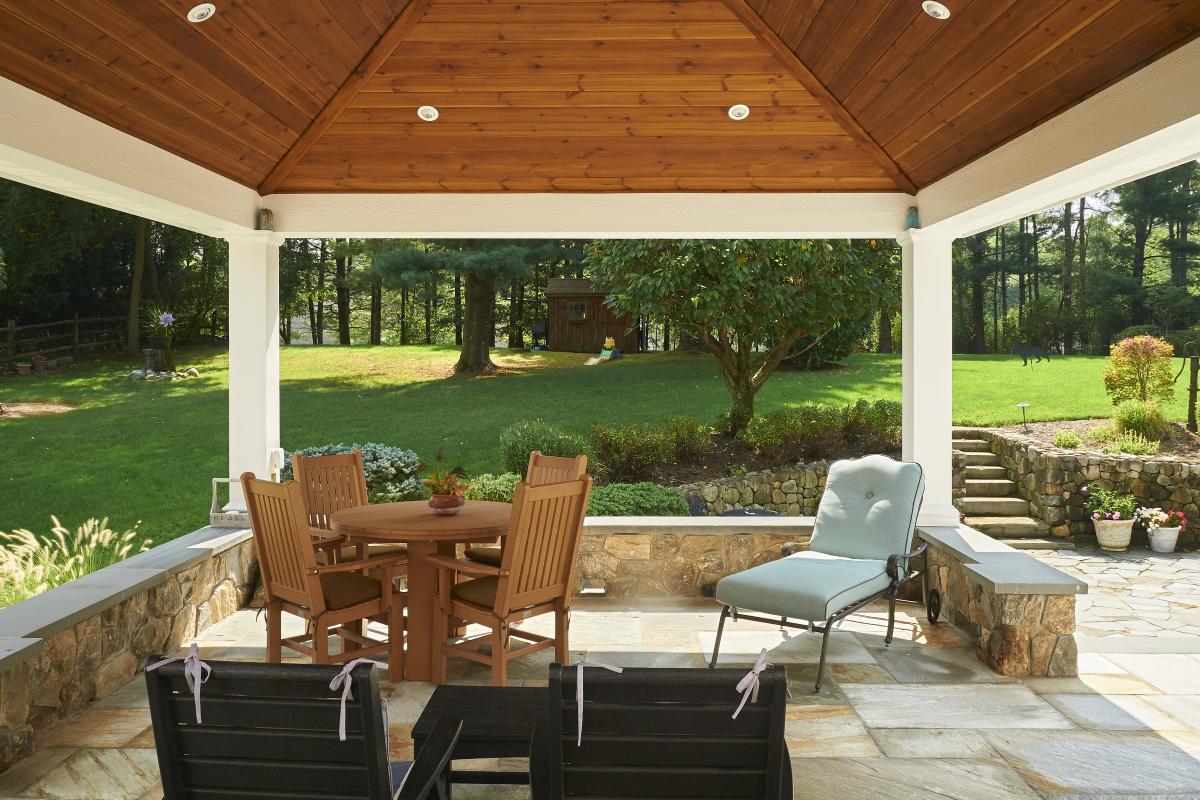 Available Sizes
10 x 10, 10 x 12, 10 x 14, 10 x 16, 10 x 20,
12 x 12, 12 x 14, 12 x 16, 12 x 18 , 12 x 20, 12 x 22, 12 x 24, 12 x 28
14 x 14, 14 x 16, 14 x 18 , 14 x 20, 14 x 24, 14 x 28, 14 x 30, 14 x 32, 14 x 36, 14 x 40
16 x 16, 16 x 20, 16 x 24, 16 x 28, 16 x 30, 16 x 32, 16 x 36, 16 x 40
20 x 20, 20 x 24, 20 x 28, 20 x 30, 20 x 32, 20 x 36, 20 x 40
Custom Sizes are Available
Amish-Built, High-Quality Pavilions
Built by Amish craftsmen in Lancaster County PA, your Amish Pool House is prefabricated and either delivered and installed on your property, or assembled efficiently on-site. That means you get to avoid the usual noise, clutter, and dirt of most home renovations. Your property stays clean and organized and ready for entertaining within days! We can work with your landscaper or pool contractor to coordinate projects to eliminate downtime so your project can be finished in the most efficient manner available.