1 Car & Single Wide Garages
1 Car & Single Wide Garages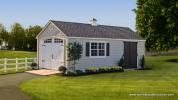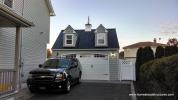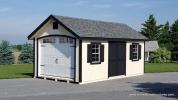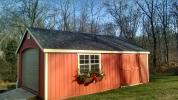 If you're running out of space for all the "stuff" that seems to takeover your house, or you'd love a place to park your car during cold winters or bad storms, Homestead Structures has the solution! A 1-car garage can give you all the extra space you need at an affordable price.
Your new garage is the perfect place for your gardening tools, lawn mower, recreational equipment, and of course, the car!
Harsh winter weather can damage a car over time. Cold weather can thicken fluids, take a toll on your tire pressure, and kill your battery. Keeping your car inside a garage can help relieve these issues since the car is kept out of the worst of the cold.
The same goes for all that lawn equipment - your mower, snow blower, weed whacker, wood chipper, etc. will last much longer if you keep it stored safely during harsh weather. A detached 1-car garage makes a great storage place for all the tools that comes with owning your own home! 
In the end, the beauty of a single car garage is its versatility - it doesn't much matter WHAT you store there, so long as you know you have secure, reliable, built-to-last structure to protect your belongings. Contact us today for your free garage project!
Available Sizes:
10 x 16 - 10 x 18 - 10 x 20 - 10 x 24
12 x 16 - 12 x 18 - 12 x 20 - 12 x 24 - 12 x 28 - 12 x 30 - 12 x 32 - 12 x 36 - 12 x 40
14 x 20 - 14 x 24 - 14 x 28 - 14 x 30 - 14 x 32 - 14 x 36 - 14 x 40
16 x 20 - 16 x 24 - 16 x 28 - 16 x 30 - 16 x 32 - 16 x 36 - 16 x 40
Custom Sizes are Available