Ashley | Oct 31, 2023
Most wedding venues have limited dates. You have to book months — if not years — in advance. However, there is one venue that is always available: your backyard. Many people enjoy celebrating backyard weddings because they're budget-friendly, offer flexibility for setting up and taking down decorations, and are perfect for accommodating small groups of people. Your guests can relax in a casual environment or you can make your outdoor living space look like a more formal venue..
As you walk around your backyard, imagine what your dream wedding could look like in that space. Here are a few decorating ideas so you can start planning your big night.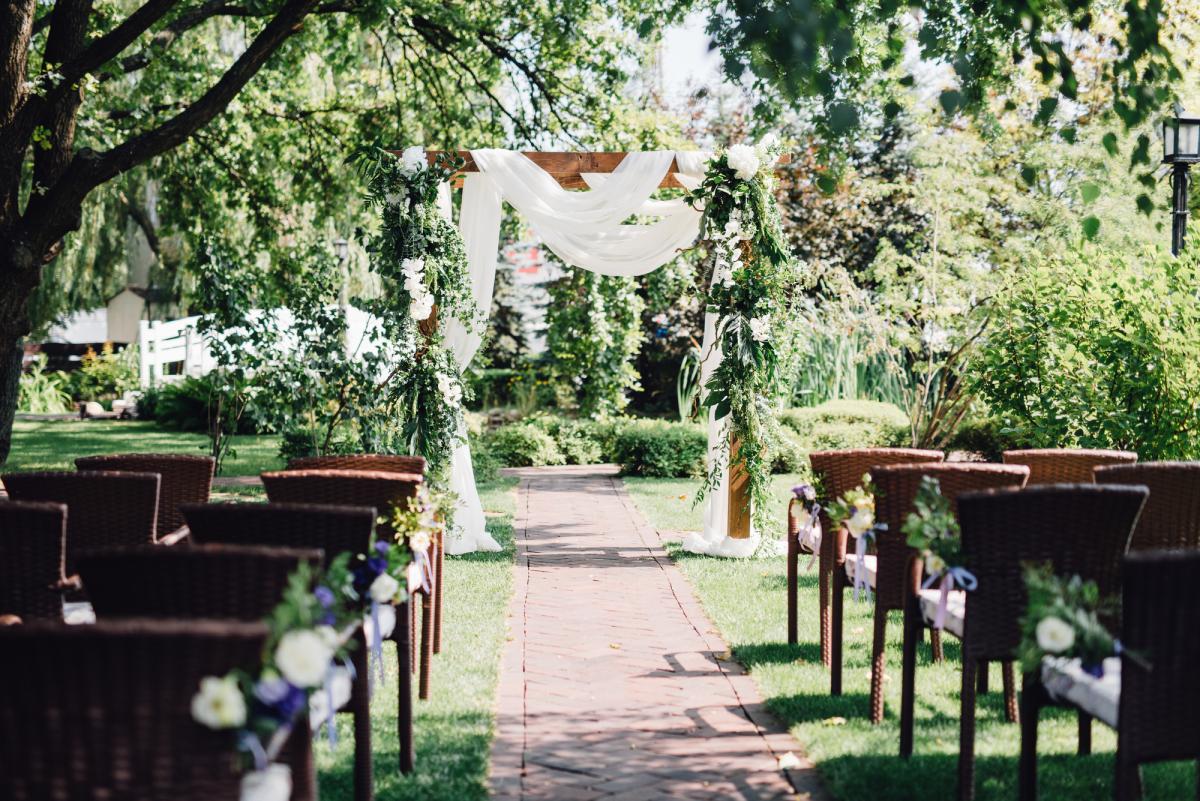 1. Choose a Fun Theme
The first step when decorating for a wedding is to decide whether you want a theme. Building a wedding around a theme can help you guide your color choices, decorations, games, favors, and even food. Some couples make themed cocktails for their guests or choose cake flavors based on the theme — like a caramel apple cake for a fall-themed wedding. 
Here are just a few theme ideas to consider, ranging from traditional concepts to unique options: 
Seasonal themes

: Turn your backyard into a fall festival or winter wonderland.

Color themes

: Build a wedding around the color pink or have all-white decor. 

Hobby themes

: Create a camping or hiking theme if you love exploring the outdoors with your partner. Do a theater theme if you met if you share a love of the arts, or even a garden / homesteading theme if you love working outdoors together.

Pop culture themes

: Decorate based on a show or movie that is important to you — like Star Wars, Harry Potter, or The Office. 

Holiday themes

: Base the theme around when the event is scheduled, like a Halloween theme wedding or 4th of July celebration.  
You can see how these themes can guide your color choices. A 4th of July-themed wedding would have bright red and blue hues while a fall-themed wedding would have more muted colors to match the leaves on the trees. 
2. Stick With Traditional Wedding Decorations
Just because you're planning a backyard wedding doesn't mean your guests need to sit in lawn chairs or use folding tables. Many couples rent traditional wedding decorations and accessories to fill their space. Here are a few elements you can add to your backyard wedding: 
Rent a tent that can protect your guests from the elements. 

Rent tables and chairs to provide formal seating for your guests. 

Add cloths and centerpieces to each table. You can either rent tablecloths or find them in wedding-based buy, sell, or trade groups.   
Many catering companies also allow you to rent AV equipment, like microphones and speakers. These systems will make it easier for guests to hear your vows during the ceremony. 
3. Don't Forget the Lighting
You might already have some backyard lighting, but extra strings of lights or outdoor lamps can elevate your space. This lighting will help your photographer capture beautiful photos and make it easier for guests to navigate your yard. 
Evaluate the lighting you currently have and how you can incorporate more lights to create a better experience. For example, you can use leading lights to line a pathway which will also create a safer walking experience for guests. 
4. Make It Accessible 
Lighting is an accessibility feature because it helps guests who might not be able to see as well. There are other accessible elements you can add to your backyard to make it safer. For example, you could rent a small stage or wood flooring for the night to create a dance floor for your guests and prevent them from walking on your grass. Uneven ground is unsafe for some people to walk on. 
Other accessible elements include ramps for guests who use wheelchairs and handrails on your stairs, just to name a few options. 
5. Thrift Your Wedding Decor
Oftentimes, brides buy wedding decor and only need to use it once. Instead of keeping it in storage, they donate it. Even non-wedding decorations can be used for your celebration. Here are a few wedding decorations to look for at thrift stores.   
Bowls and vases for your centerpieces; 

Wreaths that you can customize based on your theme;

Plates and catering dishes to help serve your food;

Lighting solutions to create a brighter backyard. 
You can also attend local garage sales to search for decorations to use in your wedding. 
6. Utilize Existing Yard Features
One of the best parts of doing a wedding in your backyard is that you might already have some features that create a unique experience for guests. Many times, these features can double in purpose for certain occasions. For example, you can set up a bar or cocktail area under a pavilion or gazebo so guests can get out of the sun. If you have a pool house, you can use the space for the bride and your bridesmaids to get ready.  
Look at the space you already have and consider how you can build a wedding around it. 
7. Invest In New Yard Features
If you don't have an existing structure you can use, consider investing in a new yard feature for your wedding that you can continue to enjoy all year long. For example, you can have your ceremony underneath a new pergola that you then lounge under throughout the warm summer months. 
Having a covered area for a backyard wedding is essential for guests. It protects people from the sun while ensuring your event can move forward if there is rain. Plus, by building a covered structure now, you can knock a remodel project off of your to-do list while also providing a better experience for your wedding guests.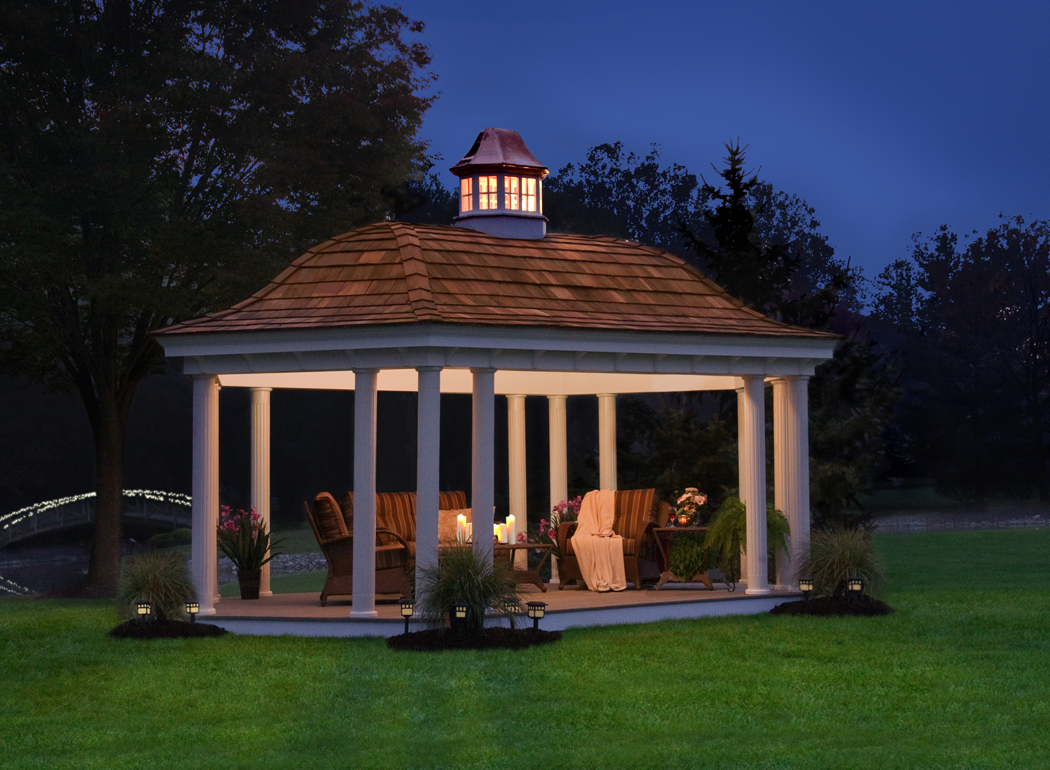 8. DIY Wedding Decor Ideas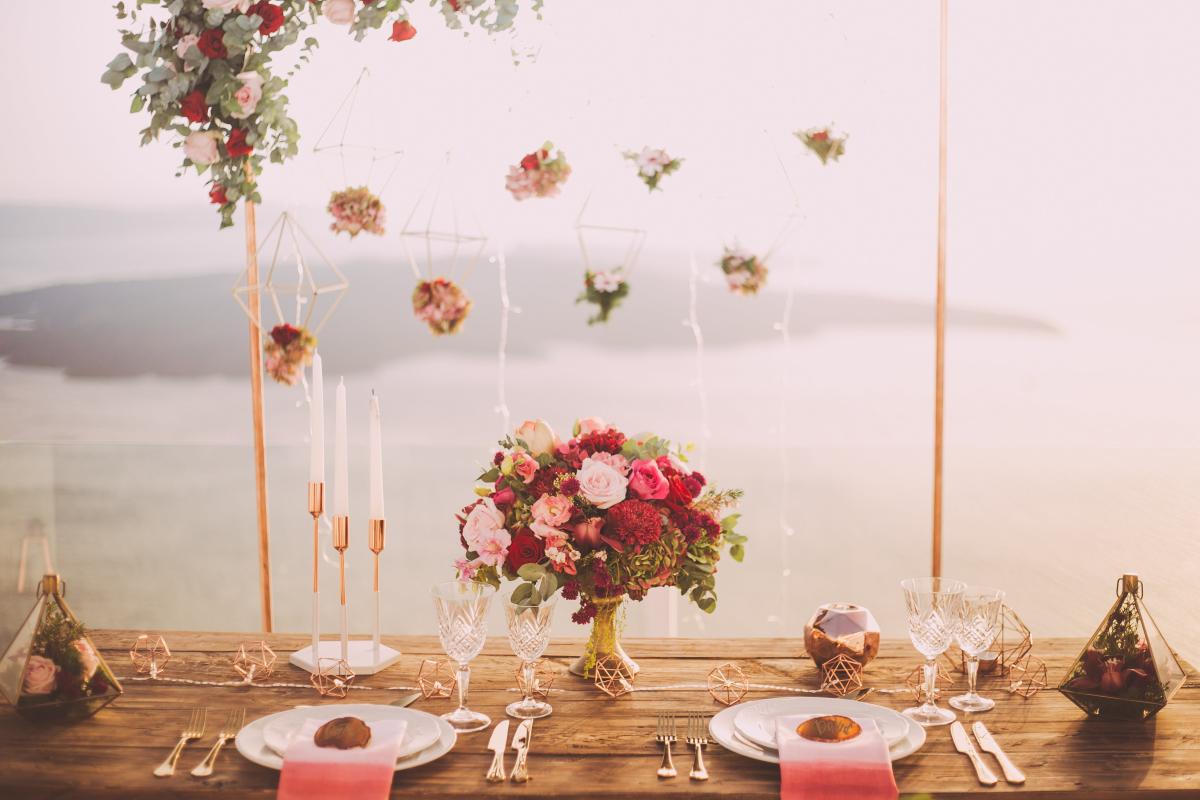 One way to save on your wedding is to decorate your backyard yourself. You can create meaningful decorations and bulk-order crafting items that cost less than pre-made options. Here are a few easy DIY backyard decorations if you're able to make them:
Nameplates so people can find their seats;

Wedding favors for guests; 

The arch where your ceremony will be held; 

Signs guiding guests to the bar, food, games, and other areas. 
Follow local wedding groups on social media sites like Facebook. Some brides will give away decorations or sell them at a discount after the event when they're no longer needed. 
9. Refrain From Hiring Too Many Vendors
Vendors are a popular aspect of many weddings. You might want to hire a local florist to handle the flower arrangements and book a DJ or entertainer for your guests. However, it doesn't make sense to spend the money on them if there's no room in the yard. Plus, you have to hire, manage, and pay each vendor you work with.  
Only hire the wedding vendors you have room and a budget for. It's better to have a few meaningful vendors or work with a single wedding company than to get overwhelmed by the amount of people working at your event. 
10. Create a Simple Menu 
You don't need an overly complicated catering menu on your wedding day, especially if you're preparing or storing the food in your home's kitchen. Consider reaching out to your favorite restaurant to see if they will cater your wedding. You can also ask a few relatives to help cook and serve meals as a gift to you. This is another reason to opt for a simple menu: no one wants to spend a whole wedding in the kitchen when they could be celebrating with other guests. 
Staying simple is a great way to remain within budget while still providing a hearty meal for your guests. It will also allow you to get creative with how you incorporate your wedding design and theme into what people eat.