Ashley | Oct 19, 2016
Adding a pool house, pavilion, or shed to your property is a great way to increase the functionality of your backyard, whether for storage or entertainment purposes. But…a pool house isn't for everyone. Here are 5 signs you should be investing in a pool house in time for summer 2017.
1. You have nowhere to store all the stuff that goes with owning a pool.
Pool equipment, pool chemicals, pool toys…all that stuff that comes with the territory of pool owner needs to go somewhere! If you're sick of it piling up in some corner of your yard or house, a pool shed is the perfect solution to your storage issues. Besides the clutter, investing in all the supplies that go along with a pool can get pricey – so you're going to want to ensure they stay in good condition both during pool season, and after. Based on a national study, the average pool owner spends approximately $190 per month on maintaining a pool. That includes buying the proper chemicals, replacing filters, properly skimming, vacuuming, and brushing your pool, not to mention maintaining water levels…a pool is a lot of work! Minimize your costs by ensuring all of your equipment is well cared for and properly stored.    
2. You have kids who like to invite their friends over for impromptu pool parties.
It's summertime, and your house is the go-to spot for hangouts thanks to your pool. If your kids love inviting their friends over for almost-daily swimming, you're no stranger to the wet trail of footprints from your backdoor to the bathroom and/or kitchen. Not to mention the post-swim eating frenzy that tends to take place. Having a pool house with a bathroom, changing room, and snack area keeps your home safe from one of the most terrifying sights on the planet: a gaggle of hyper, soaked teenagers.
3. You entertain (or want to entertain) a lot.
If your house tends to be the entertainment hub for family cookouts or parties, a pool house or pavili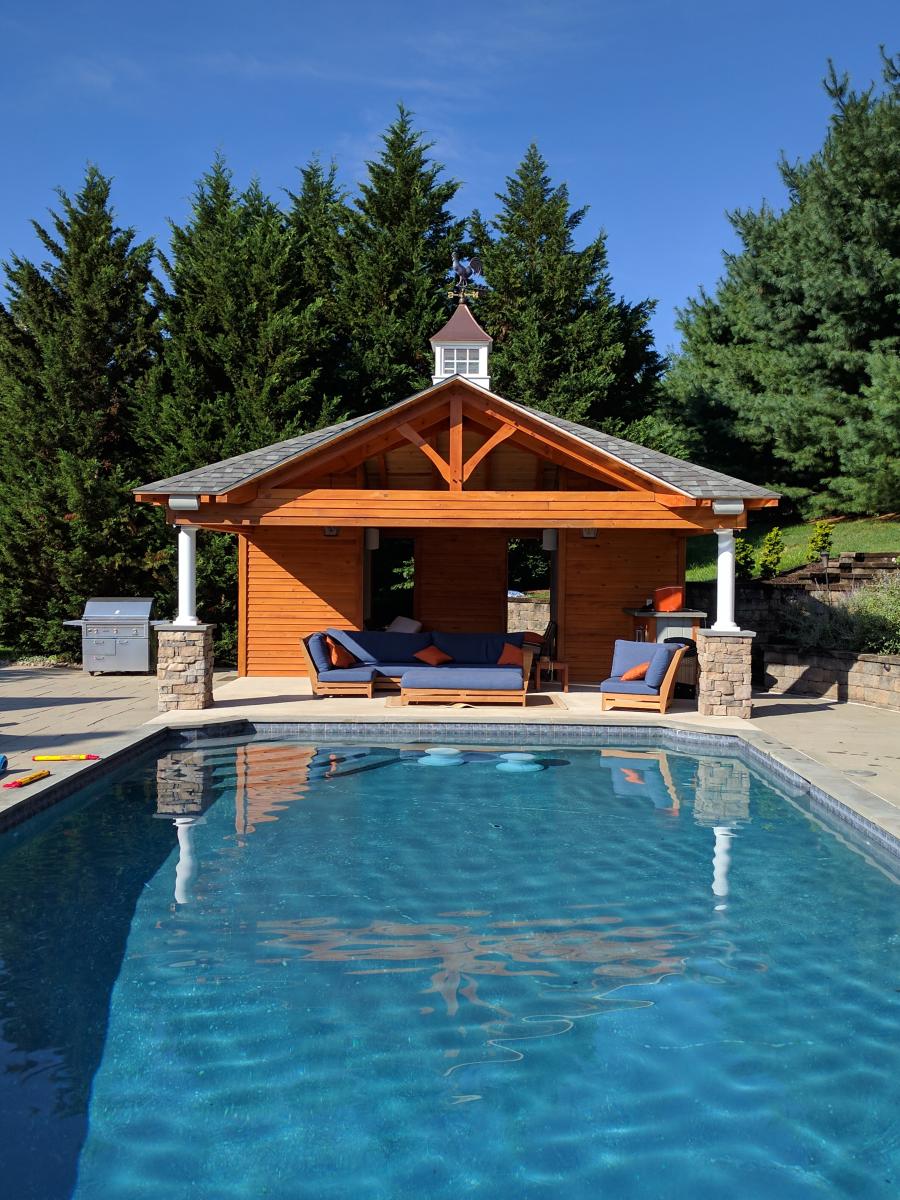 on can take your backyard from an entertainment space to an entertainment oasis! A poolside pavilion makes for a great focal point for parties with family and friends. It's a cool, shady area for those who don't swim to congregate, and can be a haven from the unexpected rain shower! Plus, adding a fire pit makes it's the ideal hangout for the colder months once the pool is closed.
The same can be said with some of our pool house styles – many of them include a pavilion-like overhang in addition to a small building for storage or changing. Some of our customers design their own custom pool house to include a kitchen, living area, and guest quarters for overnight guests! Regardless of the size or style, a pool house or pavilion can take your backyard entertaining to the next level.
4. You plan on selling your home one day.
Adding additional storage and living areas to any home is a guaranteed way to add value to any property. Extra storage is especially important if you don't have a garage (and have no plans to build one). Garages are a feature many home buyers look for, and lacking a garage, the next thing they'll be looking for is some sort of extra storage or living space to make up for that.
A pool house with guest quarters can have a lot of appeal for home buyers (in addition to actually increasing your home's value). It can double as an in-law suite or even a living space for elderly relatives that allow them to maintain some independence.
5. You often feel the desire to escape the insanity that is your house on a daily basis.
Man Cave, She Shed, why not combine them into one amazing space that you or your spouse can escape to when things get a bit overwhelming in the house? When the kids are running around, screaming and laughing loudly, hogging the TV…you realize two things. One, that family is a beautiful thing, and you're blessed to have them. And two, kids can be EXHAUSTING! So if you occasionally feel like you need an escape, don't feel bad, we all feel that way at some point or another. Your pool house can also act as a rec room or family room where you can go to sit back and relax. On the other hand, you could simply send the kids out there and have the house to yourself. Your choice!
These are just 5 signs you need a pool house…we'll add a bonus one: YOU HAVE A POOL! If you've been enjoying hot summer days by the pool regularly now…that's a great sign you should invest in a pool house and take your backyard oasis to a whole new level!
If you'd like a free design consultation and quote for a new pool house, give us a call at (877) 272-7252 or click the button below to fill out the form.