Ashley | Jun 13, 2022
Adding a pool house to your poolside makes for a great relaxation and entertainment space for your backyard. It allows you to use your backyard is a ton of new ways, even if the day isn't quite perfect for actual swimming. With an enclosed or sheltered pool house, you still have a great hangout spot to relax, have a few drinks, enjoy some shade, etc. 
If you want to be able to enjoy an enclosed pool house even during the height of the summer heat though, you may need to think about how to best cool the space, same as you would your house during heat waves.
The nature of the construction, the environment inside the space, and the architectural constraints can all make cooling a pool house difficult. While you may install any system, you will find that you must address certain things to meet your expectations in terms of flexibility, performance, and efficiency.  If your "pool house" literally houses your pool (such as an indoor pool or a mostly glass pool enclosure, you'll have high levels of humidity to deal with, as well. On the other hand, cooling a typical pool house (a pool-side structure) may be a bit simpler.
Finding the proper cooling system for your pool house can provide you with the necessary comfort at a very low energy cost. Because your pool house is not a major indoor pool facility, it does not require a large, sophisticated, centralized HVAC system to meet the cooling and heating requirements.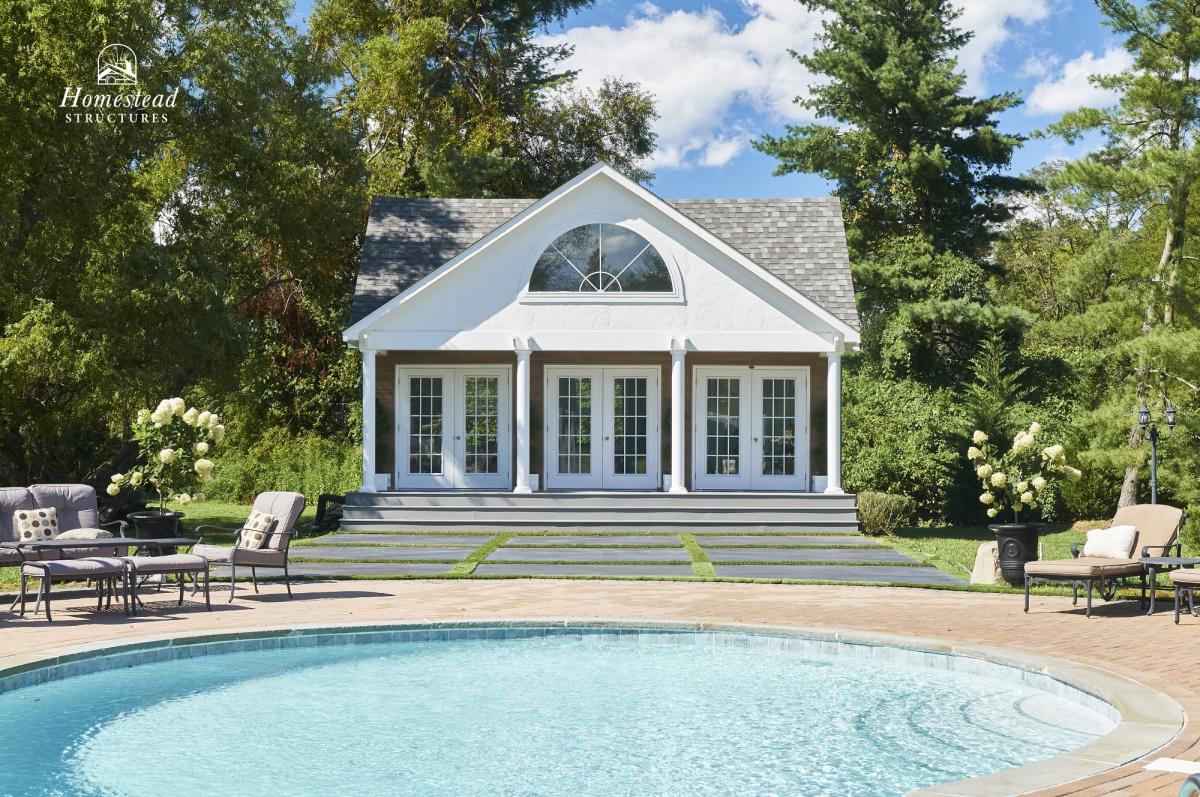 1. Consider Installing a Separate System
Some pool houses are room extensions or retrofit spaces.  Many people believe that extending the ducted system from the house to the pool house is a preferable option. However, this strategy is fraught with challenges both before and after implementation and certainly not the most energy efficient or affordable option. In many cases, if your pool house is a small space (whether attached or separate from your home) a window unit air conditioner would be more than enough to cool the space.
2. Install the Correct System
People often note that certain sections of their large pool house are too chilly, and others are overly warm. This may be because you need an AC unit tune-up, but it may also be because you are using the wrong AC system. 
To properly address these challenges, you'll need a system that is adaptable enough to be put in such a setting, capable of managing cooling and heating loads, and capable of delivering effective dehumidification. Unlike typical cooling systems, a ductless mini-split AC system is the best option for many larger pool houses.
Pixabay
3. Have Enough Ventilation
When your pool house encloses the pool itself, you're left with an extremely humid room as an indoor habitat. In reality, an indoor pool atmosphere with excessive humidity is rather typical. It is mostly due to the materials utilized and general construction and design concerns. 
A pool house may become excessively hot or cold in numerous instances, depending on the weather.  Poor ventilation leads to poor natural air circulation, aggravating the "too hot or too cold" problem. Plus, high humidity can lead to other issues in the construction materials itself. The best way to avoid these issues is having the proper ventilation installed in your pool enclosure. 
4. Maintain the Ideal Humidity Level
Depending on your geographic location, your poolside structure may deal with a high level of humid weather.  Humidity management is crucial for maintaining a comfortable climate. It's worth noting that some air conditioners are also excellent dehumidifiers. 
While you may use a separate dehumidifier, having an AC system to eliminate moisture and maintain the required relative humidity level within your building is unquestionably advantageous. This capacity makes small splits efficient and cost-effective and helps improve interior air quality and safeguard the building.
5. Tint Glass Doors and Windows
When the temperature outside rises, the sun's rays may quickly heat your pool house via the glass doors and windows, forcing your air conditioner to work overtime. Glass tint or window film may minimize glare, enhance privacy, and substantially reduce incoming heat while blocking dangerous UV rays. 
The quantity of energy you save will be determined by the kind and strength of the product you select. The stronger the thermal "bounce," which lowers solar heat uptake in the house, the higher the energy efficiency rating.
Efficient and Cost-Effective Cooling
The inherent air conditioning issues of a pool house should be adequately addressed to make the space ideal for it's intended use. It should be a comfortable setting that you can use regardless of weather; a place to relax and wash away to worries of the day. 
While you can use many systems in pool houses, the mini-split ductless system stands out as the  option that provides excellent heating and cooling performance, effective humidification, quality air, and long-term efficiency and energy savings.
A Bonus Tip: Open-Air Pool House Design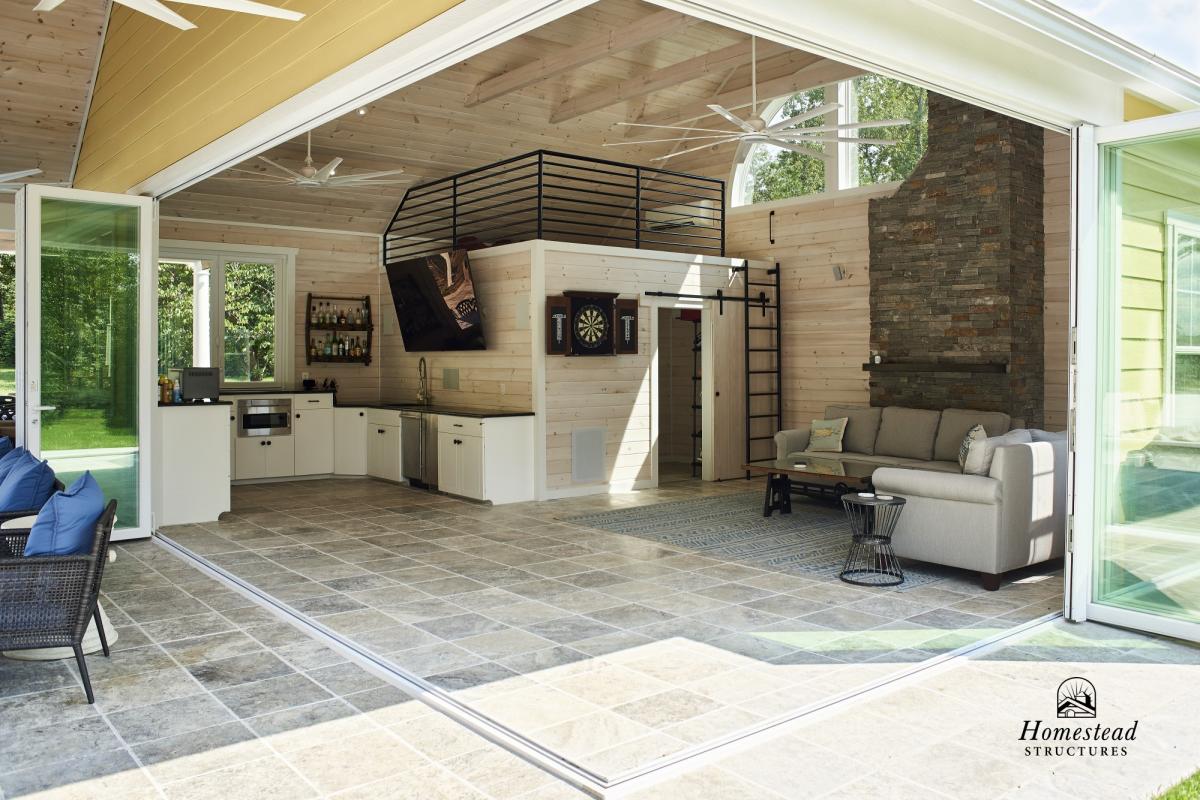 If you're in the beginning stages of planning your new pool house design, it's worth considering how you can improve airflow with window and door placement.
We offer Origin Bi-Fold doors and windows that allow you to completely open up your pool house and truly take your indoor amenities into your outdoor space.
Interested in a custom pool house from Homestead? Contact us here for a free quote and design consultation.