Ashley | Jul 18, 2023
Summer days can get sweltering hot, but some summer nights may make you want to turn up the heat. There's a fireplace for that. Adding an outdoor fireplace or fire pit can really set the mood. 
But with all the different options, how do you pick the right outdoor fireplace for your home?
Once you decide whether you want a gas or wood-burning fireplace, it's time to decide on style. 
Fireplace Ideas for Your Backyard
Heat up your outdoor entertainment space with any of these backyard fireplace ideas.
1. Outdoor Brick Fireplaces
An outdoor brick fireplace easily adds a touch of elegance to your backyard. Homeowners going for a more country or farmhouse vibe often go for brick fireplaces, since brick was very popular in the early colonial days and is still prevalent in many historical homes today.
Many homeowners also choose brick because it's much easier to customize the pattern of a structure with brick. So, designing the shape of an outdoor brick fireplace can be much more fun than picking out your standard stucco or concrete style fireplace. Brick veneer is also often the choice of fireplace material for homeowners interested in installing pizza ovens. 
2. Outdoor Fireplaces with Pizza Oven
Pizza is a go-to party favorite, so why not add a pizza oven to your outdoor kitchen? Pizza ovens are designed in an arched shape to create a particularly crispy crust and can be heated with firewood outdoors. While some pizza ovens have a single source of heat in the back of the oven, many are actually installed on top of wood-burning brick fireplaces. Fire below the pizza oven heats the pizza stone as well as the pizza. Combining the fire below with the heat source in the back, this setup helps you get food in front of your hungry friends faster.
One of the best parts about having an outdoor pizza oven and wood-burning fireplace is that you get to experiment. Regular kitchen ovens offer very few options for customizing the taste of a homemade pizza. But, with an outdoor pizza oven, you are in complete control. Burning different types of wood can create unique flavors you won't get anywhere else.
Outdoor fireplaces with pizza ovens can be installed near or under poolside pergolas and pavilions, so you can easily host the coolest pizza party on the block.
3. Outdoor Stone Fireplaces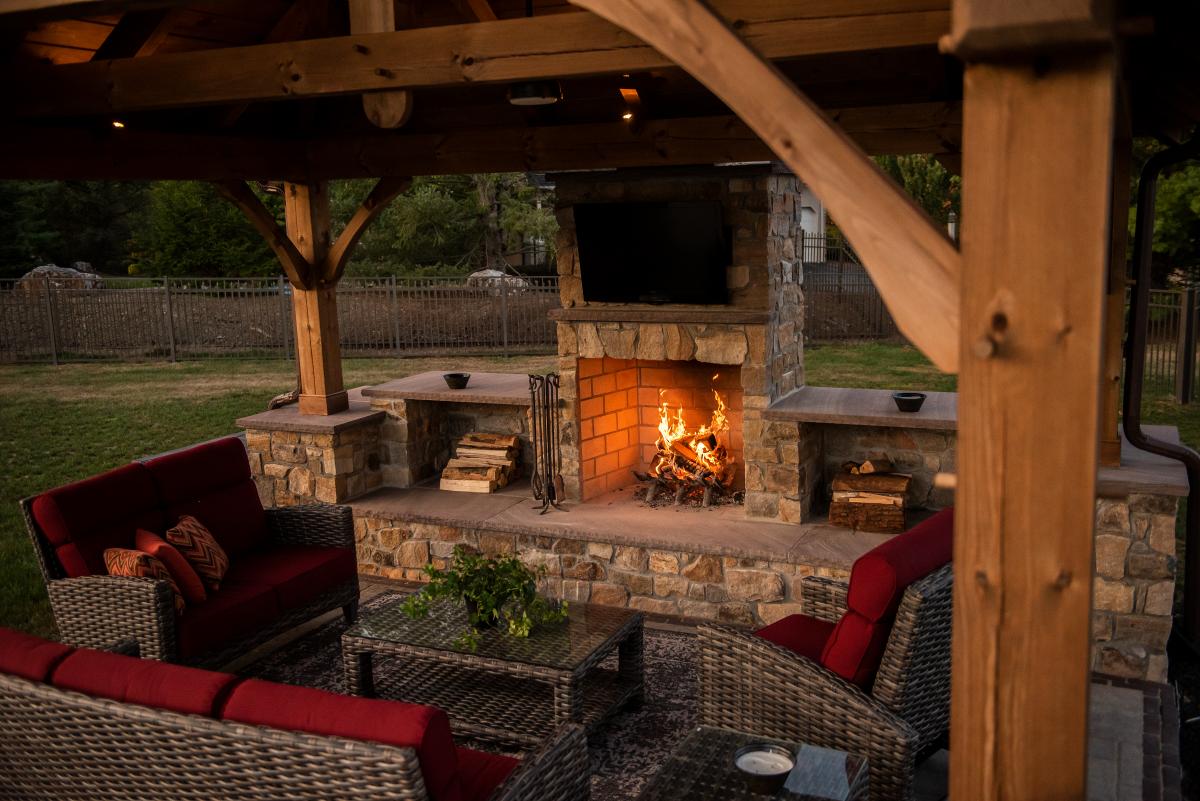 Stone fireplaces are a favorite among Homestead Structures customers when it comes to adding more outdoor amenities. Whether under a pavilion to accent a poolside bar or attached to the outside of your pool house, a stone fireplace adds a regal touch and warm entertainment opportunities to nearly any backyard. 
Like brick fireplaces, stone fireplace designs are easy–and fun–to customize. Stone can be laid flat or stacked, and with the array of natural earthy tones, no two stone fireplaces look exactly the same. 
Outdoor stone fireplaces are also one of the easiest types of fireplaces to clean. Soot can cause a hot mess, but homeowners can simply steam clean this type of fireplace for a fresh, new look. 
4. Small Outdoor Fireplace Ideas
If you're limited on space but you want to create a cozy atmosphere, consider a smaller, more compact fireplace option. A freestanding clay chiminea fits right in among potted plants and other clay accents, like pitchers and vases, and creates a warm and welcoming glow on any patio. 
5. Modern Outdoor Fireplaces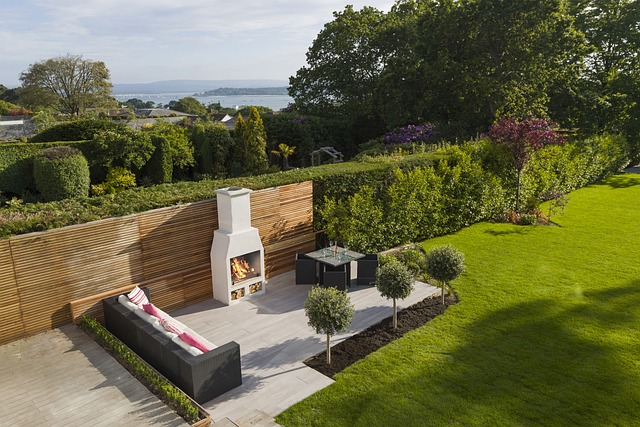 If modern is more your style, consider adding a stucco or concrete fireplace to your backyard setup. Stucco fireplaces can be made in a variety of colors, with many homeowners opting for earthy tones that mimic those commonly found in southwestern architecture. This cost-efficient type of fireplace is also quick and easy to install, making it ideal for homeowners designing an outdoor lounging area on a tight budget. However, with stucco fireplaces, you get what you pay for. Soot is quick to discolor them, and they are not as easy to clean as stone fireplaces.
6. Outdoor Kitchens with Fireplaces
At first, this idea may seem excessive. After all, you probably already have a grill for your outdoor kitchen. But there's something about the type of atmosphere an outdoor fireplace creates. Fireplaces aren't only for heat and aesthetics. Adding a fireplace to your outdoor kitchen project creates new opportunities for staycations and entertaining friends. While allowing you to spend more time outdoors in the cooler months, adding a fireplace to an outdoor kitchen offers fun activities for kids of nearly all ages. It allows families to create long-lasting memories of roasting marshmallows or hotdogs or popping homemade popcorn over the open fire without even leaving their backyard. 
Bonus Idea: Backyard Fire Pits 
If you're looking to add a hot centerpiece for your entertainment area, fire pits are all the rage. And they come in various styles to match your outdoor aesthetics. Home improvement and sporting goods stores offer elegant and modern aluminum propane and natural gas fire pits perfect for under the cathedral ceiling of your backyard pavilion. Smokeless fire tables are also an option. The list of fire features that complement your outdoor structure is virtually endless.
Ask Homestead for Help
Here at Homestead Structures, we truly enjoy helping you bring your backyard to life. That's why we offer a wide range of customization options, including various stone choices for outdoor fireplaces and pavilion pillars. And we're just a phone call away. Contact us today to light up your backyard with a fireplace–and outdoor structure–built just for you.