Ashley | Jun 9, 2017
Dealer Spotlight: Shed Happens Offers Sheds for Sale in Maine
We want to take a moment to highlight some of the awesome dealers and contractors we work with that have helped our sheds, pool houses, and garages find homes all over the east coast, from South Carolina all the way up to Maine and even out to Saint Louis!
Today we'd like to introduce one of shed dealers up north, Shed Happens, a shed company in Maine with locations in Saco and Portland. They feature pool houses, gazebos, lawn furniture, and of course, sheds for sale.
Shed Happens, currently owned and operated by Michael Doherty, has been in business since around 1976. His father, Dennis H. Doherty Sr. started it as a small family business that provided lawn furniture (like picnic tables) and other outdoor structures.  The demand for quality storage sheds continued to grow, as did the company's reputation for quality work, and Michael took over the business from his father in 1999. Family Enterprises (formerly Dennis H. Doherty & Sons) officially became Shed Happens!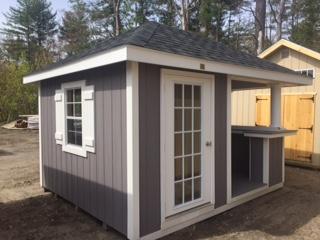 Throughout its 40+ years, the company has remained committed to providing the residents of Maine with the finest quality storage sheds and garages, outdoor living structures like pool houses and gazebos, lawn furniture, play structures, and more. They also provide shed relocation, site prep services, rent to own options, and more.
Shed Happens began working with Homestead Structures about 5 years ago, ordering sheds as needed. Today they feature both Homestead sheds and pool houses for sale at their location. We truly appreciate the partnership and look forward to many more years of offering our pool houses and sheds for sale in Maine on their lots!
Get to Know our Premier Shed Dealer in Main – Shed Happens
Thanks to Tracy and Mike for taking the time to answer our questions!.
Who came up with the name of your business? (We had to ask, it's a memorable one!)
Michael Doherty came up with the name when he was in college. One of his professors told him he needed a name that described what he did and would stay top of mind.
What are your best selling products – what do you specialize in?
We specialize in providing quality sheds for our customers, that is our best selling product.
Why do you like working with Homestead Structures?
Quality!! We try to provide our customers with a top quality product (best materials on market, quality workmanship, etc.) and we believe that Homestead has the same quality values that we do.
What do you feel your business/staff does REALLY well?
Teamwork! We work very well with one another and everyone does what it takes to make things great. If the sales team is slow, our staff will go in the shop and help out, and although the shop is never slow this time of year, if sales get overwhelming, the shop guys always make themselves available. Everyone just does what's needed and it's awesome!
What do you feel Homestead does REALLY well?
Customer service! Homestead always gets back to us in a timely manner if they can't address the issues while on the phone (which they usually can).
What do you struggle with, or what are your pain-points, business-wise?
I would say that scheduling is a downside for us. We are always trying to squeeze as much in as possible to keep everyone happy and we seem to run out of daylight hours!
Please share your favorite piece of advice or favorite tactic related to sales, marketing, or advertising.
Product knowledge is the most important thing when it comes to sales. No tricks, just straight truth and knowledge.
Please share any advice for anyone starting in the outdoor living business – or simply starting a business in general.
If you don't ha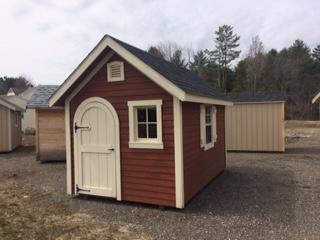 ve it, you won't sell it! Don't be afraid to try new things.
Contact Shed Happens
If you're looking for a new shed, pool house, gazebo, or other outdoor structure in the Maine area, call Shed Happens at their Portland office at 207-541-9043 or their Saco lot at 207-494-7546.
If you're in the mid-Atlantic area looking for the same, please give Homestead Structures a call at 877-272-5272 to discuss your building needs!