Anonymous | Mar 11, 2016
If you're considering a custom pool house to help add sophistication and utility to your pool area, deck, and patio, there are several things to consider before jumping into the investment. Here, we've taken the liberty of creating a complete guide to designing your pool house that can help transform an ordinary backyard into a dream summer retreat.
Step 1: Choose your property's optimal site.
In terms of structures, location is always key, and a pool house is often restricted by utilities, grading, house location, and zoning guidelines - not to mention the pool itself. Sometimes, a client may want a freestanding custom pool house conveniently placed away from the home. In other scenarios, the pool house might work in conjunction with a basement or informal wing of the house. With any location, you'll want to pay close attention to the path of the sun along your property since you likely don't want a pool house that is in the shadows for most of the daylight hours.
Step 2: Decide on size and budget as soon as possible.
A standard pool house will include a kitchenette, changing rooms, and a full bath as well as a seating area either included as interior space or on a shaded outdoor patio. However, perhaps you have the budget for a full guest suite above a casual living room or a multipurpose pool-house-slash-studio-loft. Perhaps you'd just prefer an open pavilion with a changing room and powder room hidden behind it or perhaps codes are more restrictive. The arrangements and options are endless, but the goal here is to create a fantastic space that's practical for you, your guests, and your family.
Step 3: Consider the style of your home.
You could either pick an architecture style that complements your home without looking too conspicuous, or you could follow the exact same style as the main house with a secondary structure. Regardless of the style you choose, ensure that the plan open towards the pool deck, and the exterior view should appear engaging and fun even if your main home is more formal in structure and design.
Step 4: Bring kitchen convenience outdoors.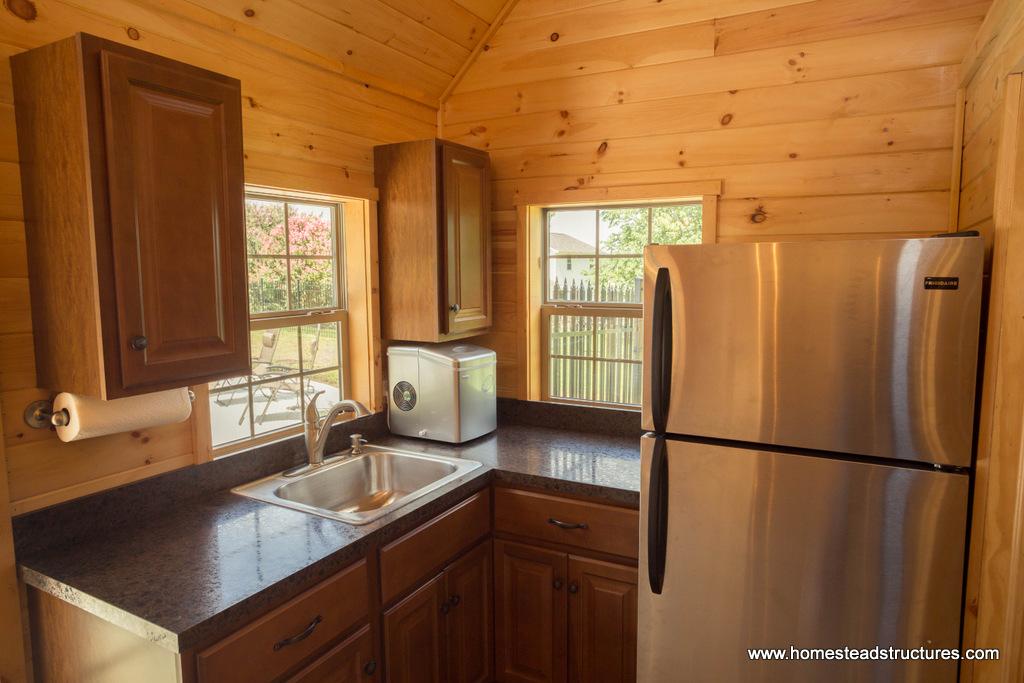 Although some building codes restrict full kitchens in auxiliary structures, there's always a way to incorporate drink and food preparation space into your new pool house. You can have a kitchenette, extravagant or simple, or you could build an outdoor barbeque station near the pool, complete with a refrigerator, an ice maker, a sink, a wood-burning pizza oven, a gas oven, and grills. For covered or interior kitchenettes, opt for a bar sink, a dishwasher, gas ovens, and exhaust vents - the same way you would in a full kitchen. Also consider storage for plates and glassware, durable low-maintenance counter tops, and lockable cabinets to protect your belongings.
Step 5: Entertain yourself and only you.
When you're investing in a custom-built pool house, make sure it's a place you always want to be - in shade, sun, or as day turns into night. With a fire pit or built-in fireplace, you have the opportunity to enjoy your pool house even in colder months. Make sure you design plenty of lounging and seating areas: a cozy hammock to enjoy some light summer reading, comfortable chairs and couches shaded for a break from the blazing hot sun, or social arrangements of pool deck chairs and bar seating. While the pool may be the focal point of entertainment, the fun certainly doesn't need to stop there.
Step 6: Storage, storage, and more storage.
Do you or your friends have children? If so, you know that pool toys are an absolute must. And for appearance and sanity, those volleyball nets, tubes, rafts, and noodles need to be stored in an out-of-the-way closet dedicated for this purpose when the items aren't in use. You'll also want to make sure you have a drawer or closet for sunscreen, extra bathing suits, extra towels, etc.
Step 7: Remember privacy.
While access to natural light makes for a more comfortable bath, you certainly don't want to have a large window in full view of the pool area, and you don't want the doors of the bath opening directly onto the pool deck or common area. You can easily pair a separate changing area with a smaller bath or hide a large bath, but make sure you also include cabinets for accessories and personal items.
Step 8: Choose durable, strong materials.
In the midst of all the add-ons and space-planning, make sure that you work with a company who uses high-quality materials that hold up to considerable wear-and-tear, don't become slippery, dry quickly, and drain well. Furniture can be upholstered in outdoor fabrics, and ipe and teak wood finishes are rot-resistant. Polished concrete counter tops aren't as high maintenance as porous, light-colored marble and they look just as sophisticated.
Step 9: Save space for pool equipment and accessories. 
You can hide a pump room in a retaining wall or conceal it in the rear of the pool house, and you can design a dedicated area specifically for pool-cleaning equipment. If you have a fire pit or outdoor fireplace, you may consider creating covered storage to help protect wood logs.
Step 10: Set the mood, set the atmosphere.
To complete your new pool house, you'll want the right combination of pool lighting, landscape, downlights and sconces, and ceiling fans. If you're big on entertaining in groups, you'll also likely want a quality sound system and one or more televisions. Pools themselves can be coupled with fountain jets, built-in hot tubs, and other water features that outfit your space for all occasions.
Ready to Get Started? Contact Homestead Structures Today
Whether you've been dreaming about a pool house for years or you only recently started to consider the investment, a custom pool house by Homestead Structures can help to add value and utility to your outdoor living space. Not only will the value of your home increase, but you might find the area more useful for everything from storage space to a comfortable entertaining and recreation area for friends and family. If you'd like to learn more about our pool houses in Lancaster PA, please call us today for a free estimate at (877) 272-7252.