Ashley | Jan 13, 2021
Once the pool is installed, it is time to get to work decorating it. A few seconds searching online and your mood is already dampened. It is so expensive to fix up and make your pool look amazing! But with a little creativity and a little elbow grease, you can make some of your décors and decorate your pool area the way you want, without the high price tag. Some of the ideas you can try to help decorate your pool include:
Make Your Own Poolside Chairs
This is a really simple idea that can help you stay cool without having to jump into the pool at all. Bob Vila shared some really beautiful DIY bench ideas, so you could basically pick out any pool chair that you want and with a little elbow grease, build it yourself.   Add your own creative touch by choosing your paint colors and designs and get to work!
For something truly poolside and easy, wait till after pool-season (you'll save money!) and go outdoor chair shopping. Find ones you're okay with cutting the legs off of so they can be put right by the pool, letting you dangle your feel in the water and relax poolside.
Note: You may want to find some way to attach them in place so the chairs won't go flying in the bad weather.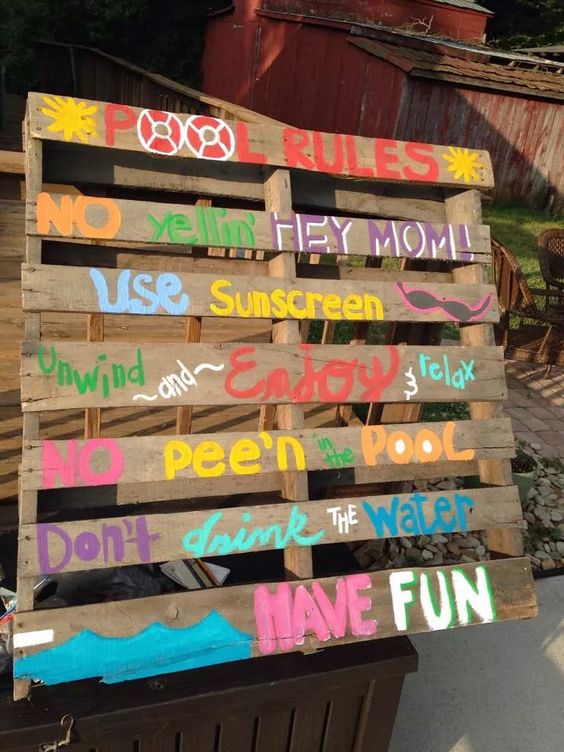 Cheeky Sign
You can add some of your personality to your pool with a cheeky sign that can go on your pool. You can choose anything that you would like to say on the sign and pick the colors you would like. You can find a few light pieces of wood and paint them any color. Get enough of these pieces based on the cheeky saying that you would like to say. Then either hand paint the words or find some stencils to add a professional look. Tie together with some wire or strong string and hang it near the pool.
Want to make it as simple as possible? Use an old pallet and some bright paint to write out your message!
Pool Noodle Luminaries
This is a good way to add in a few more lights to your pool without having a big mess or having it ruin your poolside décor. Get some simple battery-operated candles and make sure they work well. Then cut a few pool noodles in small circles. Place the candles into the hole of the pool noodle and then place all-around your pool. You can use the same color for all of them or pick out a few different colors to improve the look of your pool.
Pool Towel Cabinet
You can purchase your towel cabinet or make it on your own and get a really fun look that is all your own. Look around your home or at local garage sales and see if there are some old cabinets that you can purchase. You can then spend some time restoring and painting it into a nice spot for your beach and pool towels. You can place the finished product right by the outdoor patio, making it easier to dry off before you go back to the house. Just leave a laundry basket right next to the towel cabinet (you can make this one too!) so you can easily keep the pool area clean.
Towel Hanger
If you can't find an old cabinet to use, or you want to hang the towels out to dry rather than using a laundry basket, then a pool towel hanger may be the right choice for you. A wooden pallet or an old barn door with a few hooks attached is all you need to make this a reality. You can add your wet towels, or anything else, to the area to get a unique look that you are sure to love.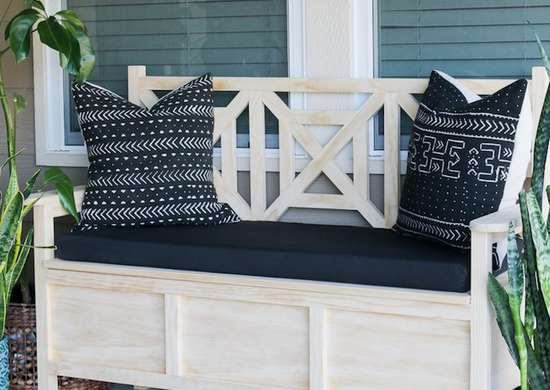 Storage Bench
Another option to use is to make a storage bench. This is functional and adds more sitting area when you are in the backyard by the pool, while also opening up so you can put away all of your pool supplies like your pool blanket, towels and more as necessary.
Making one of these can be simple. You can put together a few pallets to create your unique look, or use other pieces of wood as well. Leave the inside hollow, but measure it out so you have a good idea of how much you can fit inside. Add some cushions to the bench to make it more comfortable and some hinges on the top for easy opening and shutting.
We love this homemade outdoor storage bench from Jen Woodhouse .
Decorating your pool does not have to be expensive. With a little bit of creativity, you can turn some of your old junk that you were going to throw out anyway and turn it into a great addition that helps set the mood in your pool and can make it look better than ever before.