Ashley | Mar 6, 2017
When Cathy Headley was a child, she visited a uniquely designed round home in Maine. She doesn't remember much of the trip, but she does remember saying then and there, "One day, I'll have a house like this one."
Years later while visiting Wales, she fell in love with the Welsh/Celtic culture and unique architecture, especially their talent for blending man-made structures into the beauty of the natural countryside. The homes often referred to as "hobbit homes" were some of her favorite, and strengthened her determination to one day design and build her own.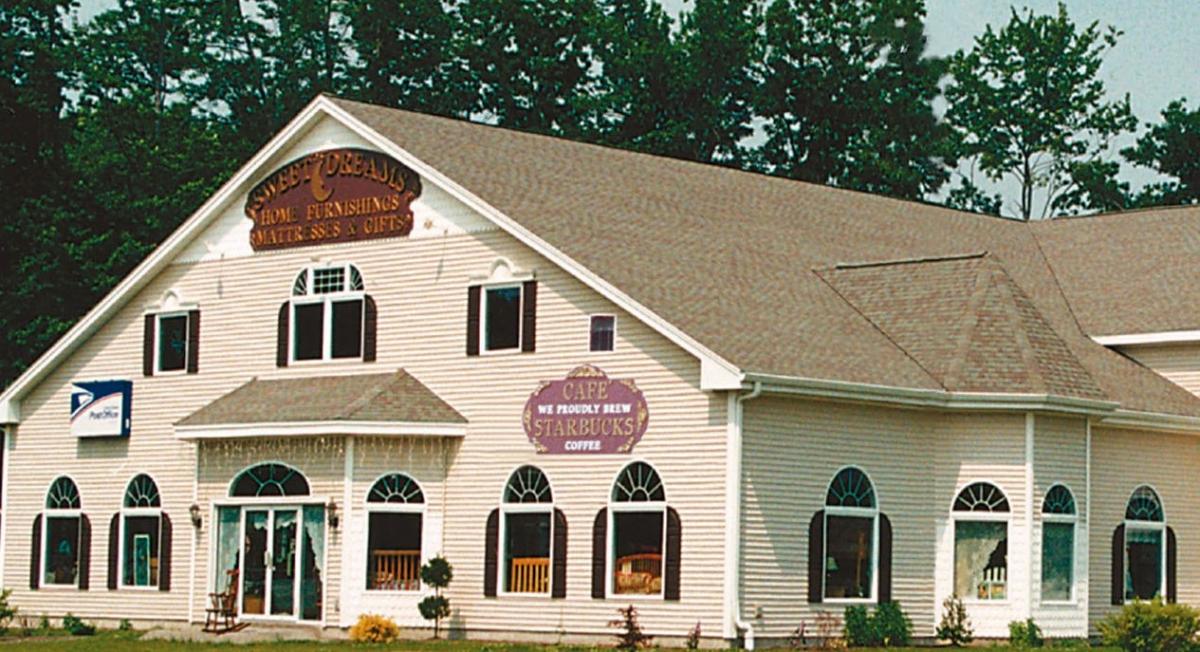 Architecture wasn't the only thing she fell in love with – Cathy also met her husband Marcus Headley, a roofer (among many other skills) while in Wales. Together with her brother and sister-in-law, they opened Sweet Dreams Homes Furnishings in Brunswick, Maine here in the States. With their combined love and skill in interior design and home furnishings, Sweet Dreams was blessed to double in size in less than two years.
"It was truly a blessing from God to grow so fast. Within 7 years, we had to find a new location to fit the growing business! We're now in a great spot we've really been able to make our own."
Sweet Dreams provides home furnishings from furniture to linens and accessories – most of which is American-made. They also work with many Amish to provide Amish-built furnishings. According to Cathy, "The quality and attention to detail can't be beat when it comes to Amish craftsmanship. And to be able to work with people who love the Lord is a huge bonus!"
Once Sweet Dreams was established and up and running, it was time for Cathy to turn her attention to bringing her childhood dream to life – her very own uniquely designed Hobbit Home.
Commissioning the Headley Hobbit House
Besides her childhood visit to that round home and later travels to Wales, Cathy began looking at and searching for inspiration online years before she commissioned the Hobbit House with Homestead Structures. She saved screen shot after screen shot of tiny homes and unique architectural details she found and began working on some rough sketches.
So how did she decide who to work with to build the tiny house of her dreams?
"About 6-7 years ago, I stayed with an Amish family for a while and happened to bring a phone book home with me. When I started talking about tiny homes with my daughter, we pulled out the phone book and found Homestead Structures. I knew from experience the hard work and quality the Amish put into everything they do. We gave Homestead a call, spoke with the owner Steve, and from there knew they were the company we wanted to work with."
The Design & Building Process of the Tiny House
Cathy's vision for the Hobbit House was one of the most unique designs we've had the privilege of working on, and it took a group effort to get things right. Cathy worked with one of our chief designers, Merv Ebersol to ensure her comprehensive designs were doable from a technical standpoint.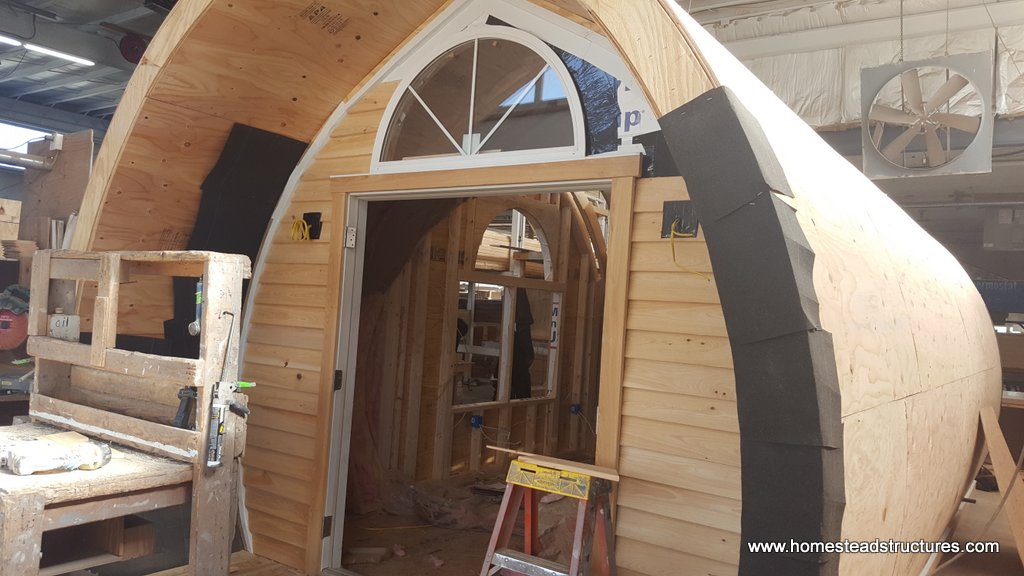 "Translating Cathy's design for the Hobbit House into technical plans for the builders was definitely one of the bigger challenges of the project. Her design was incredibly unique, and I had make sure the technical details were workable.  One of my favorite things was figuring out how to make all the interior areas fit within the rounded walls. Kitchen, living space, bathroom, etc. One of the toughest parts though was finding the right radius/curve for the walls and roof to give it the look Cathy wanted. Even just estimating the amount of time it would take the guys to complete the building was a challenge, just because we'd never done anything like it before. Putting up siding on a curved wall is definitely a whole different ballgame from our normal sheds and pool houses."
All in all, the Headley Hobbit House was an endeavor years in the making. Cathy designed it on and off for over a year to get her vision right, and translating that design to technical blueprints for the builders took several weeks. From there, it took a minimum of 4 builders to bring it to life in our workshop. The final building was a spacious 10.5' by 24' and 252 square feet.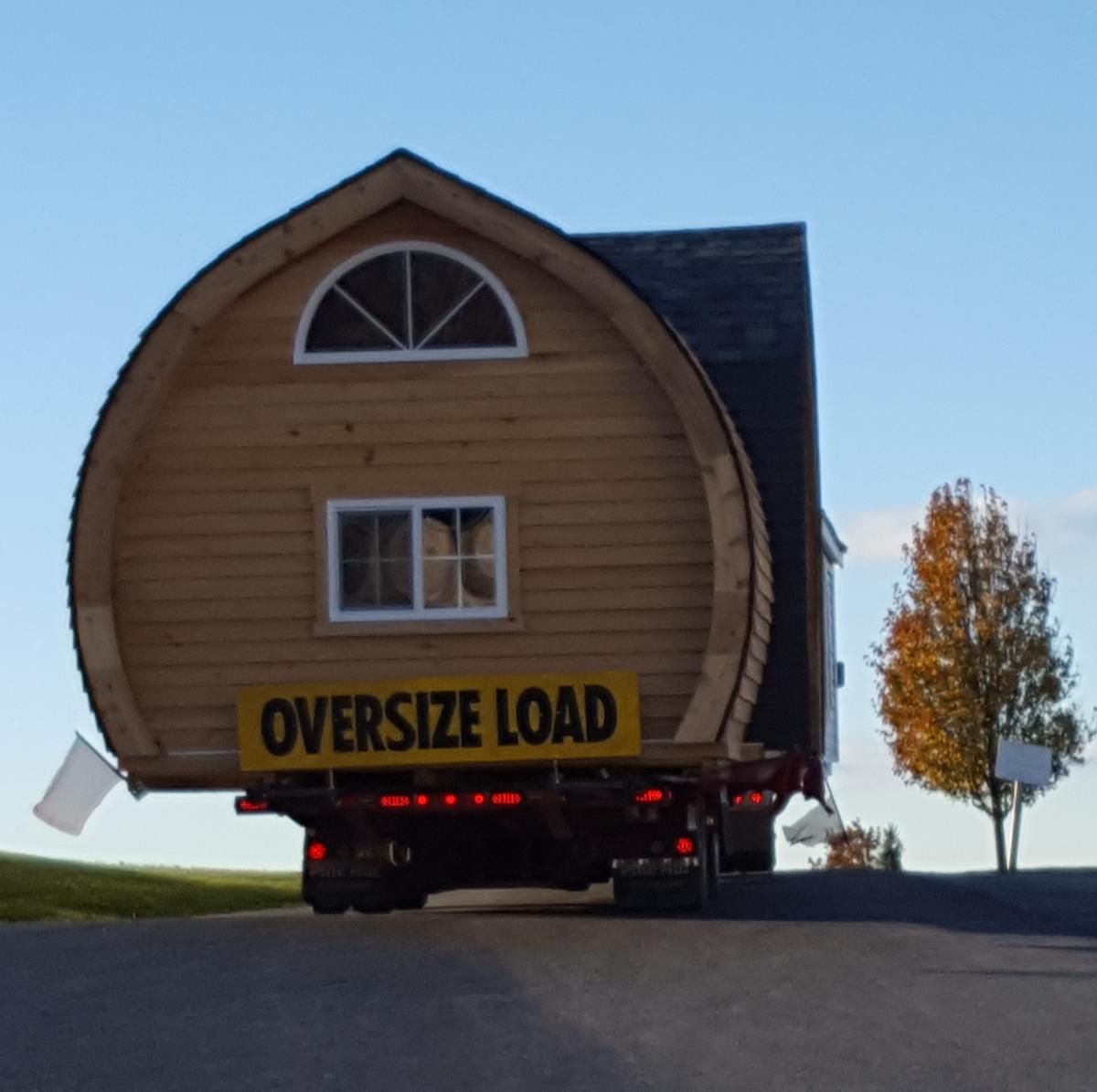 The guys worked tirelessly to get everything just right, and it was a bittersweet moment watching the house leave for Maine on the truck. The uniqueness of the building made it simultaneously one of the most interesting but exhausting projects they'd worked on.
The Headley Hobbit House made its way up to Maine during the week of Thanksgiving, where Cathy worked tirelessly to finish it with appliances and storage and decorate the inside.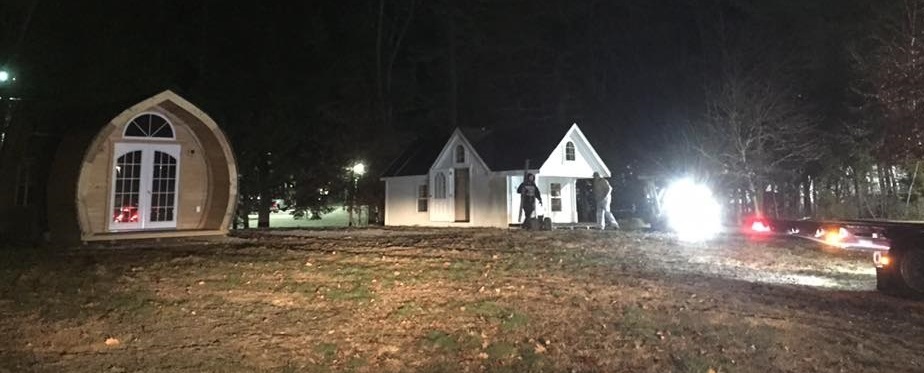 "I have so many ideas running through my head! Actually deciding which ones to go with is the challenge."
Cathy's tiny home design and interior design skills have made the Headley Hobbit Home a talking point for anyone visiting the store, and everybody seems to want to stop and take a look! For anyone interested, you can visit the Hobbit House at Sweet Dreams Home Furnishing (visit their Facebook page!) at 256 Bath Rd in Brunswick, Maine.
When the tiny homes trend started years ago, not many people believed it would stick around for long. Over a decade later, the demand for simplified living is still high, and more and more people are either building tiny homes to use as their main dwelling, or as vacation or guest homes. Homestead Structures can help you design your tiny dream home from start to finish, or bring your own designs to life. Just give us a call at 877-272-7252 or fill out our Contact Us form for more info.