Ashley | Apr 14, 2016
HGTV, most everyone's favorite home & garden channel, recently wrapped up its Ultimate Outdoor awards, choosing winners in the beginning of April. Seeing all the amazing submissions has really inspired our designers and builders, so we wanted to share some of our favorite designs, in addition to the actual winner of the contest. From designs reminiscent of Victorian and Gothic times to Asian and Tropical-inspired landscaping, these are some of the most beautiful outdoor spaces we've seen.
The Contest Rules
From December 1, 2015 to January 19, 2016, entrants had to make a preliminary submission containing 6 photos of a design/architectural project done that fit into one of the 6 categories included in the contest.
Those categories are:
Love at First Site – for porches, patios, curb appeal, and front yards.
Style & Structure – for decks, porches, patios, storage structures, and other outdoor houses.
Gorgeous Gardens – for container, estate, vertical, large, or rooftop gardens.
The WOW Factor – for fire pits, sculptures/art, lighting, and metal and stone work.
Outdoor Oasis – for entertaining spaces, outdoor kitchens, living rooms, dining rooms, and gathering places.
Water, Water Everywhere – for pools, pool houses, home by the water, and uses of water.
Judges reviewed the preliminary submissions to determine which qualify – making sure they're of a professional quality. From there, the First Round involved the panel of judges selecting up to 6 nominees for each of the 6 categories. These nominees were scored based on overall quality of the design, innovation and creativity, relevance to the category, and utilization of available space.
These nominees moved on to the second round, where 2 winners were chosen from each category – one for People's Choice and one for Editor's Pick.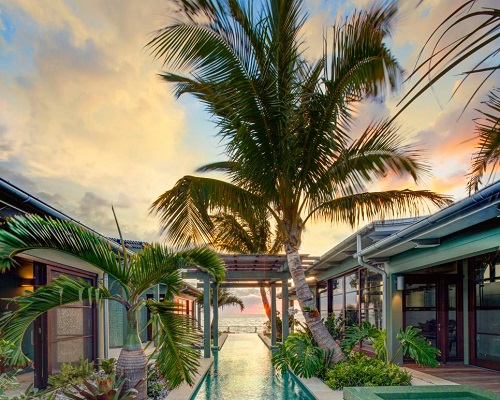 From there, one final, overall winner is chosen based on the highest score for the four criteria mentioned above.
And The Winner Is…
The overall winner was the "Pool-Topped, Seaside Breezeway", where designer David Young completely transformed a beachside home's narrow space into an extended, two-story breezeway, complete with pool, pergola, tropical landscaping, and waterways that draw visitors through the property toward the sea.
Our Favorites….
While the overall winner is a stunning piece of design, architecture, and landscaping, there were so many amazing entries, we're impressed the judges were able to choose. Here's a peek at some of our favorites! Looking over these gorgeous outdoor spaces has gotten our designers truly excited about helping our customers bring their true vision for their outdoor space to life!