Ashley | Jan 10, 2023
MAY SALE - GET 15% OFF ANY SIESTA POOLSIDE BAR
The Siesta is everybody's favorite little pool cabana. When space is at a premium, the Siesta can make the most of your poolside area! 
Design your own Siesta with our experts, or check out the in-stock page to see what's available RIGHT NOW.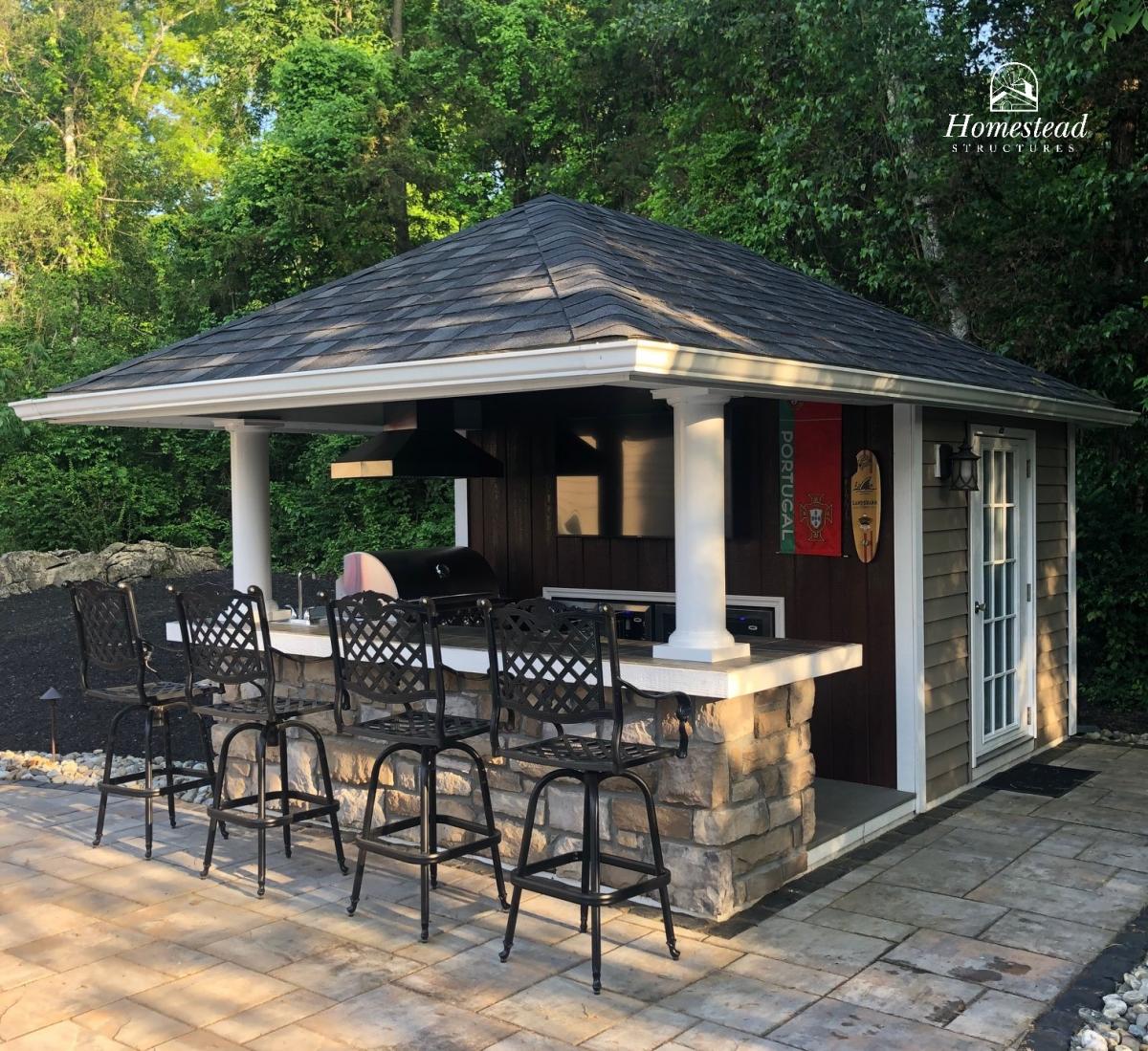 APRIL SALE - GET 20% OFF ALL OUTDOOR KITCHENS, BARS & CABINETS*
Enjoy more time outdoors with the ultimate outdoor kitchen space. Whether you're just cooking for your family or throwing a backyard BBQ, an outdoor kitchen and bar is the ultimate in convenient entertaining.
Save 20% when you add add outdoor cabinets, a bar or kitchen to your pool house or pavilion.

MARCH SALE - GET 15% OFF ALL INSTOCK STRUCTURES
Want your backyard pool party ready by May? A new in-stock pool house or pool shed may be just what you need! We've got plenty of Siesta Pool Bars, Pool Sheds and even Garden Sheds on sale this March.
Place your order now and you could have your new pool house in just a few weeks! Visit our in-stock page to browse available buildings and contact us here or give us a call with any questions!
FEBRUARY SALE - GET 10% OFF AVALON POOL HOUSES
The Avalon is one of our most popular pool house designs, and it's no wonder. It combines the shaded lounge of a pavilion with a fully finished interior that can be turned into anything you want. Our customers have found they enjoy their pool and backyard so much more as a family since adding a pool house. If you love hanging out at your pool or throwing backyard BBQs, a new pool house might be the perfect addition to your outdoor space. Give us a call or contact us here for a free quote.
*Some exclusions apply, speak to a sales person for details.
Homestead is celebrating 20 years in business this year with a whole year of savings for you!
January kicks off our BIG SALE with 10% off all new Pavilion and Pergola orders placed between January 2nd and January 31st, 2023.*
Take your outdoor living to the next level with a gorgeous new pergola or pavilion in your backyard.
Love spending cool evenings outdoors? Incorporate heaters or a fireplace to enjoy fun family game nights by the fire.
Love entertaining? Include a bar and outdoor kitchen to make your backyard BBQs a breeze. Spend less time running for food and drink and more time making memories with your friends.
If you've been debating adding to your backyard for a while now, our January special is perfect for you. You'll save thousands of dollars on your new pavilion or pergola with our 10% offer.
Fill out the form here or contact our Sales team at 877.272.7252.
*Offer only valid on new orders; not eligible with other discounts; other exclusions may apply.
A History of Homestead
We spent some time last year reflecting on how far Homestead has come since our start in 2003.
As part of our 20th Anniversary celebration, we created a timeline outlining the History of Homestead Structures and various milestones in our business over the years. We hope you'll enjoy learning a little more about our company. It' hard to believe it's been 20 years already, but we're already looking forward to the next 20! You can download the pdf version here or by clicking on the image below.
Thank you to all our friends, customers, partners, and employees for bringing us this far. And we truly thank God, who has blessed us immeasurable and without whom none of this would be possible.
All the Best,
Steve & Martha Stoltzfus