Ashley | Sep 28, 2023
So many appliance choices when working with a limited budget can make building an outdoor kitchen seem intimidating. But it doesn't have to be. 
Outdoor kitchens are a passion of Homestead Sales Rep Steven Lapp, so we recently sought his hot take on these increasingly popular backyard entertainment additions. We hope his five favorite outdoor kitchen features below provide some inspiration for your newest project.
Why Cover Your Outdoor Kitchen?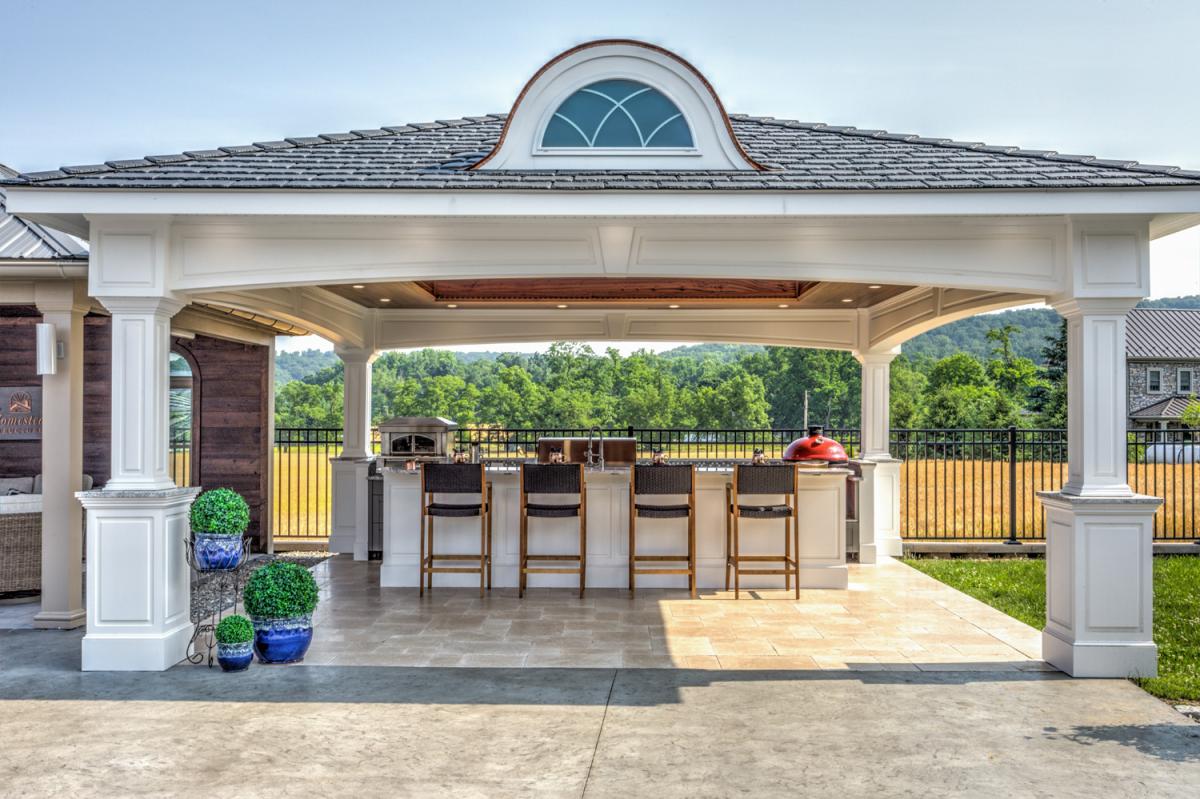 While you're still filtering through outdoor kitchen ideas, it's important to also determine how you'll protect your kitchen. Your appliances and cabinetry will last longer when shielded from the elements, so it's worth considering an outdoor living structure like a high-quality pavilion, pergola, or pool house with a porch like our Wellington Pool House.
When asked which structure he thinks is better to cover an outdoor kitchen, Steven explained why he prefers a pavilion: "It gives you space for cooking and people can sit at the bar."
Kitchens under pavilions are great for bringing people together. As the grillmaster or ultimate chef, you get to spend more time with family and friends while doing what you love, and your loved ones are shielded from the sweltering sun as they enjoy cocktails with you in the shade.
5 Must-Have Features for Your Outdoor Kitchen Space
Having trouble deciding what to include in your outdoor kitchen? Here are Steven's top five must-haves to help you generate more outdoor kitchen ideas. 
1. Smoker
Steven's favorite outdoor kitchen feature is a smoker. With a smoker, you can use any of a variety of different types of wood or charcoal to cook and flavor your meat–or vegetable–of choice. Here are a few types of wood commonly used to smoke meat: 
Hickory

Mesquite

Maple

Apple

Cherry
If you're considering a ceramic smoker, Steven recommends either a Big Green Egg or Kamado Joe smoker. 
2. Under-the-Counter Outdoor Refrigerator
Under-the-counter refrigerators are game changers in the realm of outdoor kitchens. Whether you want to keep cold beverages and fresh fruit within reach or keep meat cold before you're ready to grill, an outdoor refrigerator is a major convenience. And housing it snuggly under the counter gives you more space for entertaining. 
If you're wondering whether you can use an indoor refrigerator–even just a small dorm fridge–outside, we highly advise against it. Think about it. You wouldn't use an indoor stovetop to cook outside. Why? Manufacturers specifically design outdoor appliances to withstand more extreme temperature fluctuations, so an outdoor refrigerator is the best option to accommodate your cooling needs in an outdoor kitchen.
You can also opt for a freezer drawer to store your choice cuts of meat throughout the summer, saving space indoors and making it easy to switch them to the fridge or bring out to thaw.
3. Outdoor Sink
Having a backyard water source other than a garden hose is essential if you're looking for another practical idea for a new outdoor kitchen. There's nothing like a close, convenient place to wash up before cooking or enjoying a meal, and adding a sink to your outdoor kitchen creates just that. A small sink also allows you to rinse freshly picked condiments like tomatoes and lettuce for cheeseburgers or wash the dirt off of potatoes before you wrap them up and toss them on the grill. 
4. Griddle or Gas Grill
While more cost efficient, grills are generally less versatile than the ceramic smoker when it comes to fuel source. You certainly don't need both, but they each bring plenty of benefits to outdoor kitchens. 
If you're looking to cook up something quick, like the all-American hotdog and hamburger summer lunch, a gas grill is your best bet. With a near-instant ignition in this stylish heat source for your outdoor kitchen, it takes very little time to preheat, and burner knobs make it easier to control the internal temperature. That means even more time hanging out with friends. 
Depending on the accessories and setup of your gas grill, you may even be able to use it as a makeshift smoker. Be sure to do your research when picking the right grill that's best for your outdoor kitchen. 
5. Waste Can Cabinet
Obviously, you need a trash can. That's a no-brainer. Instead of hoping the packaging from your meat doesn't drip as you trek across the yard to the ginormous garbage can in the driveway, consider installing a cabinet for a smaller wastebasket. Not only is it convenient, but storing your trash can in a specially crafted cabinet also helps protect your kitchen against damage from hungry outdoor critters. 
3 Different Types of Outdoor Kitchen Grills
What type of grill do you envision in your outdoor kitchen? When it comes to a custom kitchen, there may not be a one-type-fits-all grill, so here we break down three different types of grills to help you make a more informed decision on what will work best for your needs. 
Gas and Propane Grills
Although limited in fuel variety, gas grills are rather versatile when it comes to food you can cook. Whether you want to cook burgers or shrimp skewers or even corn on the cob, a gas or propane grill will certainly suffice. Grillmasters have fun customizing their gas grills, too. For example, some have side burners, and many have add-on accessories to cook rotisserie style.
With individually operable burners, gas grills are much simpler to operate than some other cooking sources, as well.
Smokers
Ceramic smokers cook food more evenly, as the interior of the smoker traps the heat and helps maintain a consistent temperature throughout the smoking process. So, if you enjoy experimenting with different flavors and getting an evenly cooked tenderloin, a smoker would likely be the go-to grill in your new outdoor kitchen. 
Outdoor Pizza Ovens
Another option for your outdoor kitchen is a pizza oven. Outdoor pizza ovens are easy to use and the best way to cook homemade pizza, which makes for a good time for everyone. With the right amount of counter space in your outdoor kitchen, your youngsters will love creating new pizza combinations. Just make sure your kitchen design includes a sink for easy cleanup. 
What else can you do with an outdoor pizza oven? In addition to grilling pizza and vegetables, if you've got a cast iron pan, you can expand your options even further. For example, you could surprise your guests with a freshly baked peach cobbler after dinner. 
Dessert? In a pizza oven? Absolutely! 
3 Different Types of Outdoor Kitchen Cabinets
"As far as outdoor kitchens go, you can never have too much cabinet space," Steven told us.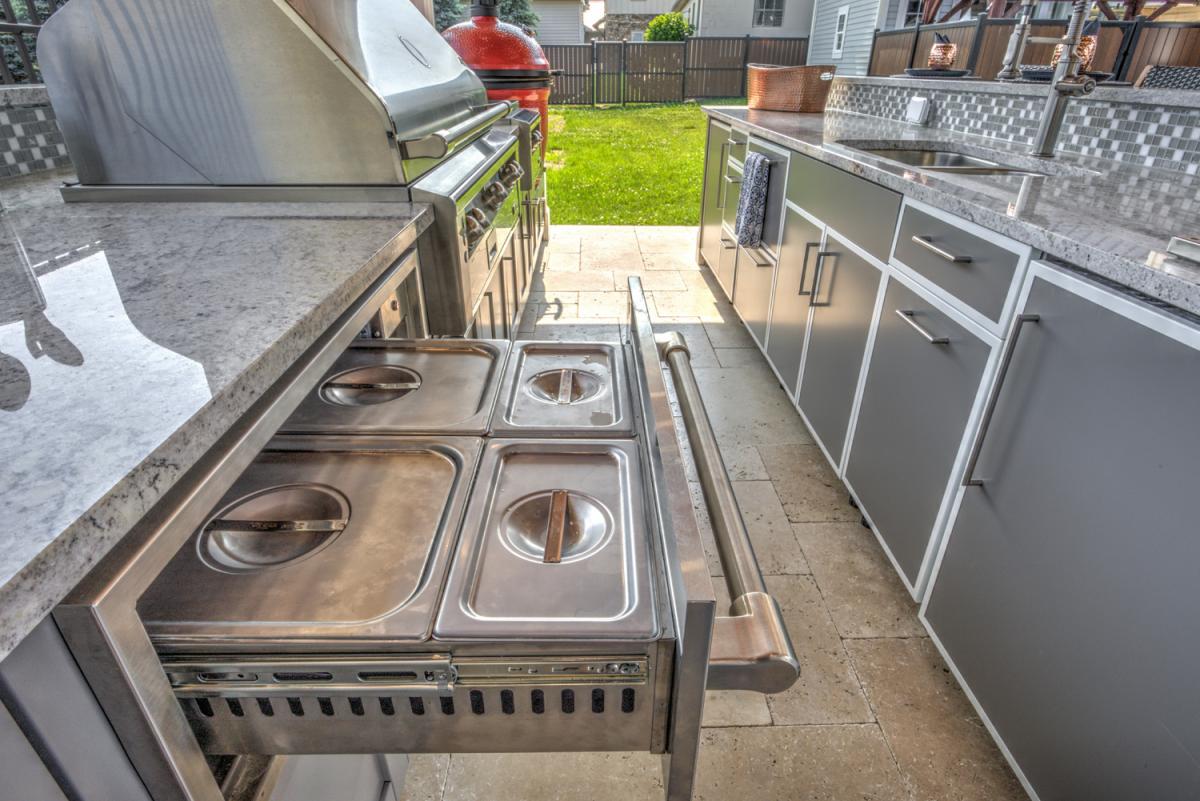 Today's technology has modernized your basic kitchen cabinetry. Now, homeowners can safely store everything they need in their own backyards for grilling, cooking, and baking outdoors. These are just a few outdoor cabinet ideas to make the most of your kitchen cabinets.
Warming Drawer
Whether you're saving food for someone running late or your corn on the cob finishes smoking early, a warming drawer can help. Warming drawers help keep food at a reasonable temperature without drying out or overcooking the food. Danver Stainless Outdoor Kitchens offers a sleek, stainless steel warming drawer that many Homestead Structures customers love. 
Pullout Waste Can Cabinet
Skunks, raccoons, and other foraging outdoor critters love free snacks, and if not properly maintained, an outdoor kitchen could be their ultimate buffet. Pullout trash can cabinets, complete with trash and recycling bins, help protect the integrity of your outdoor space by allowing you to keep a clean cooking and dining area. 
Basic Storage Cabinet Space
In addition to the pullout waste can cabinet, adding basic cabinet space to your outdoor kitchen gives you more room to store cleaning supplies. Other essentials to store in your outdoor kitchen cabinets include the following: 
Grilling utensils

Plastic dinnerware 

Cutting boards (for meat and vegetables)

Bottle opener

Oven mitts or gloves

Spices and seasonings

Salt and pepper shakers or grinders
And with all the technology and style options available in outdoor kitchen cabinetry, it's easy to create a cooking space that is uniquely yours.
Make the Most of Your Outdoor Living Space with Homestead Structures
Outdoor kitchens allow hosts to spend more time outside with friends and family, not missing a moment of memories in the making. Whether it's your little one's first swim or your grandfather's 80th birthday, you don't have to miss a second. Connect with Homestead Structures to get a free quote for your dream outdoor kitchen and capture more precious moments today.