Ashley | Mar 20, 2019
Imagine coming home from a busy day and relaxing on your patio under the cool shade of a pavilion.  Or throwing a backyard BBQ in your outdoor kitchen under a charming pergola.
Perhaps you're picturing the perfect poolside retreat to entertain your family and friends, something with a bar and lounge area, maybe a little storage space.
There's nothing like being able to enjoy your own backyard oasis, any time of year – no matter what form your "perfect oasis" takes.
If you're looking to extend your living beyond the walls of your home and create the ultimate backyard getaway, the first step is choosing the perfect shade structure. Of course, choosing the perfect structure means deciding just what you'll be using your new outdoor living space for!
This easy guide will help you choose a structure perfectly suited to your needs. Simply pick the description that best fits your backyard needs to determine which structure is the right fit.
Which Backyard Building Is Right for My Outdoor Living Space?
I need a quiet, comfortable place to enjoy nature and the outdoors, no matter the weather. Enough space to gather with family and friends is a bonus!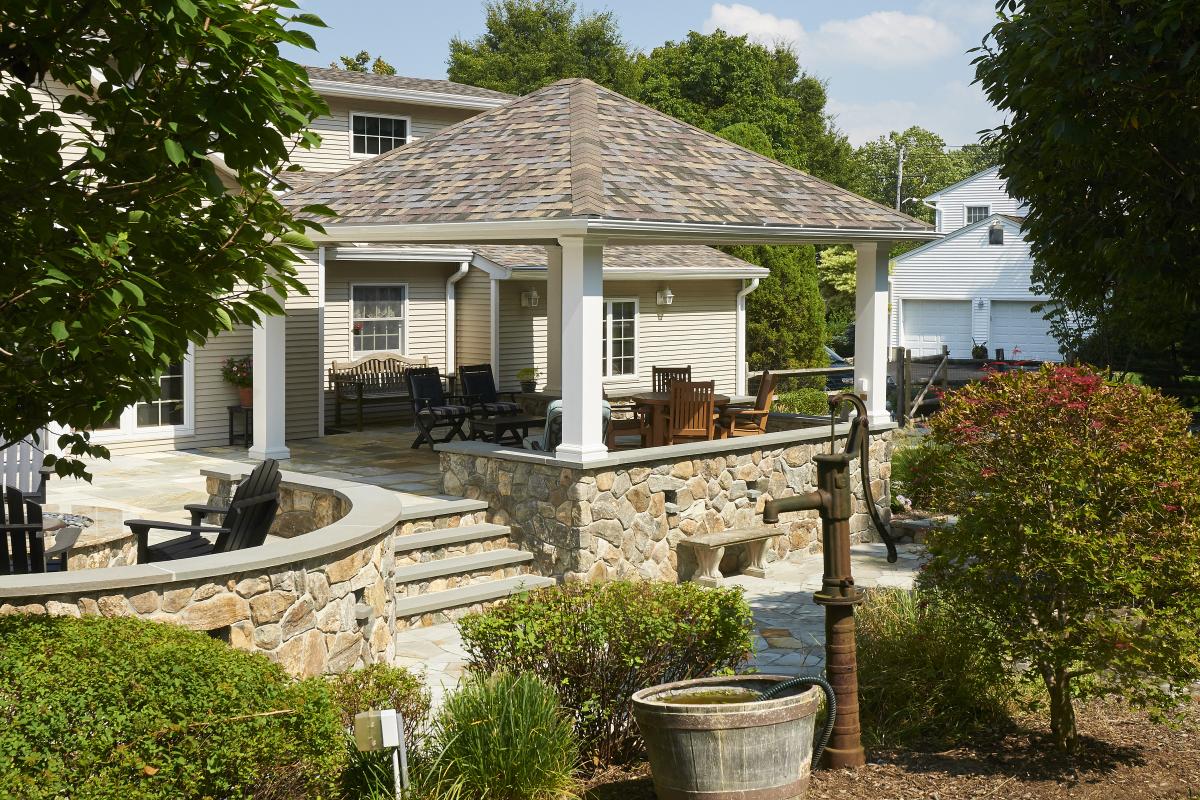 A patio or backyard pavilion is the perfect place to enjoy a cup of coffee in the morning and get your day started right. It's a perfect setting for small gatherings, family dinners, and much more. A pavilion gives you a cool, shady place to relax in the hot sun and a sheltered oasis on rainy days when you still want to be outside.
When you incorporate a fireplace and outdoor kitchen into your pavilion design, you'll have a structure you can enjoy all year long! The hardest thing will be choosing between a classic vinyl pavilion and the more rustic, natural design of a wood pavilion.
I have a pool and love to throw parties – but I'd rather not have everyone running back and forth to the house for food, bathroom breaks, etc.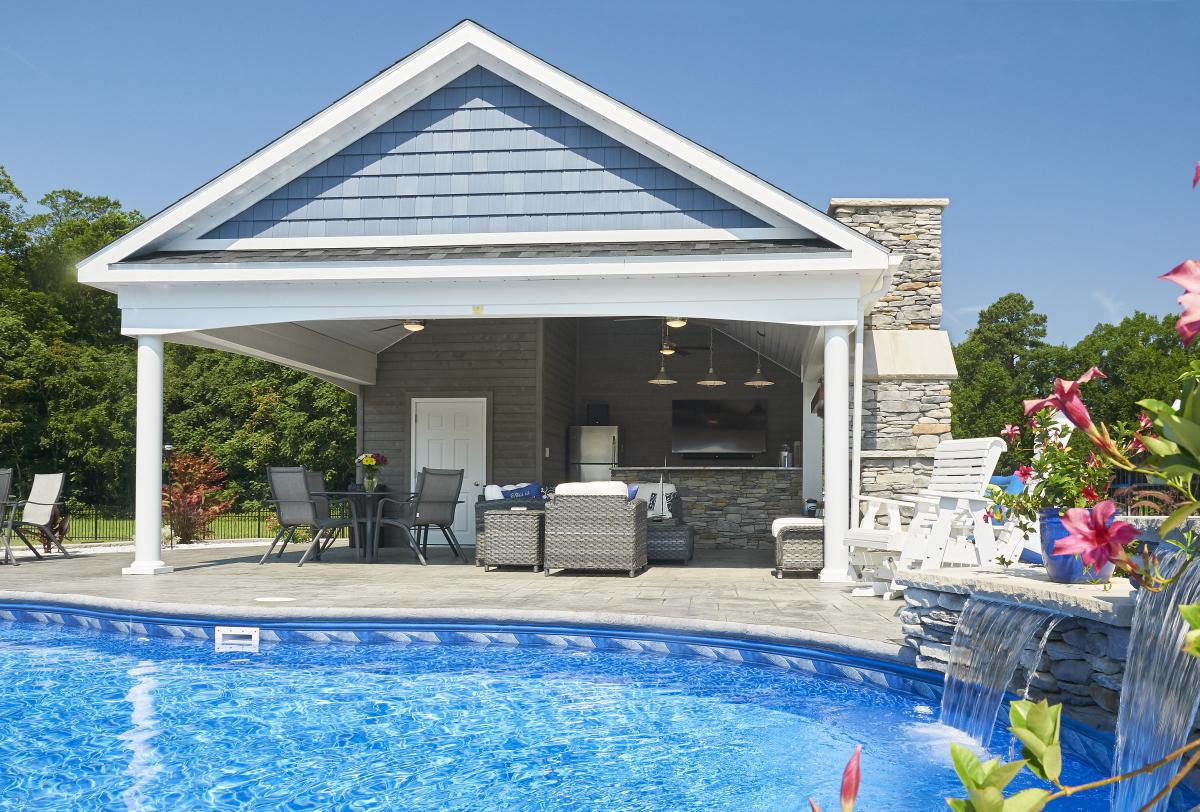 A custom pool house is the PERFECT pool accessory – and no pool party is truly complete without one. You can design your pool house to include all the comforts of home – from a comfy lounge and bar area to an interior bathroom, changing room and kitchen. You can even use your pool house as a guest house!
Not only does it provide the perfect party space, but it keeps everything you need for entertaining right out back – so you don't have to deal with wet, dripping clothing or muddy feet running in and out of your house all day to use the bathroom, grab snacks, etc.
I love entertaining outdoors and cooking for friends and family, but want to keep my outdoor space simple and open feeling.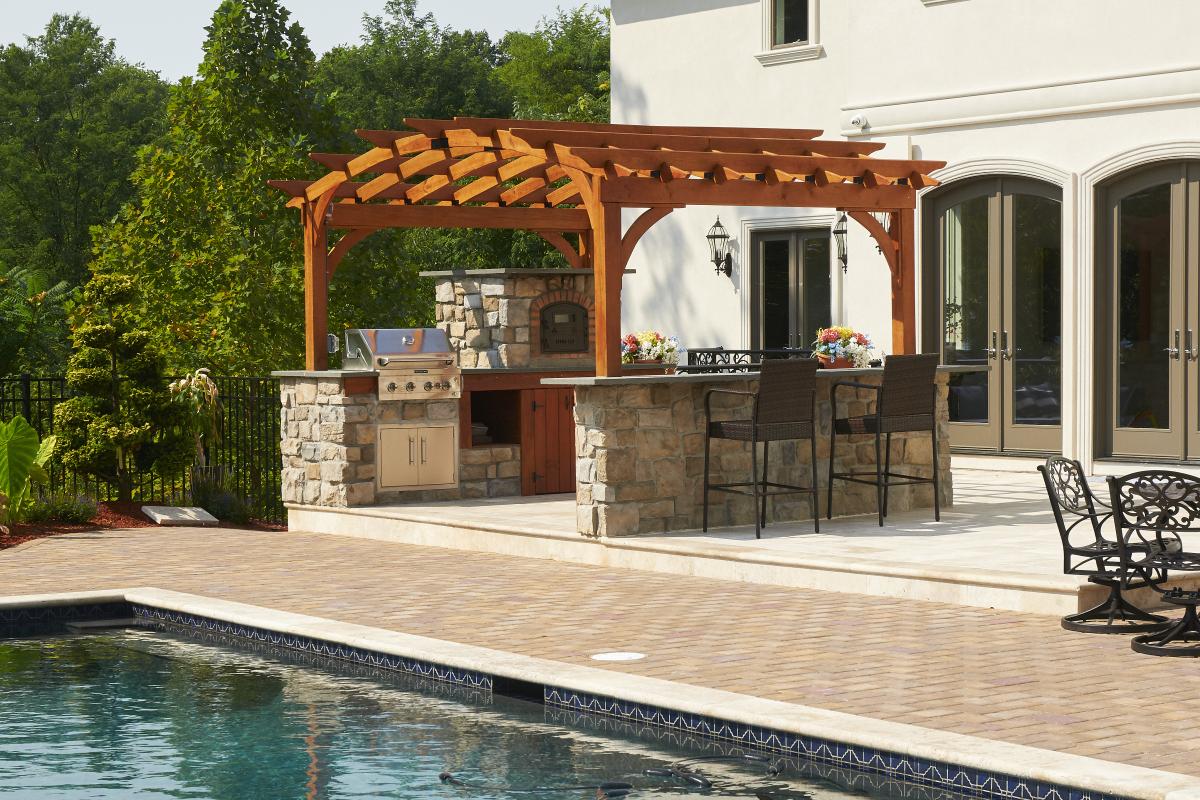 If you're looking for a simple but elegant addition to your backyard, a traditional pergola is a great option. As one of the oldest styles of outdoor structures, (pictures of them show up in ancient Egyptian mosaics!), the pergola adds a splash of charm to any patio or backyard.
Incorporating an outdoor kitchen into your pergola design gives you a beautiful centerpiece for your backyard BBQs and family dinners. The design of pergola is perfect for those that love soaking up the sun – and you can add a removable shade ceiling to get more shade.
I'd love to have a comfortable retreat to enjoy my hobbies – in rain or shine.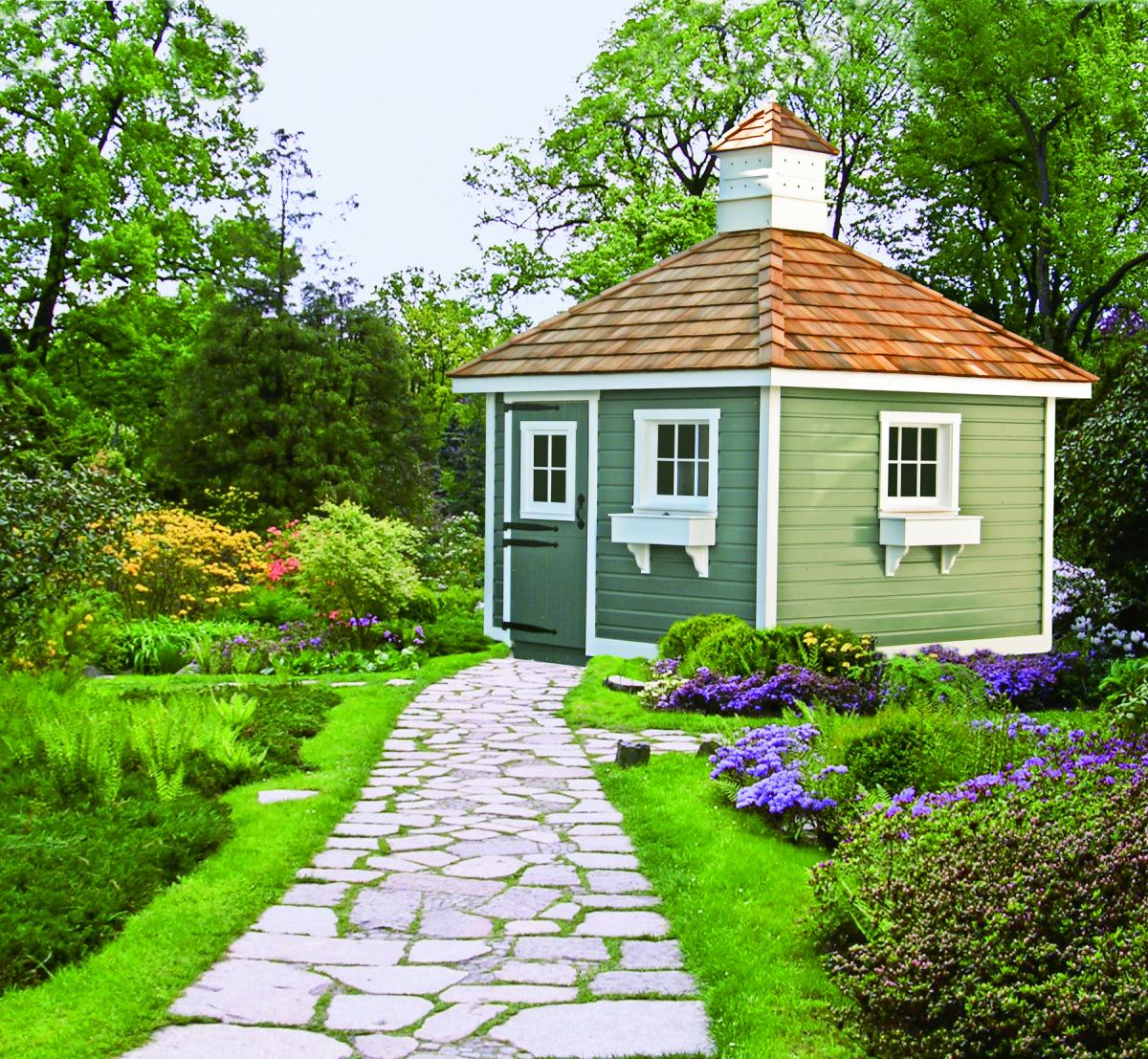 A custom she-shed or he-shed might be exactly what you're looking for if you'd love a home away from home. We're not talking about those cookie cutter sheds – we're talking garden sheds with lots of natural light, amazing accent features like cupolas, decorative braces, mini dormers, unique door styles, and much more.
Turn your new shed into a home gym, an arts & craft studio, a napping shed, a cigar lounge and bar, a workshop – whatever hobbies you enjoy, you can have your own backyard retreat in which to enjoy them.
Homestead Structures – Experts in Outdoor Living Structures
Whatever vision you have for your backyard retreat, Homestead Structures will bring it to life for you. If you're working with a landscaper or pool contractor to redesign your backyard, we're happy to work with them to incorporate a structure into the design.
For more information on our structures, give us a call at 877-272-7252 or fill out the form on our Contact Us page.