Ashley | Aug 15, 2018
The pergola has seen a big surge in popularity the past few years as outdoor living continues to be a huge trend in home improvement. Of course, the pergola has been around for a LONG time (with origins possibly dating back to Ancient Egypt!), but it's also one that's most often confused with other, similar structures.
People often mix up pergolas with arbors, trellises, and pavilions and aren't always sure just what a pergola is for, or what it even looks like.
Well, first off, a pergola is a very popular outdoor structure that can be a perfect complement to finish off your outdoor living space. It creates a focal point for your backyard and becomes the hub around which you center your outdoor entertaining. It can also act as a transitional space, adding shade and privacy while maintaining a sense of openness and view of the sky.
So, what does a pergola look like? It's this thing right here!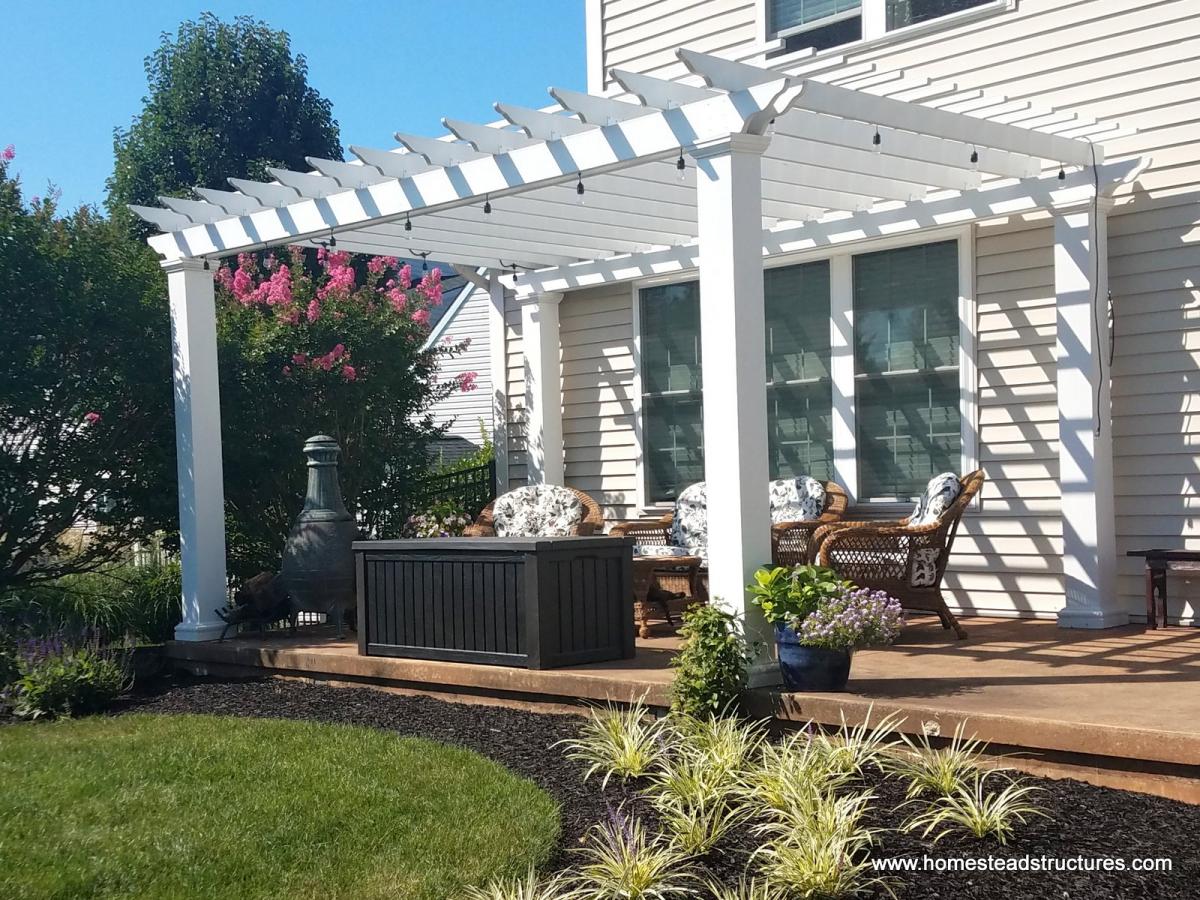 Pergolas vs. Pavilions vs. Trellises vs. Arbors
In many ways, pergolas are similar to pavilions, but without a solid roof. By having an open or lattice-type roof, a pergola still offers some shade on sunny days but allows you to enjoy the openness of outdoor living. Plus, the lattice-like roof is perfect for growing hanging or vine plants to give your space even more natural appeal.
Some people may refer to a pergola as an arbor, or even sometimes a trellis, but while those structures are similar in nature, they have different functions. An arbor is usually a bit smaller and is shaped to form a tunnel-like passageway of climbing plants. The "walls" of the tunnel are usually trellises. Arbors are often used as entry ways into gardens and yards.
A trellis is a structure used to guide and support climbing plants and the material (usually wood or vinyl) is criss-crossed in a latticework. So arbors often incorporate trellises. Pergolas can incorporate either or both, but are also their own unique outdoor structures.
Here's a handy collage identifying each of these outdoor structures!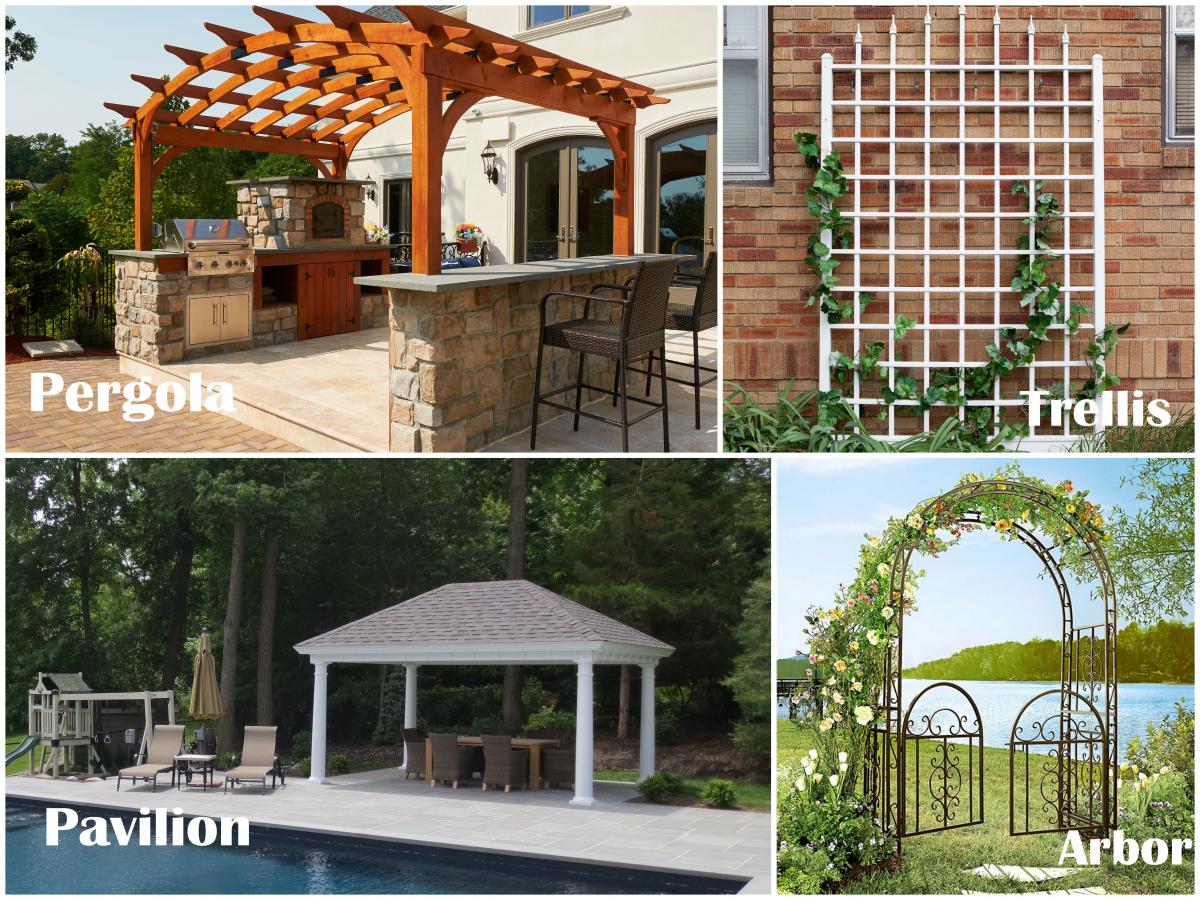 Types of Pergolas
Most of the pergolas you see are either wood or vinyl. However, there are also metal and fiberglass pergolas as well. Deciding which you prefer really depends on which you like the look of best, how much you want to spend, and whether you're willing to do some basic maintenance to help your pergola last a lifetime.
Let's first look at the most popular types of pergola – wood and vinyl.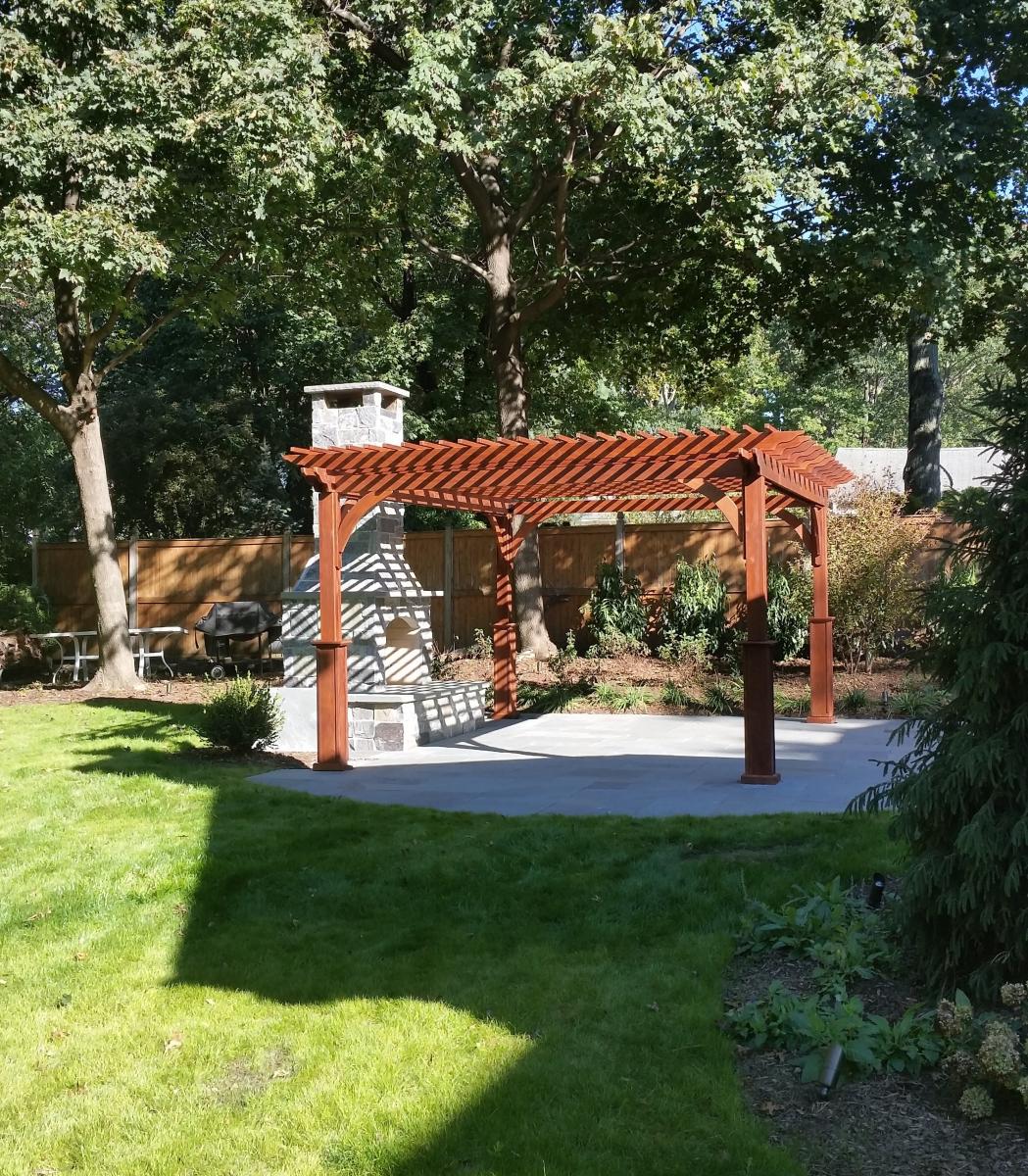 Wood Pergolas
Wood pergolas definitely give a more rustic, natural style and feel to your outdoor space. Pressure treated wood that is stained or painted tends to be one of the cheaper kinds of custom pergolas you can purchase. Once you start looking at cedar or redwood for your pergola, the price can rise substantially.
Of course, the natural beauty and durability of those hard woods make it well worth the price. You see, where pressure treated pine and other typical timbers are rot and insect-resistant due to the chemical treatment, cedar offers a natural resistance, contains no chemicals, has a beautifully natural color (though you can paint and stain it) and has a very appealing fragrance. However, it tends to be better for drier climates and it will dry to a grayish color eventually. If you want to maintain its natural color, it's best to add a sealant to it.
Pressure treated wood pergolas are good for more humid climates. They tend to come with a slightly green appearance but dry to a golden brown color. If not water sealed or stained, they'll eventually dry to a grayish color. However, you have to wait at least 90 days before applying stain or seal to let the wood dry all the way.
When it comes to most wood pergolas, you'll need to perform some upkeep to get the longest life from your pergola. That typically means repainting, staining, or sealing every 2-4 years and it's always best to clean it down good before doing so.
Vinyl Pergolas
Vinyl pergolas offer a classy, elegant, and clean look for your pergola. Plus, as most people know, vinyl is practically maintenance free. With vinyl, you'll want to perform periodic power washings (every 1-3 years) to remove dirt, mold, grass, etc. that may show up, especially in more humid climates. Other than that, vinyl can easily last a lifetime, as long as the company you're buying from is using QUALITY vinyl. (Homestead does!)
Over the years vinyl can become more brittle and easier to crack or gouge. It's worth spending a little extra to ensure your vinyl pergola is made with only top-notch materials. Perhaps one of the downsides to vinyl is that they come in mostly white or variations of white. There's not a whole lot of color to choose from. However, vinyl can be a very affordable option for your pergola, even if it tends to be a bit pricier than pressure treated wood.
Fiberglass Pergolas & Metal Pergolas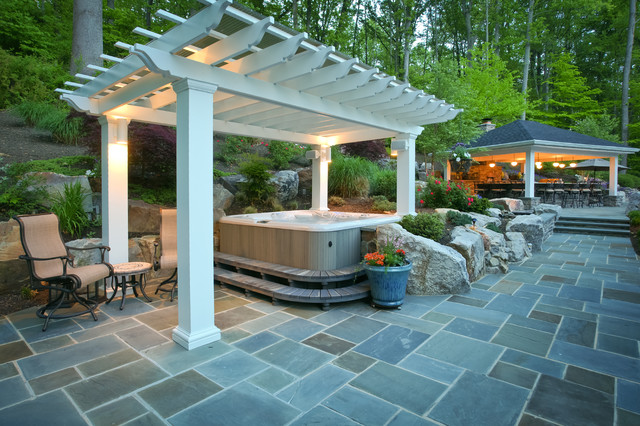 Fiberglass pergolas have an exceptionally long lifespan, little maintenance needs, and the fiberglass composite will not rust, corrode, or pit regardless of what environment it's in.  They also hold paint extremely well and don't absorb moisture (the number one cause of cracking and peeling of paint).
Fiberglass beams can also span longer distances than wood or vinyl; their strength to weight ratio keeps them from sagging under their own weight. Plus, they look a lot like vinyl pergolas!
All that being said, fiberglass pergolas are one of the most expensive types of pergolas. While it's a sturdy and versatile material to go with, that's also reflected in its cost – the cost of fiberglass pergolas are significantly higher than vinyl and wood. Plus there are only a handful of manufacturers who do fiberglass, so you may be looking at longer lead times.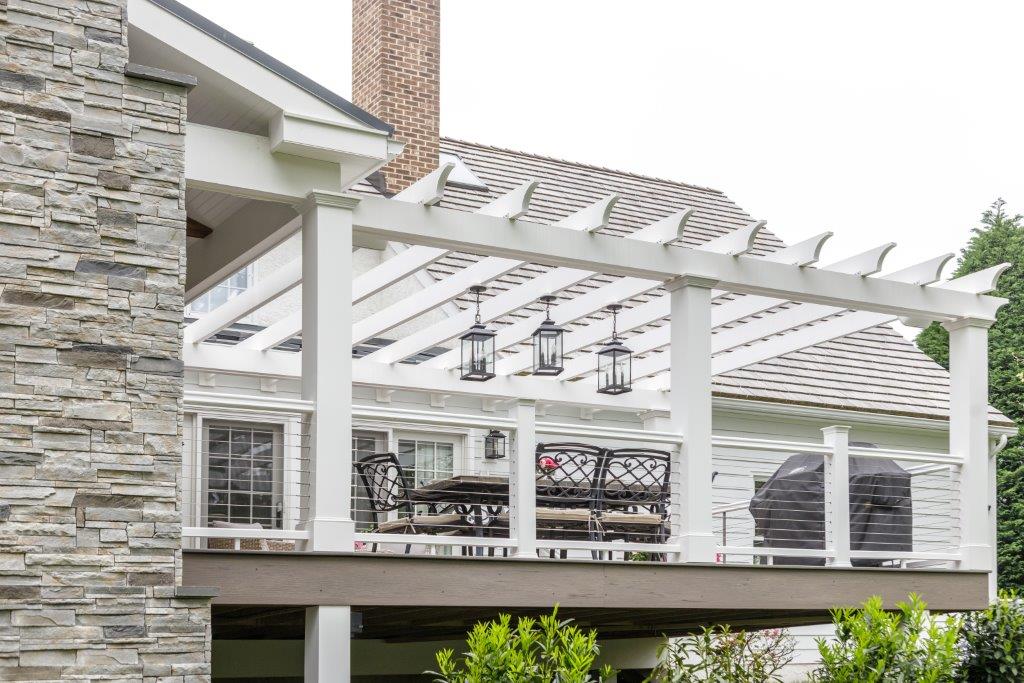 Different metals can be used to build pergolas as well, including aluminum and steel. Aluminum pergolas are light weight and will never rust, which makes them ideal for those who live near the ocean. However, they must be carefully and properly anchored due to their lightweight nature, or a strong wind could twist or damage them. When you go with powder coated aluminum, you get more color options and greater protection.
We've built a few Azek-Clad Aluminum pavilions, and they come out looking beautiful. They Azek gives a more elegant, finished appearance as well as adds the weight to keep the pergola a bit more settled in bad weather. Both Azek and aluminum are durable, long-lasting materials.
A treated steel pergola is obviously going to be pretty heavy, but strong and able to withstand the elements. They can also cover a wide area with less support structure.
Typical Pergola Sizes & Accessories
Pergolas can be ordered or built in a variety of sizes to fit any outdoor space. Often, you may see them sized out perfectly squared, ie: a 10x10 pergola or a 12x12 pergola. Here at Homestead, we've definitely noticed that rectangular pergolas are more popular, and we've built a wide range of sizes, from a 10x14 arched wood pergola to a 10x45 radius (read: curved) pergola!
If you're buying an "out of the box" DIY pergola like from Lowe's or Walmart, you'll have less choice on size and style. These pergolas are all precut and packaged, all you have to do is put them together.
Custom pergolas from builders like Homestead Structures give you a huge range of options, from size/shape and materials to installed accessories. We have done straight, arched, and radius pergolas and some of the most popular pergola accessories include:
Retractable shades and roof
Curtains
Special lights
Planters
Privacy Walls
Breathtaking Pergola Design Ideas
As a minimalistic structure, many let the natural beauty of the pergola speak for itself, or add growing vines to give it even more natural appeal. However, it's how you use the space under and around it that can take your pergola from a simple structure to a striking outdoor living space.
From mood lighting to the perfect furniture and fire pit, you can customize the surrounding areas and create the ultimate outdoor living space with your pergola as a focal point – much like theses gorgeous design ideas from HGTV. 
What you do to enhance your pergola is completely up to you!
But How Much Does a Pergola Cost?
Great question! And the honest answer is, it varies. It really depends on what size you're looking for and from where you're purchasing.
Decent pergolas can be purchased rather cheaply (around $1000) from big box stores like Lowes or Homes Depot, but you get what you pay for. It's rare for these structures to last more than a couple years, especially if your area is subject to bad weather or strong winds.
If you're looking to add a backyard structure that will last for decades, a custom builder like Homestead or a local landscaper or outdoor living store should be able to accommodate this. Even then, costs will vary greatly, usually depending on the builder, the quality of materials, the size of the pergola, the location it is being built, etc.
Home Advisor put together some cost analysis info about pergolas. Their takeaways are:
$3,594 is the national average cost for a pergola (10x10 or 10x12)
A typical range is $1,966 to $5,230
A low end pergola goes for about $800
A high end averages $9,000
We're a high-end custom builder, so we focus on the quality of our pergolas, rather than a quantity of cheaper ones. Our pergolas are built with the same quality materials and construction processes as you would build a home – which means they're built to last for decades and decades.
We fall about in line with the high-end of the range, so we think Home Advisor's data is relatively accurate. They may not take into account delivery charges however, so you should be prepared for those if you're pricing our pergolas.
The History of the Pergola
By now, you've probably learned more about pergolas than you ever cared to know. But one last fun fact: It's possible that the pergola is the oldest outdoor living structures still in use today.
When you see pictures of pergolas, you tend to think of a gorgeous Italian garden or French wine country. Pergolas seem to have a distinctive feel of Europe from bygone eras. The name itself comes from the Latin pergola, which refers to a projecting eave.
But would you believe that pergolas may date back as far as ancient Rome & Egypt? The picture below is a pergola depicted in the Nile Mosaic of Palestrina, Italy which, according to research, was built around the 2nd or 1st century, B.C. and depicts scenes from Egyptian life. Egyptians used the pergola as a training system to grow grapes. While this depcits a rounded structure shaped more like an arbor, the fact that it was large enough to place benches beneath qualifies it as more of a pergola. There have also been evidence of pergola-type structures found in ancient Asia as well. So it is likely that the pergola is one of the oldest styles of garden architecture still in use today!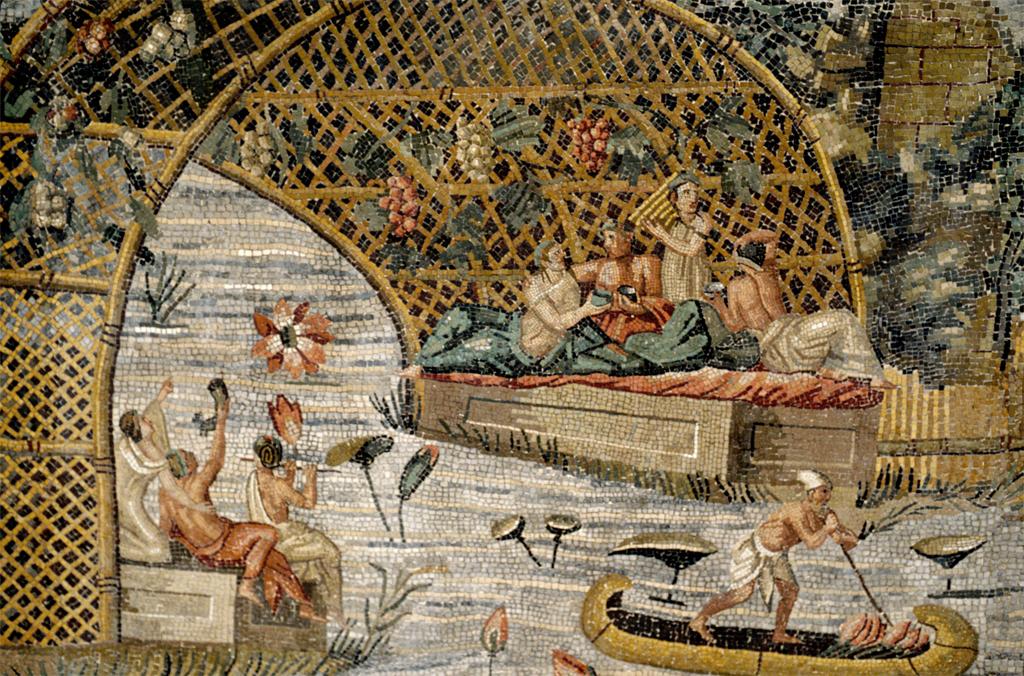 Are You ready for a Pergola Quote?
If you are interested in enhancing your outdoor space with a new wood or vinyl pergola, we're happy to provide a pergola cost estimate for you. Please fill out the form here and let us know the approximate size you're looking for, as well as whether you want wood or vinyl. We'll reach out within 24 hours to discuss your project!