Ashley | Aug 30, 2018
Read on to discover how a new Siesta Pool Bar took the Stickles backyard oasis from 'wow' to 'WooOOOOwww.'
The Stickles of Ghent, New York put a beautiful pool in about 5 years ago to complement their hot tub. When the hot tub went unused, they decided to get rid of it, and the concrete pad sat vacant for several years.
They knew they wanted to do something with the space, but didn't want to rush into anything. So they continued to enjoy their pool, entertaining regularly in the summer and spending time with family and friends.
"After entertaining a lot last summer, we made a list of what we were missing. Everyone's kids were getting older and no longer sitting at the kiddie tables so we really needed more seating for meals, more space to lay food out, some shade (we have full sun in our backyard until about 6:30pm), storage for cushions and pool toys (we had furniture cushions stored in several places so getting things set up by the pool was a production), a refrigerator and freezer, storage for outdoor entertaining items, and I really wanted a propane fire pit," Jamie Stickles told us.
Finding an Outdoor Living Company to Work With
She met with a landscaping company about putting in an outdoor kitchen, but the price seemed rather high for a solution that didn't check off even half the items on their list. The Stickles live in a small agricultural community, so there's not much in the area. The companies that were near them weren't very responsive.
"So I googled pool houses and later Homestead came up on my Facebook feed. We were amazed you would deliver to New York and with all the customizations we were able to get something that checked off almost every box of what we were looking for."
They ended up removing the old hot tub concrete to make a larger one for their new 10' x 14' Siesta. They did stamped concrete with an acid stained border to tie into the other part of their patio where their main outdoor dining area was set up. After adding some bar stools to their new poolside bar cabana, they've got the outdoor living space they've dreamed of!
And apparently, it's pretty popular with their guests as well!
"We absolutely love the Siesta and so do all of our guests. We've had a ton of gatherings since school got out…in all honestly, I think I've had kids and families here every day! The summer is my husband's busy season, so we don't go away on vacation. It's nice to have a resort feel to our own backyard and be able to entertain."
The Standard Siesta Specs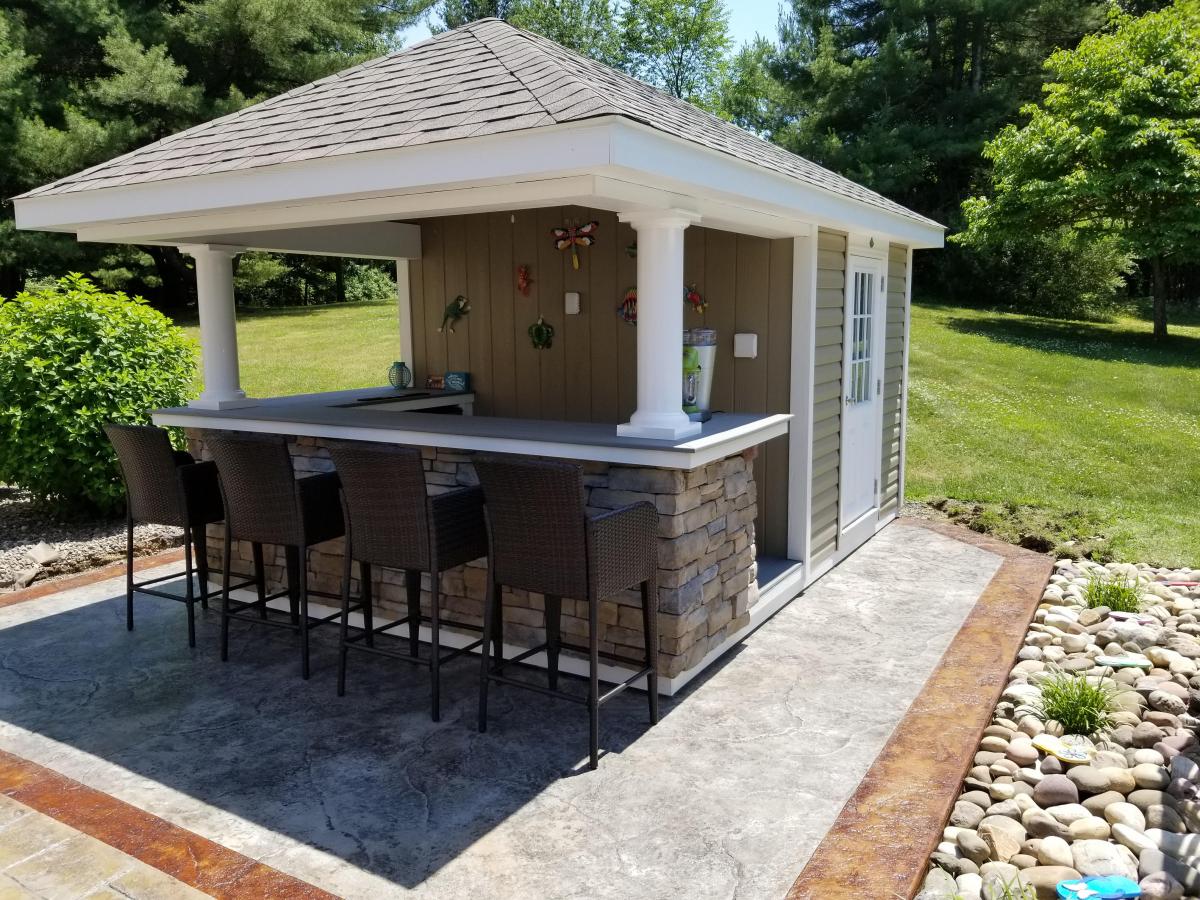 The Siesta comes standard with a 6' bar area, single solid house door, 2 windows, a porch/bar area, bar counter on 3 sides, vinyl columns and composite countertop, and unfinished shed area..
The Stickles Siesta included some customizations and upgrades, including:
9-Lite Door
Drystack Stone Veneer on Bar
Bar Fridge & Trash Can Cut Out
Bar Shelves
Country Cabinet Doors
Interior & Exterior Electrical Package
52" Outdoor Light/Fan Combo
Vinyl & D-Temp Siding in Tuscan Clay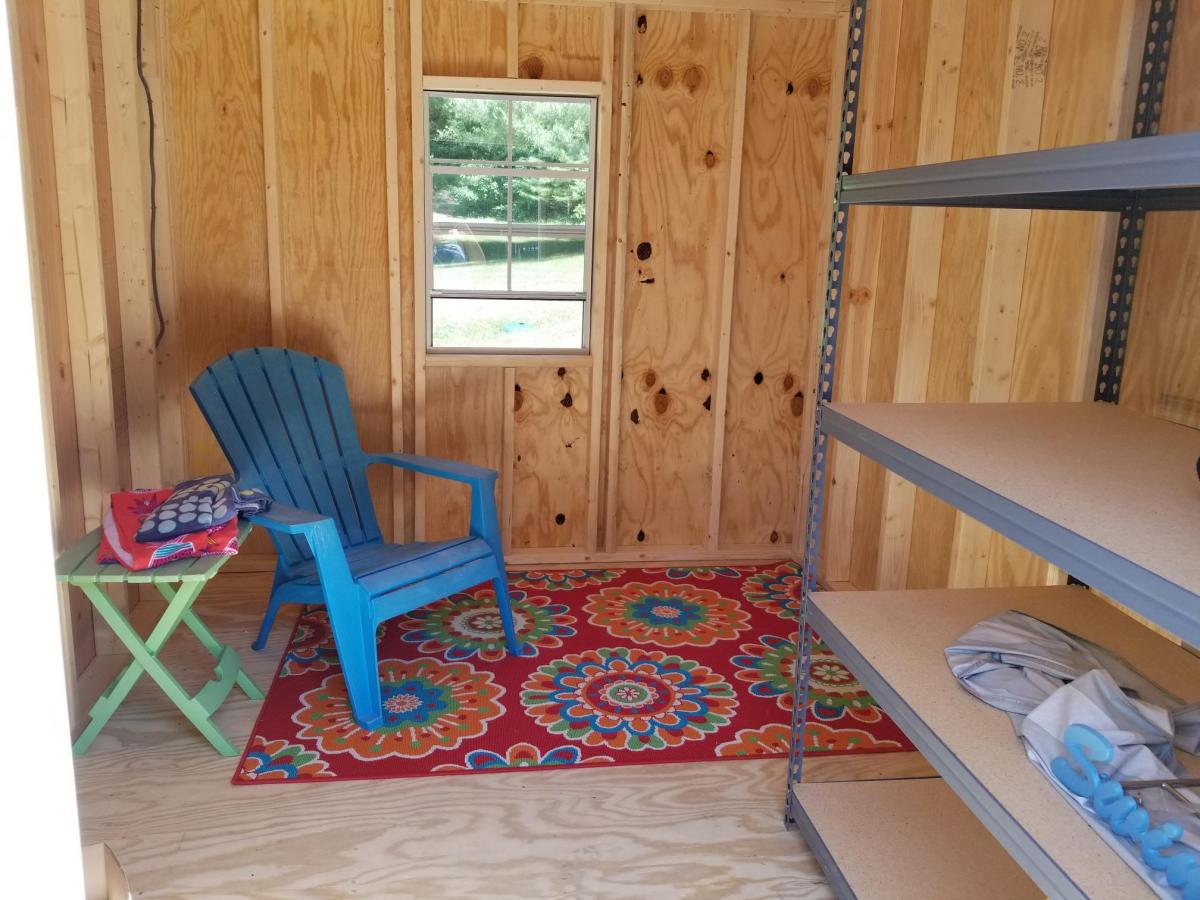 Are You Ready to Transform Your Poolside?
If you're interested in taking your outdoor entertaining to the next level, Homestead can help! We love helping to create a structure that you'll love for years to come – creating memories and spending time with loved ones in your own backyard retreat. Simply fill out the form here or give us a call at 877-272-7252.
"Thank you again for everything. Alex, the delivery person was absolutely fantastic. Everyone that comes over LOVES the pool house. We have told them all how amazing you were to work with…responsive to questions, great quality, complete customization, friendly, quick turnaround, etc. The pool house matches our house perfectly. I can't say enough great things about working with you all."
-Jamie Stickles, Ghent, NY