Ashley | Jul 12, 2016
Some people have a unique vision for their new backyard structure…and settling for anything less just won't do. Others know they need a new storage shed, or a new pool house for backyard entertaining, but spend time browsing websites for inspiration on what would best fit their needs and their style.
For those still deciding just what they'd like in a new shed or storage building, it's always worth some time to browse the structures already in-stock. Besides the fact that it's a great way to get a feel for a company's work, and inspire your own plans for your shed or pool house, you just never know when you might find The One.
You may find your dream structure is already built and waiting for you on a lot – and you won't know until you actually start looking!
Custom vs. Pre-Built Sheds & Structures
At Homestead Structures, we absolutely love being able to work with our customers to design a custom structure just for them – one that is perfectly suited to their needs, wants, and design style. But designing and building custom buildings come with two considerations – time and cost. A custom structure takes longer to complete from design to installation, and can come with a higher cost depending on exactly what is wanted out of the custom build.
So for those who are in need of a new shed sooner rather than later, or are just looking to keep costs lower, choosing from our in-stock options may be the way to go.
Reasons for Choosing an In-Stock Structure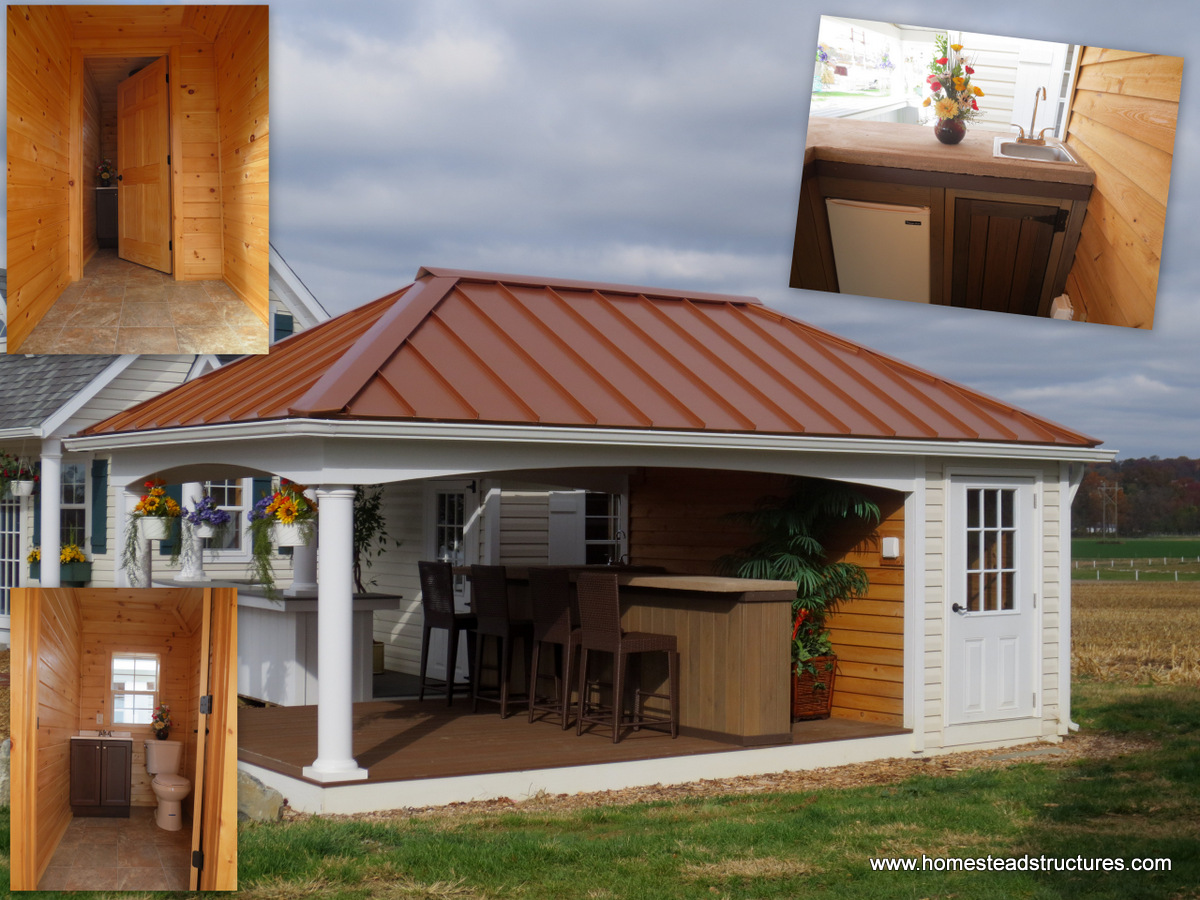 Time – In-stock sheds or pool houses can be delivered and installed in as little as 2 weeks. We can even provide foundation services leading up to delivery to make the process even smoother. Custom builds can have a lead time of anywhere from 4 to 8 weeks, depending on how complex the project is and how many projects we already have in the pipeline.
Convenience – When you choose an in-stock option, there's no going back and forth trying to decide exactly what you need included, what color siding you want, how many windows to include. What you see is what you get. (Unless you want extras added after the fact – like planters under the windows, etc. Then we'll need to chat!)
Price – We price our in-stock buildings pretty aggressively and run specials on certain buildings throughout the year. You can be confident you'll get a great deal when you purchase an already in stock model.
Style – We tend to keep our most popular styles and colors on display – so you can be sure you'll see a great selection of some of the hottest designs we sell. Of course, even buildings of similar design still have their unique style and flair, whether it's an extra dormer in the roof or a different shade of trim.
Quality – Our in stock sheds and pool houses are built and treated exactly the same as any custom jobs – we use high quality materials and our expert craftsmen are obsessed with paying attention to detail.
You can browse our current selection of in-stock structures here. Please contact us or call us at 877-272-7252 if you'd like additional info on any of our structures!