Ashley | Apr 7, 2020
When it comes to enhancing your home, nothing beats a backyard pavilion. These outdoor structures are a magnificent addition to any home because they provide a beautiful place to entertain, relax, and have fun. Not only do these structures offer an ideal space to enjoy a starry night, but these chic outdoor areas also add value to your home. If you ever decide to sell your place in the future, you'll likely get back your investment and then some.
Given that backyard pavilions are such a fantastic addition to any home, it seems fitting then to explore some of the most impressive, jaw-dropping ideas. You know, the ones that you can guarantee will wow, daze, and amaze all your friends and guests!
Without further ado, let's look at the top five backyard pavilion ideas!
A Full Barbecue And Kitchen In A Backyard Pavilion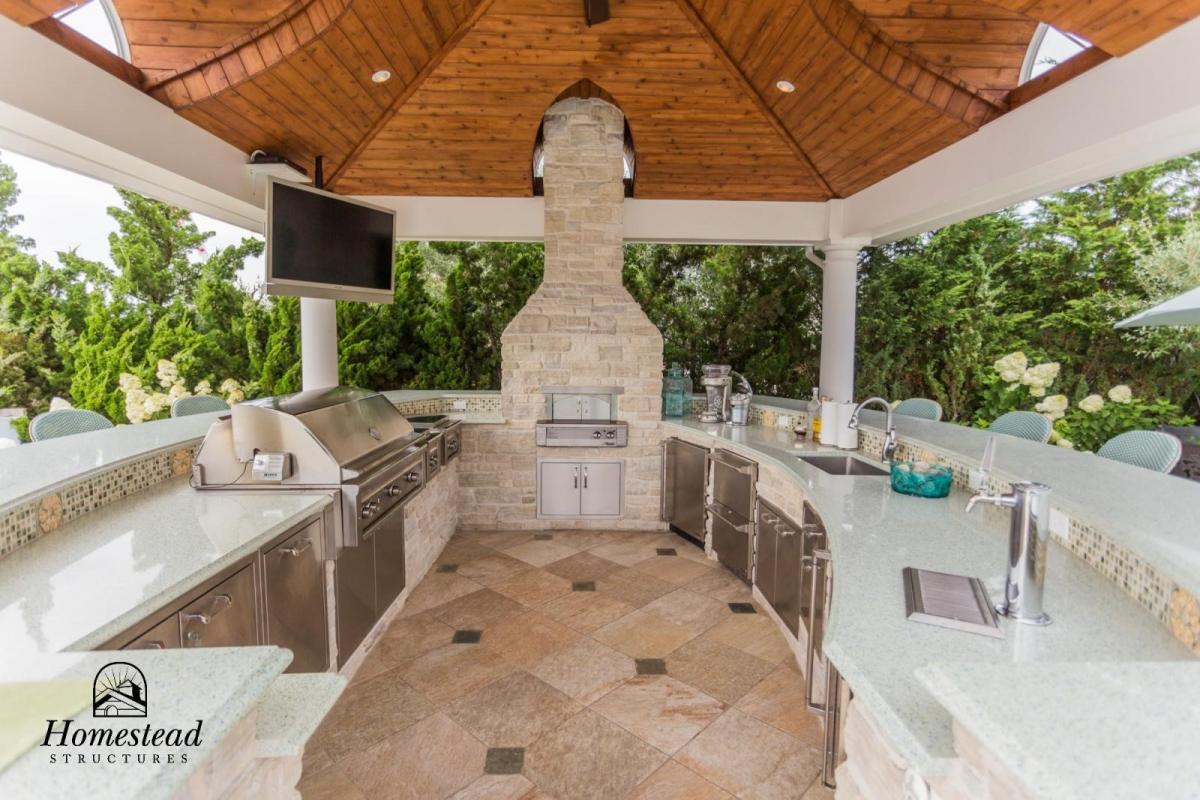 Have you ever wanted to have the experience of being at a resort within the comfort of your own home? Now you can! Including a full kitchen and barbecue within the pavilion is one of the best ideas out there.
In this example pavilion, we have a beautiful stainless steel barbecue, complete with a sink, stone fire oven, fridge, and attractive tiling. Of course, this masterpiece also has a gorgeous countertop and a TV. It's perfect for grilling up some steaks and serving refreshing drinks!
The pavilion's incredible wood cover keeps it covered during wet weather so you can use this outdoor space during the rain or shine.
If you want to dazzle your guests, consider adding a full kitchen in your backyard pavilion!
Movie Theater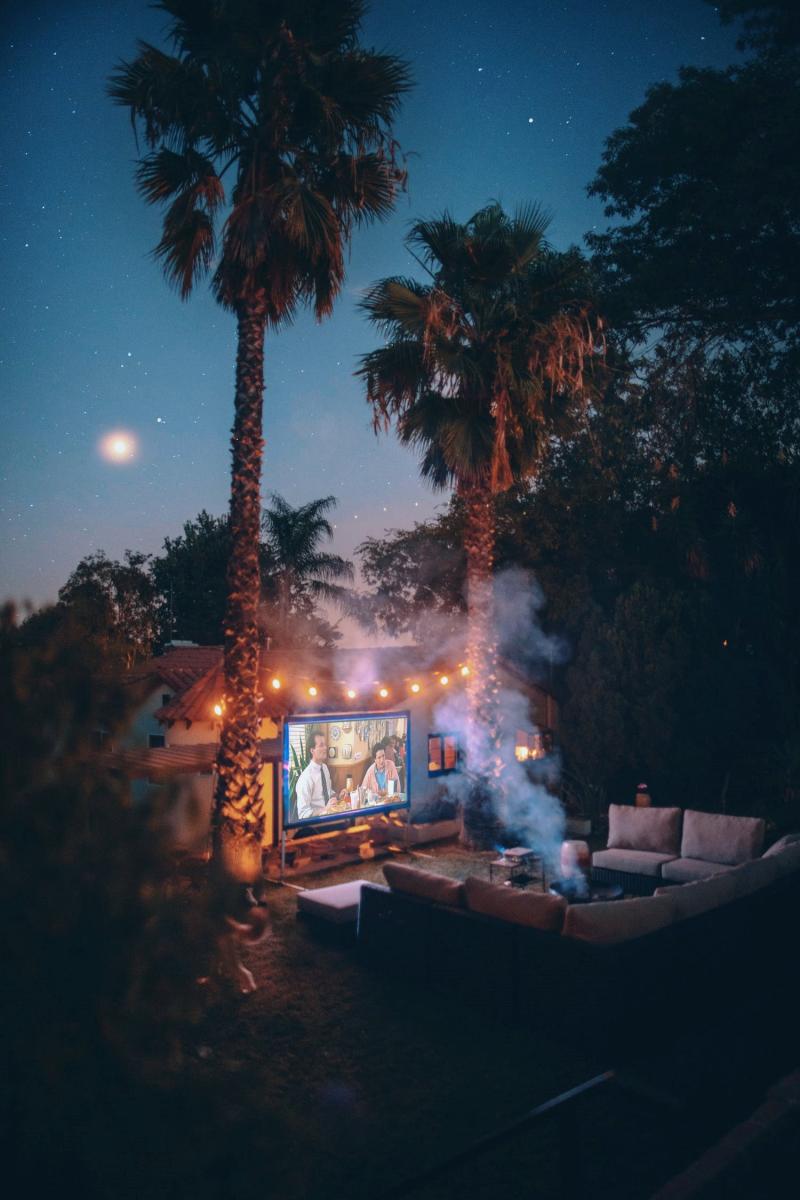 Imagine being able to sit outside, watching a movie on a comfortable couch, as the sun goes down. It's the perfect stay-at-home date night!
When you add a movie theater to your backyard pavilion, you can enjoy all the movies you want in the crisp outdoor air. It's also a fantastic way to watch big games and fights with all your buddies without having to be cooped up inside. Some people elect to add a big-screen TV to their pavilions, but the other option is to add a projector. Projectors can provide a 4K big-screen experience at a more cost-effective price. Additionally, sometimes they are a little better suited for the outside elements.
Adding a movie theater is also one of the best ways to make your home stand out should you choose to sell it in the future. Not many people can say they have that in their property!
A Fireplace In Your Backyard Pavilion
Continuing with the romance theme, imagine being able to watch a movie or spend some cozy time outside in front of a gorgeous fireplace. The fireplace needn't require wood - the one in the pavilion can easily use natural gas instead of firewood, or they can even be electric (note that electric fireplaces tend to be less efficient in terms of heat than the natural gas ones).
Of course, adding a fireplace to your backyard pavilion doesn't just add a romance factor to it. This addition will also provide valuable heat for you and your guests as you're hanging around in the crisp night air. Since the fireplace will be in a covered structure, it will contain some of the heat and provide a comfortable place to enjoy good food and friends into the night.
Built-In Bar And Counter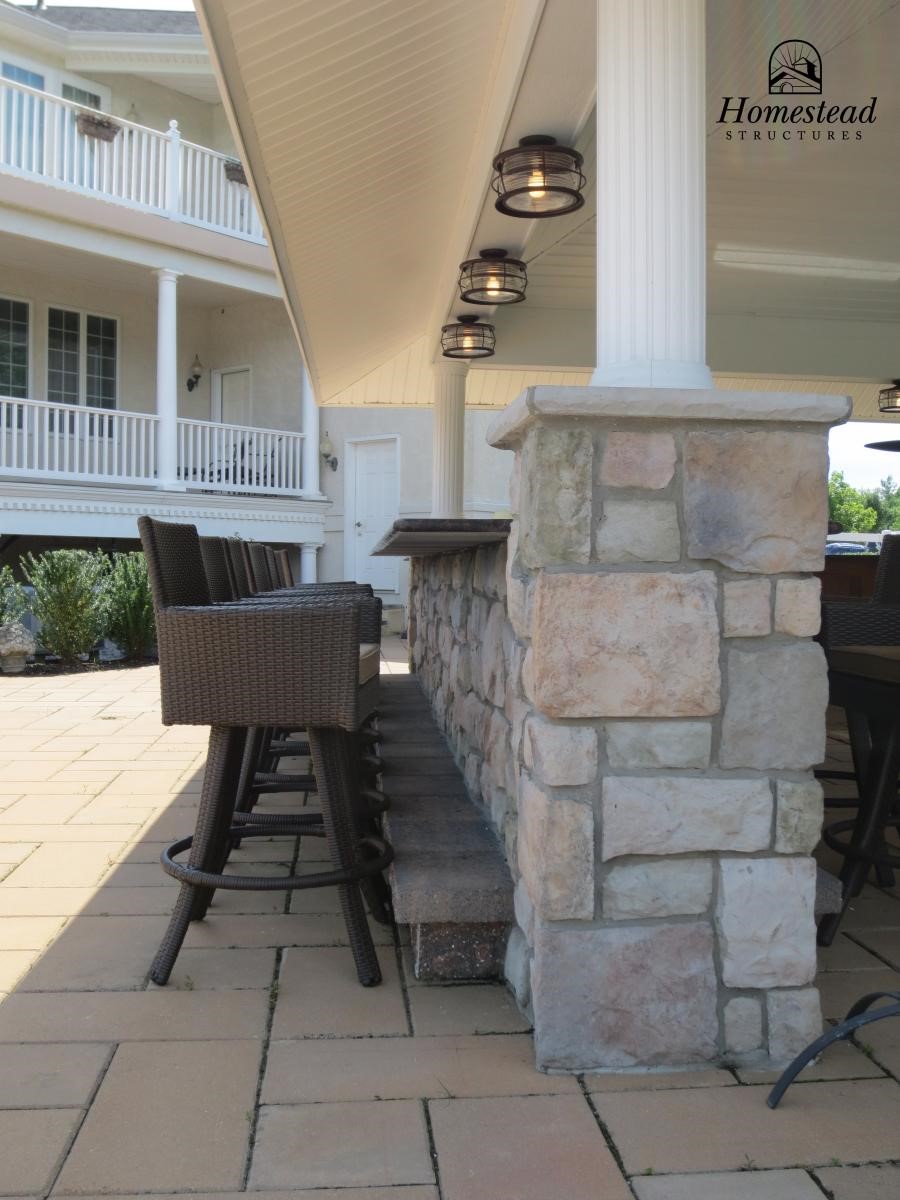 When you think of a Hawaii vacation, one of the first images that might come to your mind is sitting by the pool and going up to the outdoor bar to get some drinks. It's the perfect way to spend a gorgeous summer afternoon when you're on vacation.
You can bring that experience home by adding a built-in bar to your pavilion. If you have a pool, the pavilion structure can sit by the pool and include a full bar experience. Depending on what you want within your pavilion, you can even make it a wet bar, complete with proper plumbing and drink making machinery.
Adding an outdoor bar is the perfect way to entertain family and friends. Of course, when combined with some of these other ideas (like adding a TV or projector), having a bar in your pavilion will make your home the hotspot for watching the most significant sporting events of the year!
Rustic Designs
One of the most amazing things about backyard pavilions is the flexibility in their designs. While many homeowners elect a modern, sleek design, rustic outdoor structures are a fantastic idea for those who want to have a cabin getaway without leaving your home!
These beautiful pavilions use timber frames and often have stone exteriors, so you'll feel like you're enjoying an old cabin in the woods. When combined with a fireplace, these pavilions often have a retreat-like feel to them - a place to relax, unwind, and get away from the stresses of work and find solace amongst nature.
If you're looking for a unique and fun structure for your backyard, a rustic-looking pavilion might be what you need!
Customize Your Backyard Pavilion However You Want!
The five ideas that we explored are some of the neatest additions to backyard pavilions around. Each one has a certain elegance, charm, and sophistication that would be challenging to find elsewhere. You can design your new backyard structure to have one of these, or you can request that it have all of them. The choice is entirely yours!
Each one gives your outside space a luxurious feel that you might expect to find at an expensive retreat - only instead of it being at a hotel, you can enjoy it every day as it's within the comfort of your home! These ideas will wow guests, delight your friends, and make your family very happy.
If you are interested in purchasing a backyard pavilion for your home, please contact us today. We'd be delighted to talk about your project with you and provide you with a free quote to build the outdoor living space of your dreams! Even with the current COVID-19 situation, we are still able to give you a quote for the backyard pavilion of your dreams!