Ashley | Oct 16, 2023
A pool house is a multi-tasking addition to your house. Not only can you store toys and maintenance equipment in a pool house, but you can also use it to change and shower instead of dripping chlorinated water throughout your house. A pool house is an ideal option if you enjoy throwing backyard parties because guests won't need to enter the main home. 
Bigger than these perks, a pool house can also serve as a guest suite. You can either use a space to house visiting family or friends or list it on Airbnb if you're looking for some extra cash on the side. Use this guide to learn how to convert your pool house into a guest house to maximize the benefits that come with it. 
Design the Main Living Area
Before you can start the remodeling process, you need a clear idea of what your guest house will look like, specifically on paper. This should include blueprints that include the size and square footage of the space. You can do this by using measuring tape, paper, pencil, and a ruler for scale.
Consider what features are already there and which ones you would like to add. For example, a bathroom with a shower-tub combo is a great asset to have. See whether you need to add one or if your current bathroom is suitable to use. Try to add enough features to make your guest house feel like a home without making your visitors feel cramped. 
Drafting these plans ahead of time will give you a game plan to stick to throughout the process.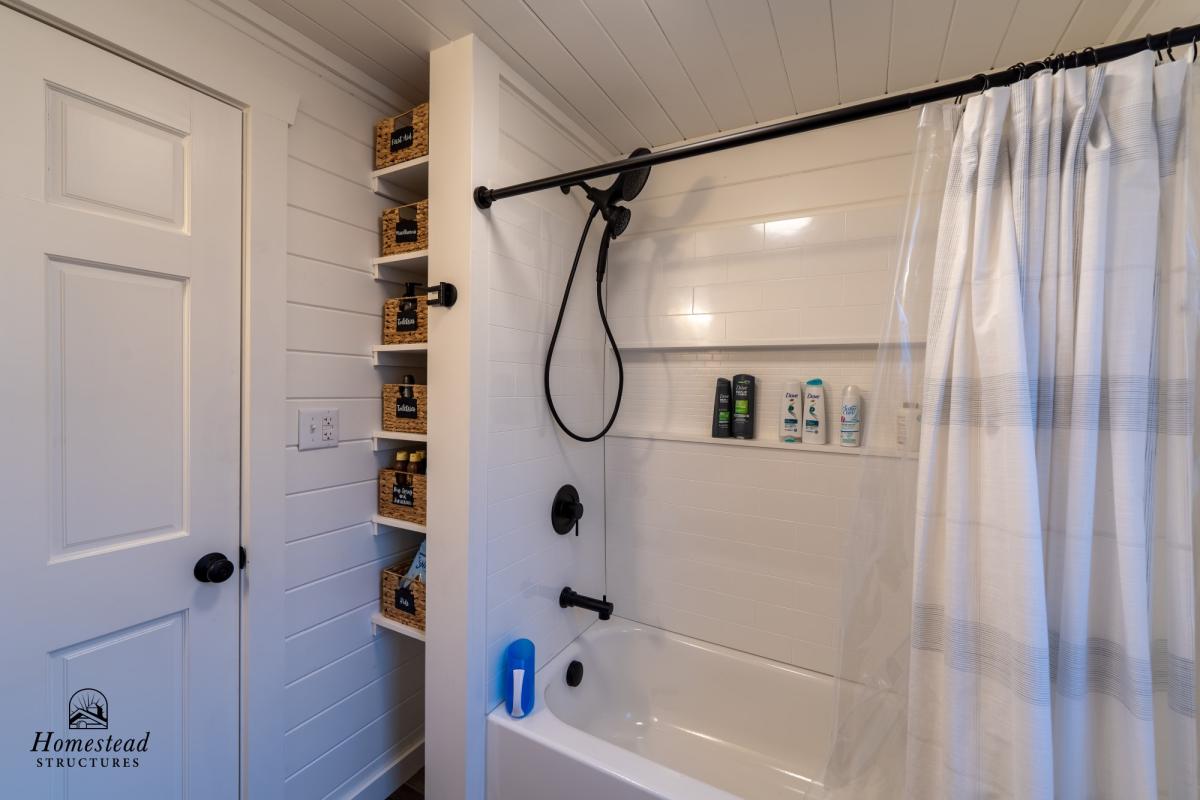 Install/Upgrade to a Full Bathroom 
If you don't have a full bathroom already, consider upgrading your space to include one. A full bath has three key elements: a toilet, a sink, a shower, or, ideally, a shower/tub combo. If you already have a half-bath in your pool house — just a toilet and a sink — you can install a shower-tub combo to create a full bath.
There are several benefits of adding a full bathroom to your pool house. Your guests can shower before and after using the pool, and they can use the restroom without dragging water and dirt inside the house from outside. Even if you don't immediately use your pool house as a guest house, adding a full bath can make your parties more enjoyable for attendees. 
Designate a Section for the Kitchen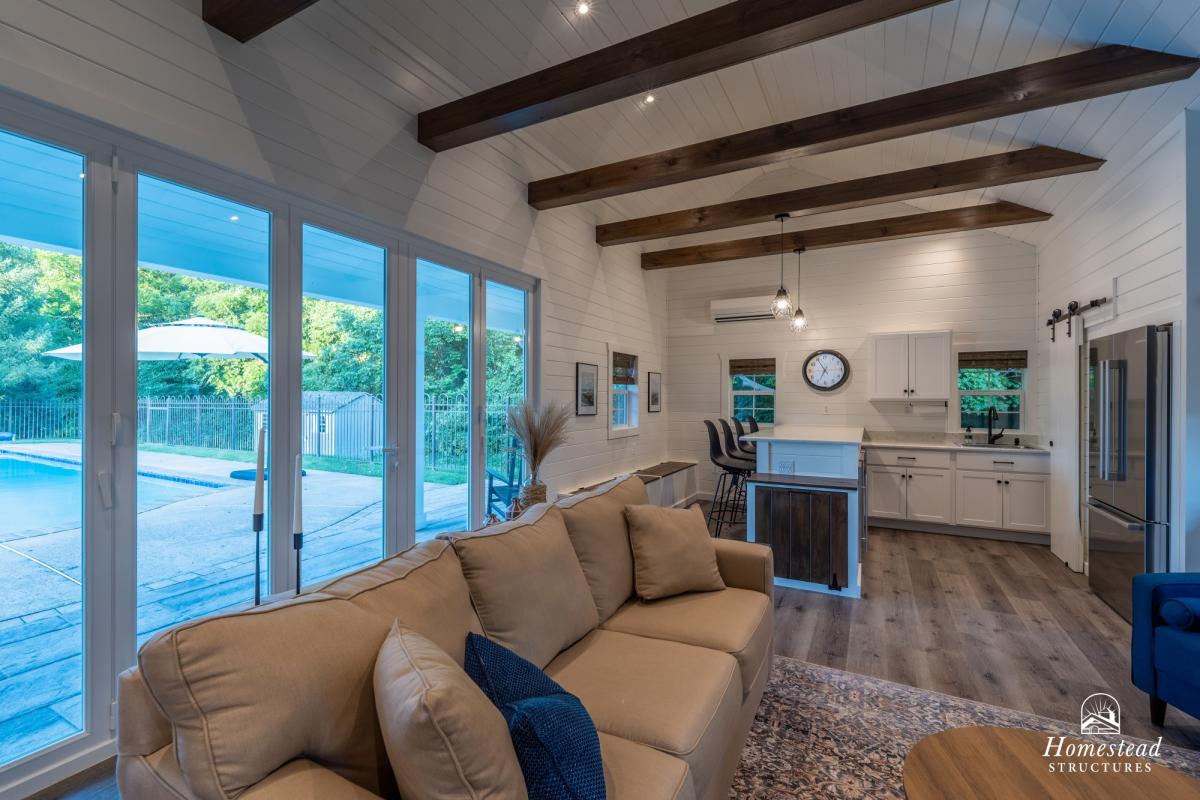 Adding a kitchen to your pool house is essential if you want to use it as a guest house. Your visitors can keep groceries on hand and prepare meals instead of eating out. If you market your guest house on sites like Airbnb and VRBO, a full kitchen will appeal to visitors. 
There is good news if you are worried about space: you don't have to buy full-sized appliances. You can invest in smaller stoves, dishwashers, and refrigerators that are meant for temporary guest use. You can also use natural lighting, mirrors, and a strategic layout to make your kitchen look bigger. 
Create a Storage Space for Personal Belongings
As you design your guest house, consider your storage needs and the storage requirements of your visitors. For example, if you use the pool house to store pool toys and maintenance tools, you will need to remove these items and store them somewhere else before your guests arrive. You could add a garden shed to the side of your pool house to create more storage space.  
Think about what guests will need to store when they are visiting. Make sure you have space for suitcases, closets that can hold clothes, and even a dresser for guests to unload their suitcases. Overall, you want to make people feel at home in your suite. 
Build Additional Storage for Pool Accessories 
As you convert your pool house into a guest house, you might realize that you need more storage than a garden shed. As a solution, you could build a larger structure in your backyard to accommodate your items. You can also get creative with shed organization and invest in shelving that will allow you to store more items. 
Now is also a good time to go through your belongings to see which items you regularly use and which toys or tools you no longer need. Donating unwanted items is a great way to free up space. 
Consider Adding Walls for More Privacy
As you review the layout of your guest house, consider whether you are offering enough privacy for guests. While a studio layout can make a small space seem more open, it doesn't offer as much privacy as a guest house with a designated bedroom. 
You might only need to add two walls to create a bedroom that makes your space more appealing to visitors. These also don't have to be load-bearing walls because the structure is already built, which means they are easier to install.   
Ensure It's Accessible
Your guest house is private property, which means you do not need to follow the Americans with Disabilities Act (ADA) guidelines for accessibility. However, you might decide to add some accessibility features to make your guests more comfortable. For example, instead of asking guests to walk up a few steps to the guest house, you can build it on ground level. You could add support rails to the toilet and shower for older guests to hold onto. You can also research ADA-compliant appliances that are easier for people to use. 
As you consider the accessibility of your guest house, evaluate your backyard as well. Make sure your backyard is accessible to visitors with different mobility needs so everyone feels welcome in your home. 
Get Waterproof Flooring 
Because your guest house is so close to the pool, your floors will likely get wet. Consider investing in waterproof flooring that won't warp or stain when people in swimsuits walk on it. 
Avoid carpet and delicate hardwoods that aren't made for moisture. Not only will your floors last longer but they will also be easier to clean.  
If you want to add rugs to your guest house, look for options that are easy to clean. Some rugs are made to be thrown into your washing machine, which is great for keeping them clean with minimal effort. 
Is Turning Your Pool House Into a Guest Home Right for You?
Converting a pool house into a guest house can be a great way to get more out of your existing space. If you frequently have guests over or want to earn a little extra income with a short-term rental, this conversion could be a wonderful option for your home. 
However, this project isn't for everyone. Remodeling can be stressful, no matter the project's size. It could take several months to finish the job and you will need to work with several different contractors and vendors to complete the renovation.
Only start this remodel if you have the budget and mental headspace to do so. Otherwise, you risk drawing out the project for multiple years and creating more stress in your life than you need. Your backyard and pool house should help you relax, not create anxiety in your home.