Ashley | Oct 26, 2023
With so many outdoor bar ideas out there, it can be tough to narrow down your ideal backyard entertainment area. Google is a great place to start, and Pinterest is packed with unique bar options, but it's easy to become overwhelmed when you're not sure what you're looking for.
It could take months to reach that "Aha!" moment, but there are a few things you can do to prepare while you're still deciding on the specifics. 
In this article, we explore the benefits of outdoor bars, provide a five-point checklist for planning your outdoor bar, and share some fun and popular backyard bar themes. 
Why Add an Outdoor Bar to Your Backyard?
Backyard bars are more than just summer relaxation spots. Regardless of where you live or what time of year it is, an outdoor bar will always be a hot spot for backyard entertaining. 
A simple backyard bar can drastically increase your property's popularity. Whether your goal is to just catch up with friends or host outdoor watch parties during football season, a well-built, well-stocked outdoor bar can do just that. 
It expands your seating area and it can even be a shaded place for long afternoon chats, allowing you to spend more time outside on hotter days.
Perhaps you're just looking for extra surface space outdoors–a place to set snacks out during birthday parties or just-for-fun pool parties. New counter space with barstools adds more practicality and character to your backyard.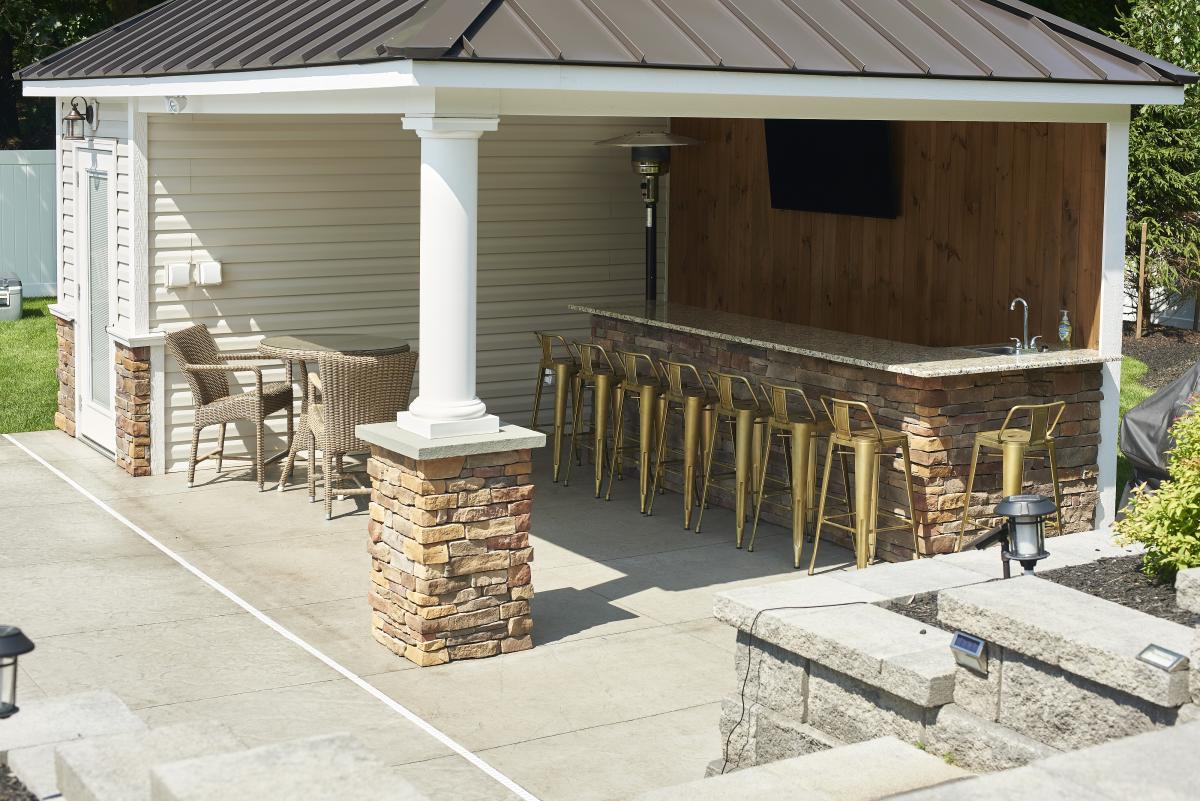 5 Must-Dos When Planning Your Outdoor Bar
Not sure where to start? Before you dig into decor, it's essential to nail down the basics of your outdoor bar. Here are the top five to-dos you'll want to decide on as soon as possible so your contractor knows you're serious. 
1. Assess Your Backyard Space
Sometimes, this is as simple as measuring your space, such as the square footage of your deck or around your swimming pool. Other times, it involves more strategic planning. 
Here are some things to consider when analyzing your outdoor space: 
Where will you put your bar? 

How many people are you looking to accommodate in your outdoor bar? 

Will an outdoor bar fit in the existing space?

Does your property have a level surface or do you need to pour a foundation?

Do you have a reliable shade source to protect your bar and guests from the heat?
A professional contractor or an experienced outdoor specialist can identify practical solutions to these questions so that your custom bar can actually maximize your backyard space.
2. Set a Budget for Your Outdoor Bar
Before you start contacting contractors, it's important to get a good idea of what an outdoor bar is going to cost. Of course, the end cost depends on exactly what you want and the quality of customer service you're looking for. 
A simple backyard bar with a sink, refrigerator, and high-quality outdoor cabinetry may cost around $10,000. Keep in mind that this price does not include a foundation or shade structure. If you choose to invest in those to extend the longevity of your cabinetry and other outdoor bar features, other costs will include materials, labor, and permits if necessary. 
3. Seek Inspiration for Your Backyard Bar and Pick Materials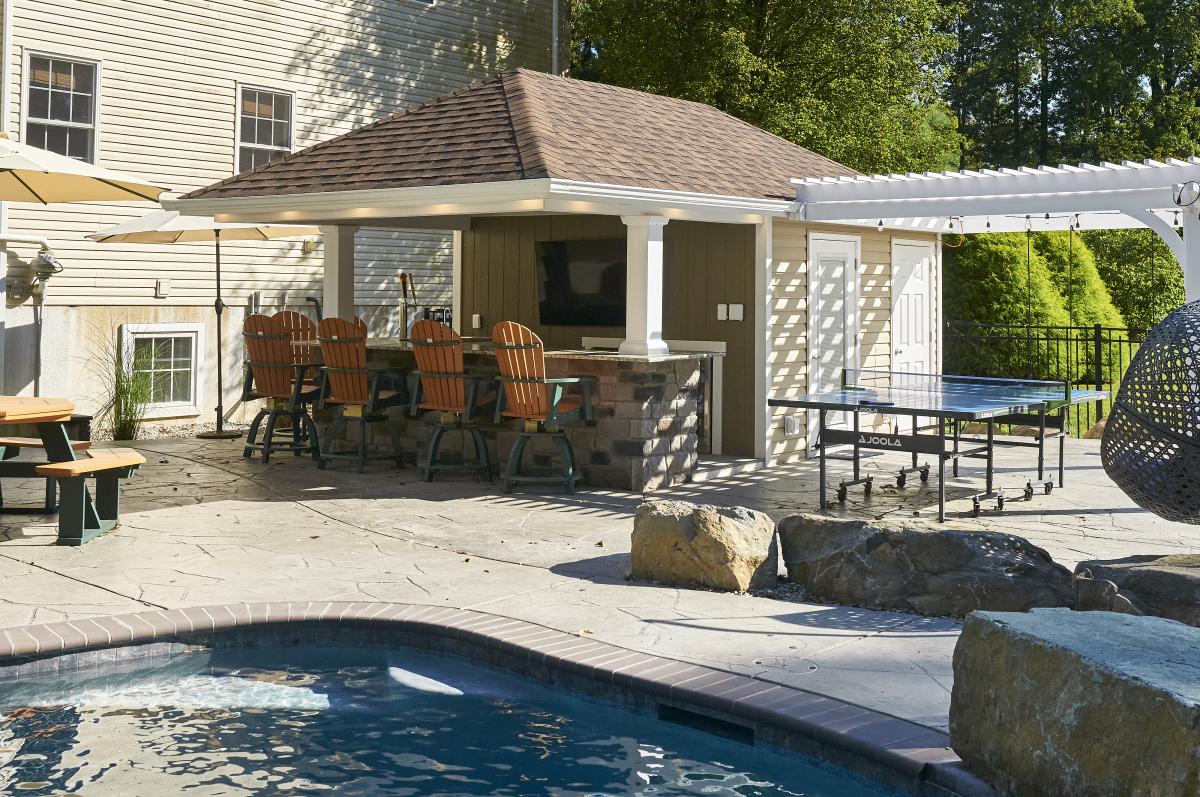 See below section on creative bar ideas to help get an idea of theme and materials
You may already be searching for inspiration on Pinterest and Google at this point, but do you know what materials you want? And have you thought about safety features? These are two aspects that need to be considered when looking for outdoor bar ideas.
When it comes to outdoor cabinetry, you'll want cabinets that keep your belongings safe from the natural elements. Here are a few characteristics to consider when choosing outdoor doors and drawers for your kitchen or bar: 
Weather-resistant gaskets

Soft-closing hinges

Magnetic closures
It's important to choose a contractor who has your property's best interest at heart and uses top-quality materials and features to protect your belongings. Reputable manufacturing companies like Danver Stainless Outdoor Kitchens provide top-quality kitchen cabinets and appliance shelves for contractors helping homeowners enhance their backyard spaces. 
Also, what materials do you want in your outdoor furniture? Are you looking for wicker furniture for a tiki-type vibe? Or maybe you're looking at more rustic outdoor bar ideas, in which case, metal stools may be the way to go.
4. Identify Must-Haves vs. Nice-to-Haves for Your Bar
Once you've analyzed your backyard space and established a budget, it's time to dive into the essentials. The two main concepts you should focus on are how you plan to use your outdoor bar and whether you're going to use it all year long. 
How Do You Plan to Use Your Bar?
The most practical place to start: Why are you investing in a backyard bar? 
If you just need some extra counter space, then a surface and some shelving may be all you need. And maybe a few chairs. 
If you want an outdoor kitchen, focus on what appliances you'll use most. Would you use a gas grill or smoker more? Do you need a single- or double-barrel sink? Take a look at our article "Outdoor Kitchen Ideas for Your Backyard" for more info on building an outdoor kitchen. 
If you're looking to create a whole new backyard entertainment space, which takes priority: a wine fridge or an outdoor refrigerator? Or perhaps you just need shelf space for a cooler. 
What type of seating are you envisioning in your various outdoor bar ideas? Bar seating can be more cost efficient than lounge furniture, and it also gives people the opportunity to spread out. If your guests are older or significantly younger, you may want to invest in comfortable and safe high-back bar seats rather than traditional bar stools.  
Are You Planning to Use the Space Year Round?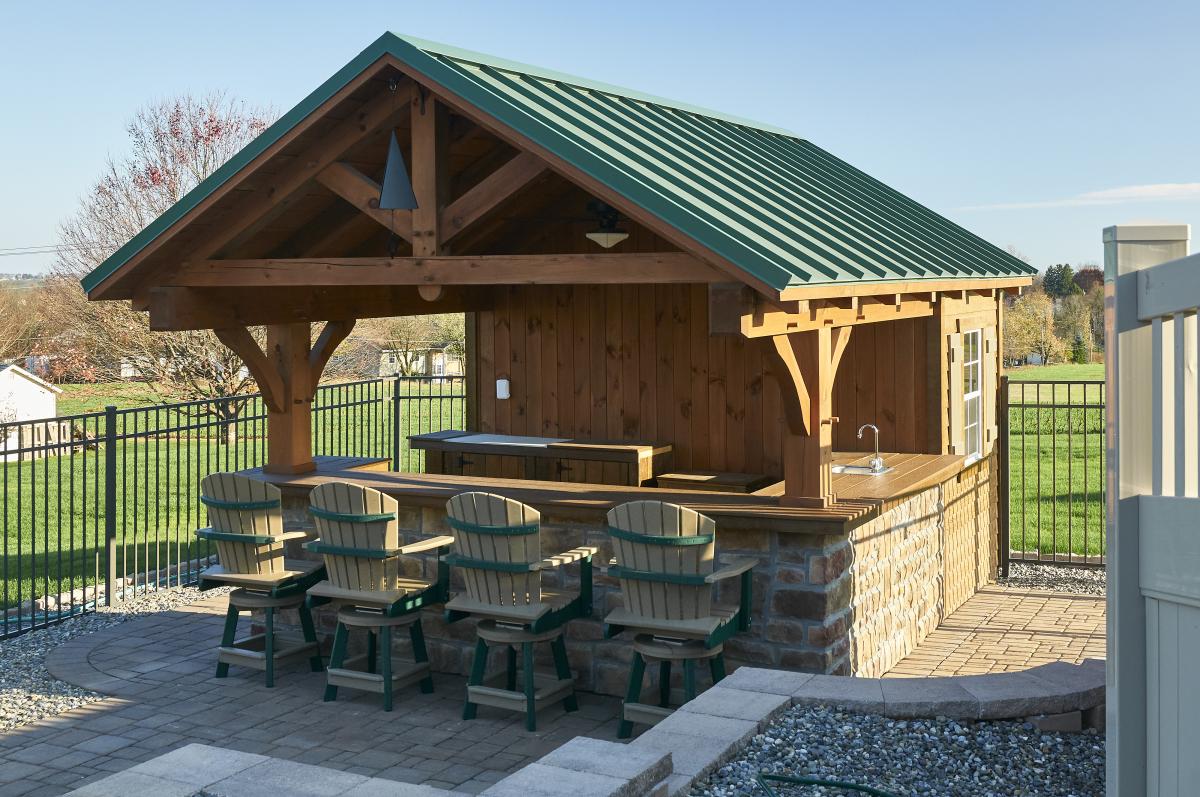 Pool houses and pavilions provide extra protection not only for your property but your loved ones, as well. If you intend to use your outdoor bar all year long, having a roof over it opens up additional opportunities to provide a more comfortable and entertaining environment. 
Many pool houses, like Homestead's Siesta Poolside Bar and Cabana, feature enclosed storage spaces and attached bars under pavilions. These make great areas to gather for a summer get-together or to watch the big game. No matter the season, an outdoor bar brings people together.
Another popular option is the Belmar Pavilion, a four-sided backyard pavilion with privacy wall. The wall is the perfect place to hang a large screen tv if you're going for a sports bar vibe. Or you can add shelving on the wall. Virtually any pavilion by Homestead Structures can easily be transformed into an all-season hangout spot simply by installing suspended ceiling or wall heaters and recessed lights. 
In addition to shade, pavilion ceiling fans provide an extra layer of comfort when you want to spend more time outside with friends and family. 
5. Choose an Experienced Contractor
Companies that specialize in backyard structures are your best bet when it comes to choosing a contractor for your outdoor bar. They have experience in designing and installing high-quality durable structures that will last for decades. 
So, how do you choose the best contractor to build your custom backyard bar?
Read Google reviews

Check the Better Business Bureau's website

Ask friends or family for referrals

Find out how long the company has been in business

Ask to connect with previous customers
Creative Outdoor Bar Ideas and Themes
Now that you've nailed down the process and essentials, it's time to explore how to make a backyard bar uniquely yours. 
One of the most exciting parts about adding an outdoor bar to your backyard is choosing a theme and decor. Are you looking to add slightly patriotic undertones, or do you plan to go all out and even create your own themed drink menu? 
Here are just a few theme ideas to help enhance your outdoor bar decor:
Beach or Tiki Bar - Nautical elements, tiki torches and/or bamboo accents, wicker or rattan furniture

Rustic Retreat - Wood grain powder coated cabinetry, hard lines, metal bar stools

Modern Outdoor Bar - Solid colors, very few patterns, hard lines

Sports Bar - Neon signs, big screen tv, mirrors, sports team paraphernalia

Outdoor Man Cave - Wood grain powder coated cabinetry, timber frame pavilion with exposed ceiling

Grillmaster's Barbeque Bar - Big screen tv, stone veneer finish, gas grill, smoker

Patriotic Paradise - Brick red or gray-blue cabinetry, patriotic throw pillows or signage

Fantasy Island Escape - Tiki torches,themed drinks/appetizers centered around your favorite fictional escape
Work with Homestead Structures to Install Your Outdoor Bar
Contractors at Homestead Structures have decades of experience installing custom outdoor living spaces, including outdoor bars. Many of our customers request outdoor kitchens and bars designed for their unique entertainment needs, and we're willing to go the extra mile to make that happen. 
Ready to plan your outdoor bar? Give us a call today at 877-272-7252  or message us here for a free quote to start building your ideal backyard bar with one of our outdoor living specialists.