Anonymous | Feb 26, 2016
Whether it's to spruce up your pool area or to create additional storage, building a pool house can be the upgrade you need to make your home and yard fun and functional. Throughout this guide, you'll learn more about the various uses of a pool house along with seven reasons why every pool owner should consider getting a pool house of their own. 
What Is a Pool House?
Just as it sounds, a pool house is a separate structure, typically next to your pool, designed to store pool equipment, chemicals, pool toys, and more. Not only are pool houses great places to store goggles, floaties, and other pool equipment, but they double as a convenient place to change into swimwear before enjoying a swim, too.
While these are nice features, there are many more benefits that make investing in a backyard pool house worth every penny. Let's take a closer look at six additional advantages. 
1. Great for Off-season Storage
Building a pool house creates the perfect location for storing pool toys and patio furniture during the off-season. Other essential backyard accessories to store in your outdoor pool house include
Chemical testing kits;

Debris skimmer;

Excess gardening equipment;

Life vests and other safety essentials;

Lounge chairs;

Pool covers;

Pool vacuum and vacuum attachments;

Yard tools like rakes and shovels.
Storing your pool gear when you're not using it is necessary to maintain its efficiency. Pool floaties and other equipment that are left out year-round may experience wear and tear, ruining the chances of you using it next season. 
2. Doubles as a Home Gym
It's okay if a home gym isn't your thing because the space can be converted to more than just that. If space allows, you can set up a home gym right inside your pool house. Not only will you save space inside your home, but it ensures you'll enjoy the pool house year-round, too. If you do choose to use your pool house as a home gym, then consider installing a full bathroom if you haven't already. 
Having access to a pool house with a full bathroom, including a shower and toilet, is beneficial after a long day of swimming or after a long workout. Without leaving the vicinity, you can rinse off the pool water or sweat after a long workout.
Additionally, having a backyard pool house with a bathroom increases the number of accessible restrooms you have in your home at all times. This can be especially beneficial when you have multiple guests over. 
3. Converts Into a Guest Bedroom
Adding a pool house to your yard allows you to turn the space into a guest house. After all, it's no different than a tiny house. The main difference is that guests can enjoy the pool and its amenities within a walking distance of their sleeping quarters.
If you do want to use your pool house as a guest bedroom as well, consider building it closer to your home to reduce the amount of space between you and your guests. If you place it further away, be sure to include a well-lit, clearly marked path to making your backyard more accessible for guests. 
4. Great Place to Safely Store Harmful Pool Chemicals
Regardless if your pool is above-ground or built-in, most pool owners use a chemical of some kind to keep their pool clean. Most of these chemicals used to balance the pool's water composition can be poisonous and extremely harmful to humans and animals if ingested. 
Outdoor pool houses make for a great location to store these chemicals in a safe and secure place — away from children and pets. Remember to clearly mark each chemical with its hazards and educate your children on why they should avoid them to help them be more aware of the harms of playing with chemicals. 
5. Extends the Party Outdoors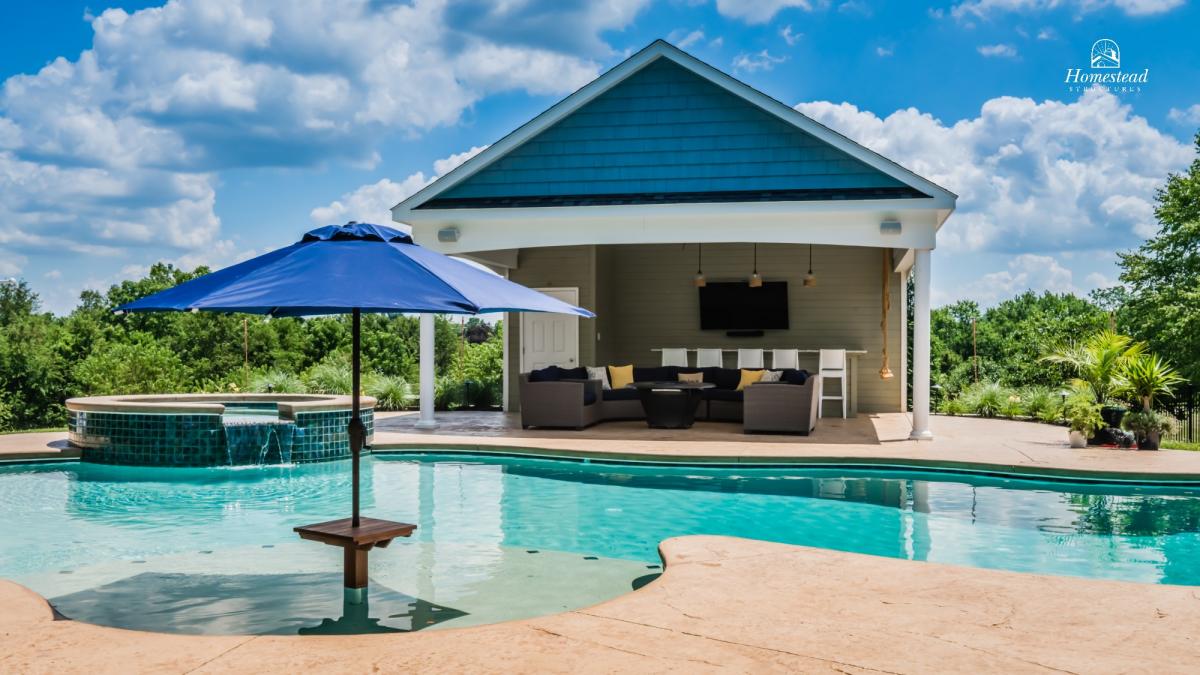 If you own a pool, chances are you'll be entertaining people there at some point. A pool house allows you to keep the party outside rather than inside your home. Guests will be less inclined to use your actual home for things like getting a snack or going to the restroom if it's already available outside, after all. 
This is why having a pool house with durable floors is super important. If it's not pool water on them one day, then it could be spilled juice from a clumsy guest the next. 
Since everything is available poolside, guests won't need to enter your home to use the bathroom or to get food or drinks. As a result, your home stays relatively untouched and dry.
6. Many Styles To Choose From
There are many ways you can customize your backyard pool house — from durable flooring to additional bathroom units. However, there are more stylistic choices you can make to your pool house to make it more aesthetically pleasing. 
Those who wish to use their pool house simply for storage would consider a design like a pool shed. Whereas those who are more interested in entertaining may invest in a pool house with a poolside bar and cabana. 
7. Increases Property Value 
Similar to building a pool, adding a pool house to your yard can help increase your home's value. The exact amount in which your home's value could rise depends on how much you invest in your pool house and what methods you use to build it. For example, if you build the pool shed yourself, you may be prone to making mistakes that may decrease the property value, rather than improve it.
Investing in a professional pool shed building service is a great way to ensure you're safe to expect everything you planned and more. Thus providing security in knowing you're improving property value, rather than decreasing it.