Ashley | Jun 24, 2020
When it comes to enhancing your backyard, there are many structures you can build. There are pool sheds, pool houses, garden sheds, backyard pavilions, pergolas, and more. Each one of these structures has a unique purpose that will enhance your backyard and make you enjoy spending time outdoors!
Some of these structures, at first glance, might seem similar. For example, what's the difference between a pool shed or a pool house? What's different about a shed versus a garage?
We're glad you asked! Here are the top five outdoor structures that we sell, and what makes each one unique.
Pool Sheds & Pool Houses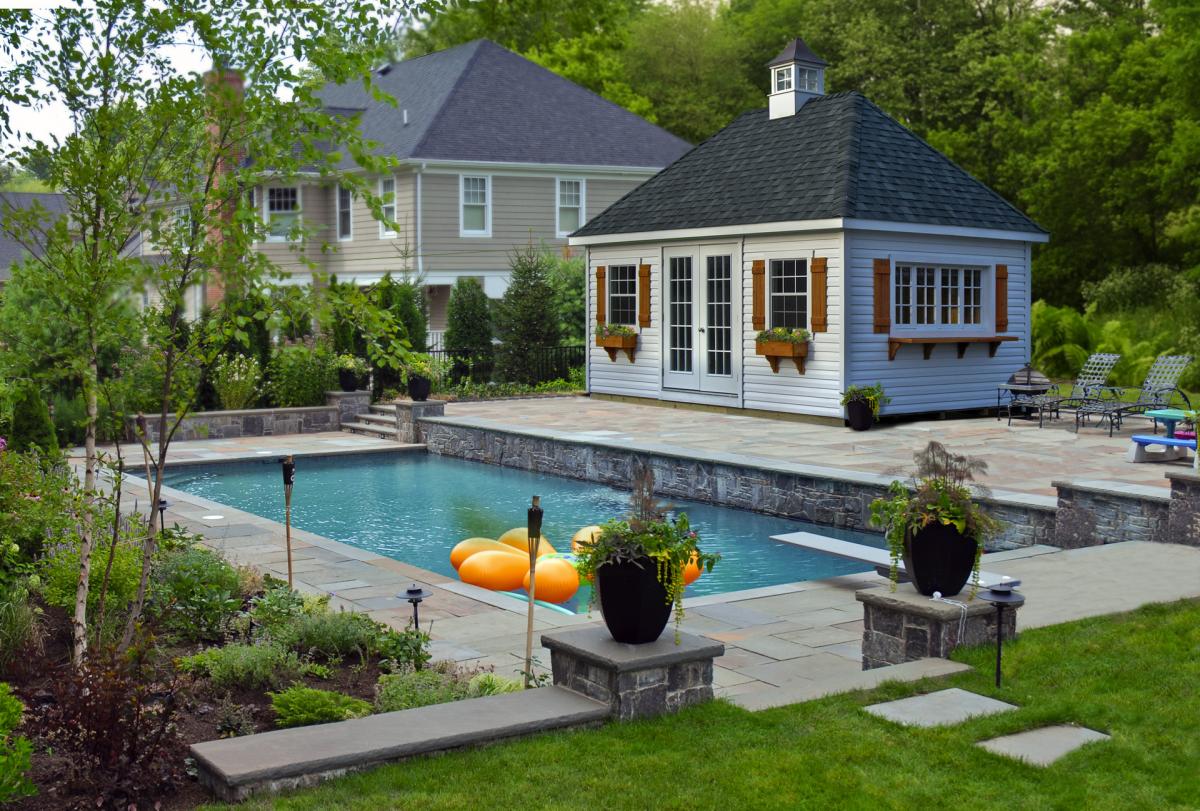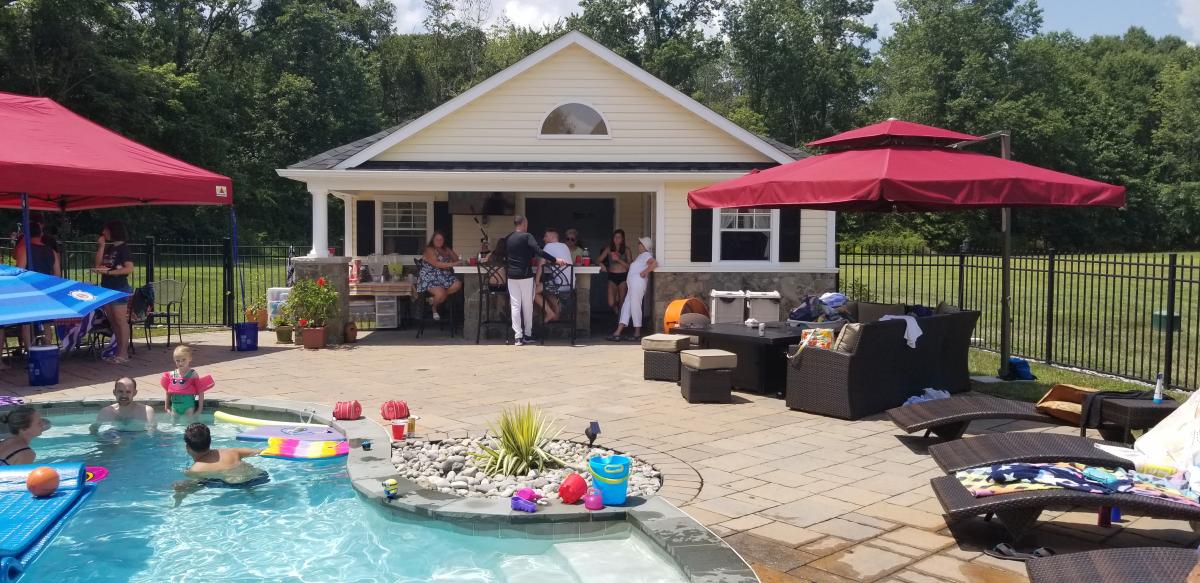 A pool shed or house is, as the name implies, a place for people to store their pool supplies. Anyone that owns a pool knows that there are a lot of maintenance supplies, toys, and other necessary things. Many homeowners, when they first get the pool, elect to keep these supplies indoors or maybe in the garage. However, as the summer approaches and you have pool parties (especially if you have kids), dragging all the equipment out can be challenging.
A pool shed is perfect for keeping everything close! As a relatively small structure, it sits by the pool and lets you store all your supplies and toys in a convenient location.
The primary difference between a pool house and a shed is that pool houses are much more than just a storage space. Imagine being able to lounge comfortably by the pool. Or, imagine having a poolside bar and what that could mean for entertaining guests. Some pool houses even have plumbing so you can have a restroom for you and your guests outside by the pool.
Depending on how you design your pool house or pool shed, you could have a private oasis in the middle of your back yard!
Backyard Pavilions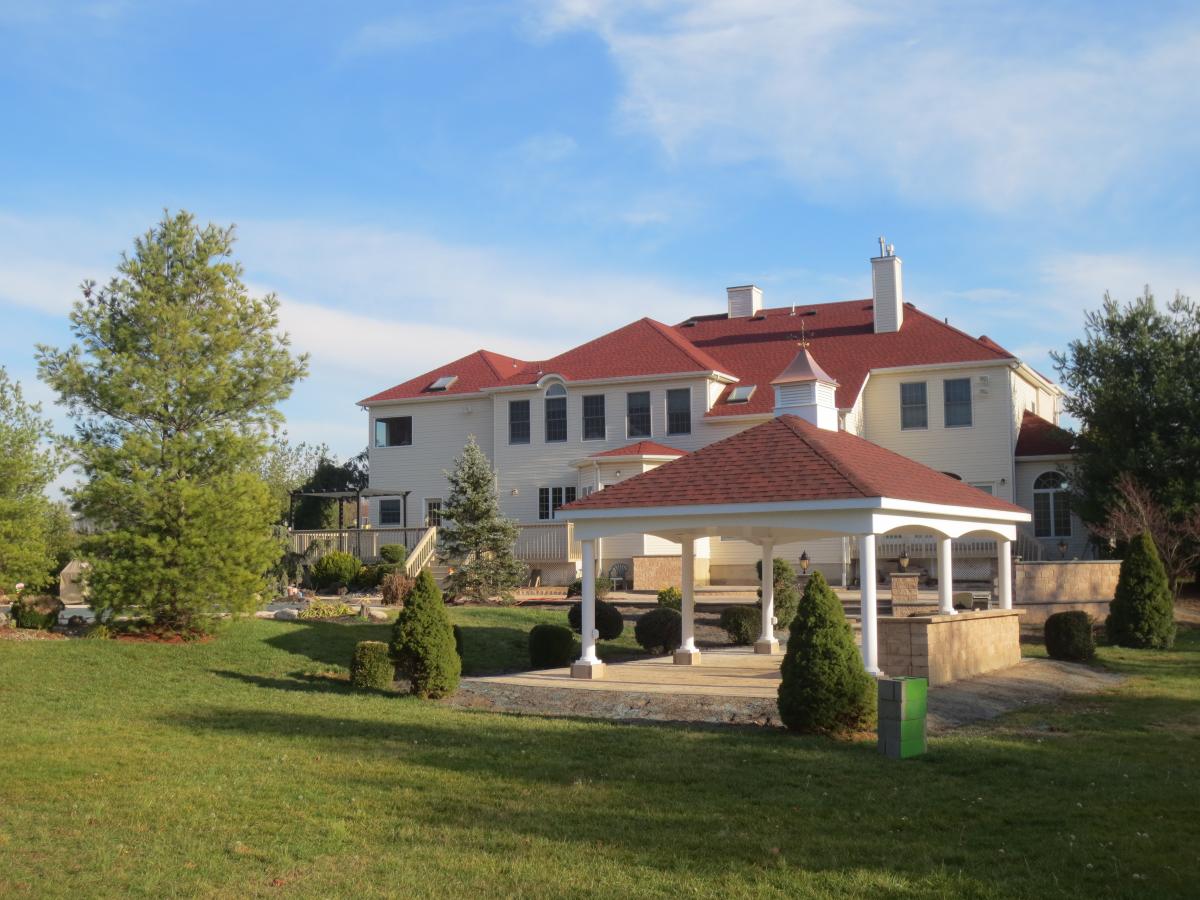 Backyard pavilions are a fantastic place to relax, unwind, and entertain. These structures can be as big or as small as you want, but at a bare minimum, they provide a roof over your back yard. You can set up tables or anything else you'd like underneath the covering. Backyard pavilions are a fantastic way to enjoy the outdoors without the sun's intense rays.
Pavilions can have almost anything you want in them! There are pavilion designs that have a fireplace, an outdoor movie theater, bar, kitchen, or stone-fire oven. Seating can be as simple as some chairs and a table, but other designs have couches, bars, and other arrangements.
Unlike a pool shed or pool house, backyard pavilions tend not to have as much storage and be more about a space to relax and entertain in your back yard.
Garden Sheds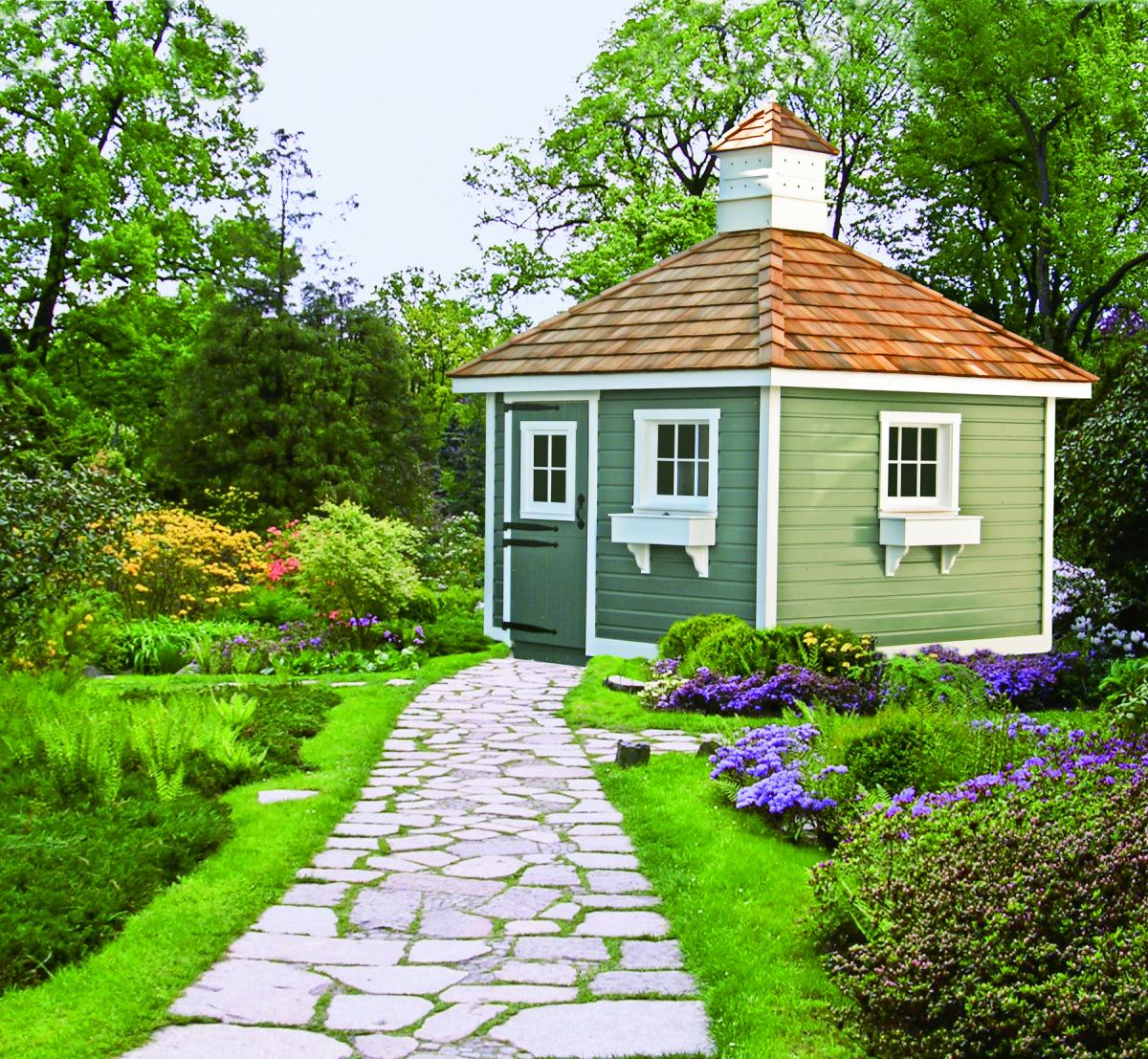 If you want a place to store your gardening tools, the gardening shed is the right structure for you. These fantastic looking sheds provide ample space to store your lawnmower, gardening tools, and anything else you want outside.
These sheds can come with significant perks as well. Some people order ones with potting shelves, electricity, custom shelving, and lots of beautiful windows. Some of these structures are small, with just enough space to store a few essentials, while other ones are significantly bigger and have enough space to store a riding lawnmower, dirt, and other gardening essentials.
No matter what size or shape your garden shed is, the main goal of these structures is to provide you with the space you need to store all your equipment.
Garages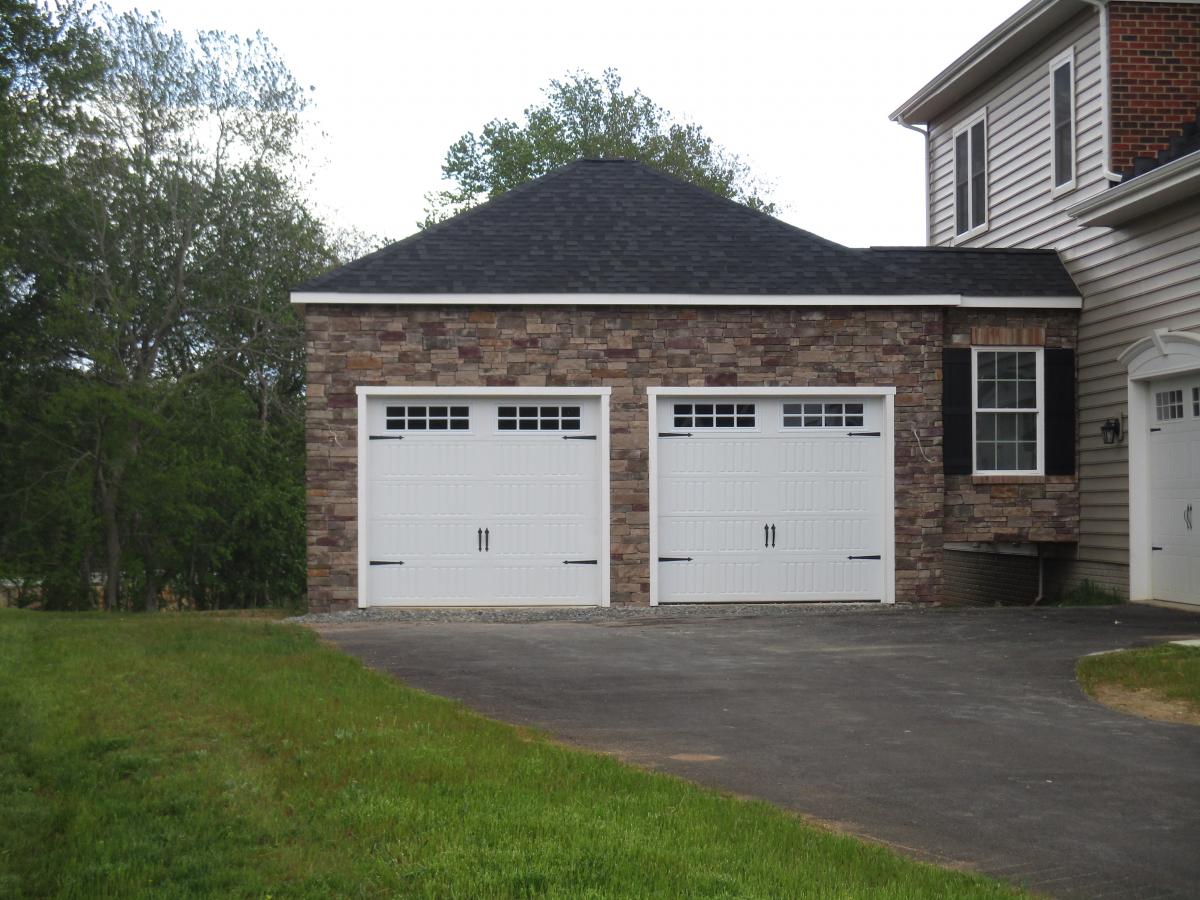 If you have cars, trucks, or other big projects, then you know you need space for them. Many homes have some form of an attached garage, but having a second one can be quite beneficial if you have other vehicles or projects.
Some garages are very functional, like those you might build to store extra vehicles. Others can be a retreat to relax and enjoy working on a hobby. For example, if you like to restore old cars or work on metal or wood crafts, you could design your garage to be perfect for this hobby. Even though most people associate the word "garage" with a car, you can use the more significant structure for almost anything you want!
Pergolas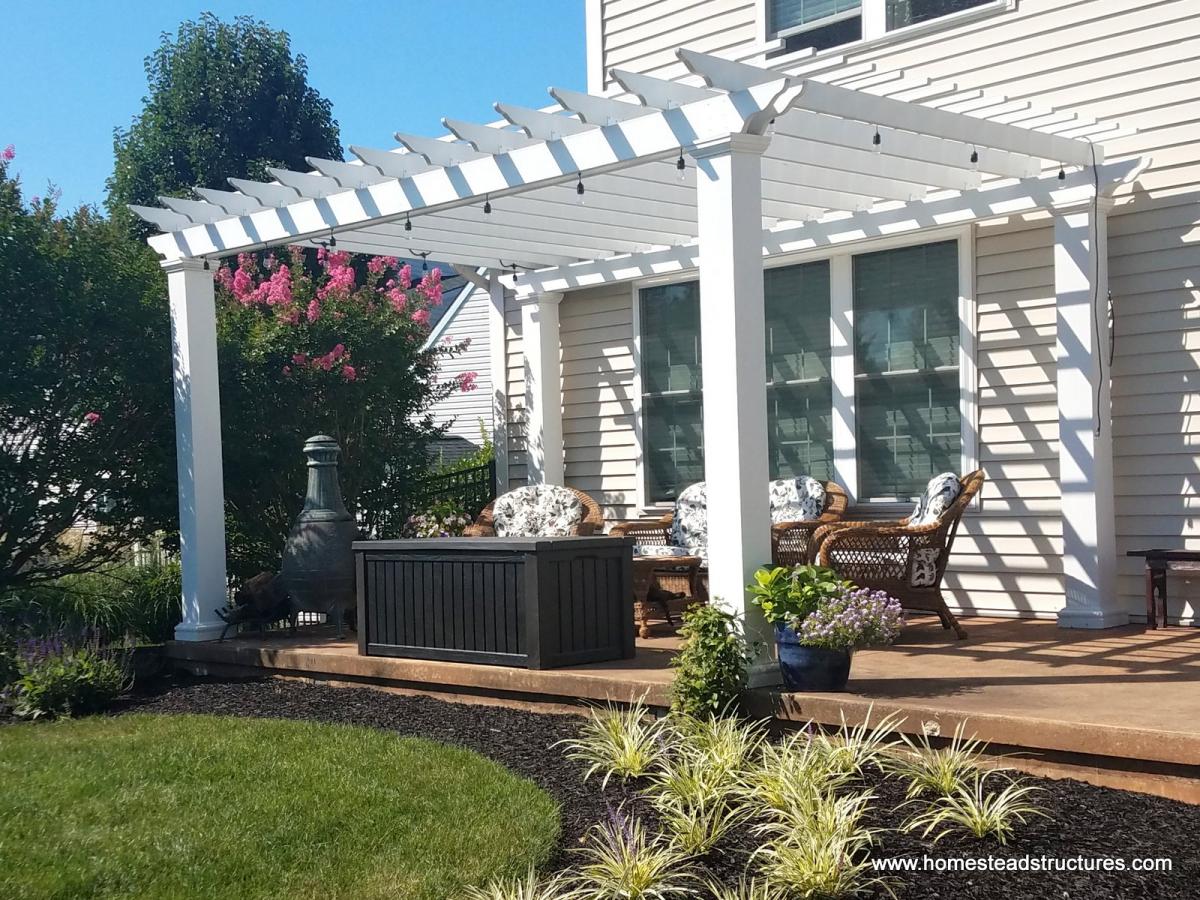 If you're looking to add charm and decor to your property, look no further than a pergola! A pergola can provide a little shade, and it does add a look of sophistication to any backyard. Plus, if you decide that you do want some additional shade, you can always put a cloth or mesh over the pergola to get away from the sun.
Pergolas can also serve as arbors and trellises, allowing vines to grow up and give a very charming, decorative look. If you're looking to achieve a vintage feeling for your backyard, a pergola with vines growing is one way to do that.
Many people like to add these structures to something else, like a pool shed, house, or a backyard pavilion. By adding a pergola to the side, you can make them look much better and more clearly designate space in your backyard. For example, you might have a pergola leading up to the bar of your pool house. That way, your guests will have a nice visual of where the bar is and be able to wait for their drink, partially in the shade!
From Pool Sheds To Pergolas, There's A Structure For Every Need
All of these outdoor structures have one intent: maximize your enjoyment of your backyard space. That might be a pool shed or house that contains your pool supplies, so you don't have to lug them out of the garage. Or it might be a beautifully-crafted pergola that adds an artistic flair to your backyard space. Regardless of what you buy, each of these structures will enable you to enjoy your space and feel relaxed.
Of course, you don't have to pick one of these structures. If you have something else in mind entirely, you can always contact us, so that we can make your outdoor space perfect!