Ashley | Jun 24, 2020
One of the best ways to enjoy the outdoors is in the comfort of your own backyard, where you can choose whether to suntan in privacy or have friends over for a cookout. You can enjoy hot summer days and crisp winter nights just as well by setting up your property for outdoor entertainment in any season. To create an outdoor space that is attractive, comfortable, and versatile, adding a backyard structure could be the perfect solution.
Building the ideal outdoor living space is no easy task, however, especially when there are so many types of patio shade structures and backyard buildings you can choose from. For example, have you ever thought about the difference between a pavilion and a pergola, or a pool shed and a pool house? In this article, we'll explain the important points about each structure so that you make the best choice for your own yard.
Pavilion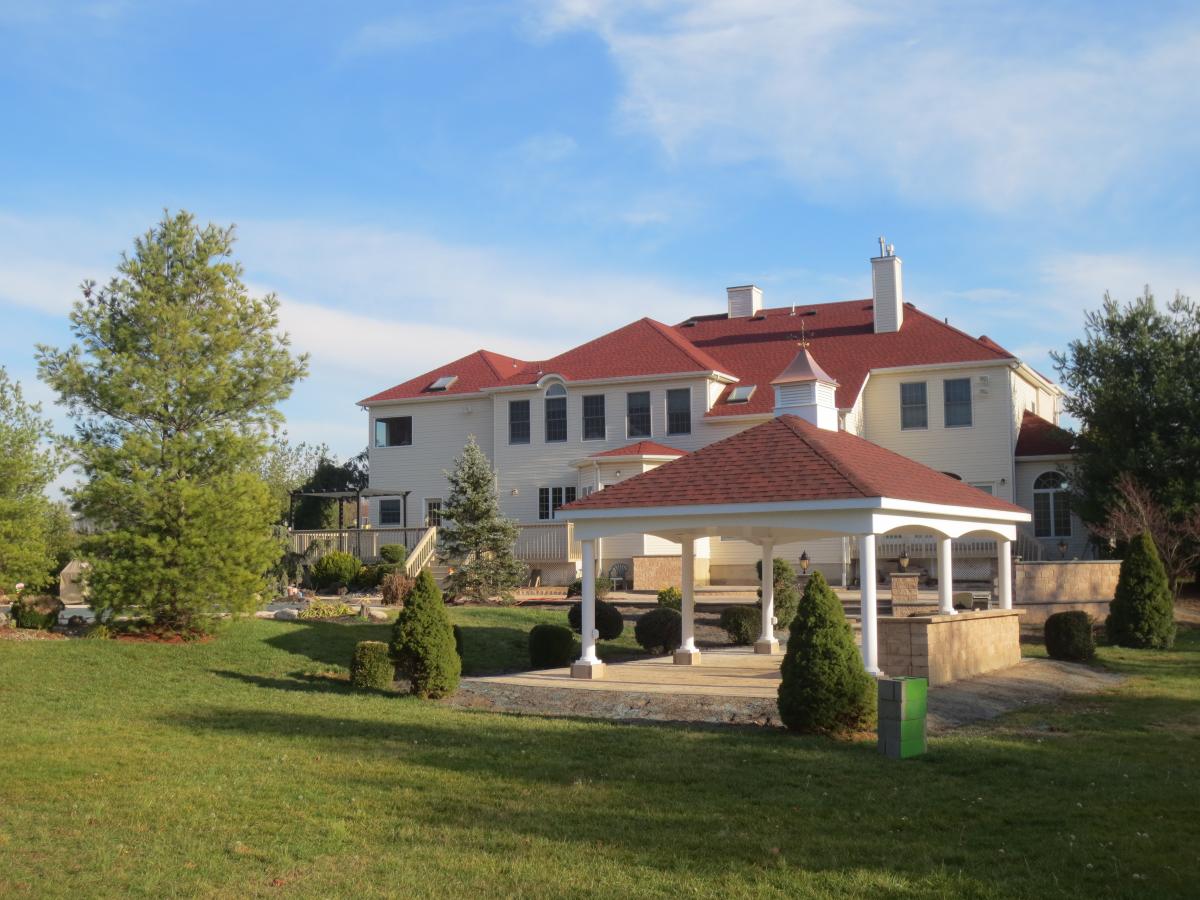 A pavilion provides a fantastic place to relax, unwind, and entertain. This type of backyard building is a structure with open sides and a solid roof. A pavilion can be as big or as small as you want, and provides a shelter for eating, cooking, or other activities. Adding a backyard pavilion is the best way to enjoy the outdoors while sheltered from light rainstorms and shaded from the sun.
Among the biggest advantages to pavilions are their versatility. A pavilion design can include almost anything you want—grill, fireplace, outdoor movie theater, bar, kitchen, or a stone-fire oven. Seating can be as simple as some chairs and a table, but you could incorporate a sofa, benches, or other furnishings to enhance the functional space.
Gazebo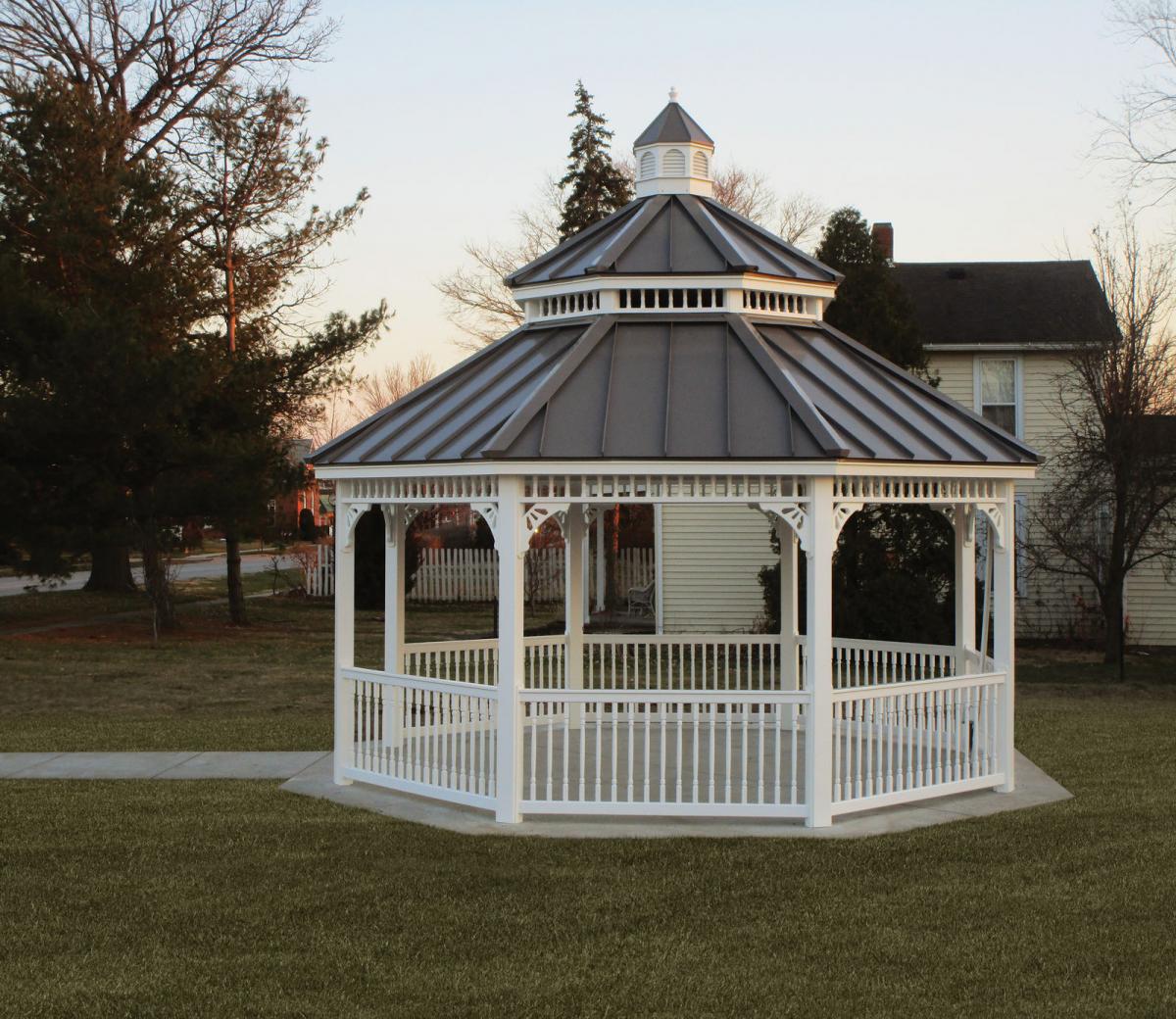 A gazebo is similar to a pavilion or ramada, but distinguished by its number of sides. Whereas a pavilion is typically square or rectangular with four sides, a gazebo has six or eight sides, making it closer to circular in shape. Therefore a gazebos add a certain touch of refinement wherever they are placed, making them a common fixture of event venues and public gardens.
You can add this luxury to your own yard by building a gazebo. These versatile structures can be completely open on the sides or partially walled for more shelter and privacy. Gazebos come in various sizes but are typically just large enough for a seating area and perhaps a table—perfect for entertaining a small group or simply enjoying a fine day with a good book.
Pool Sheds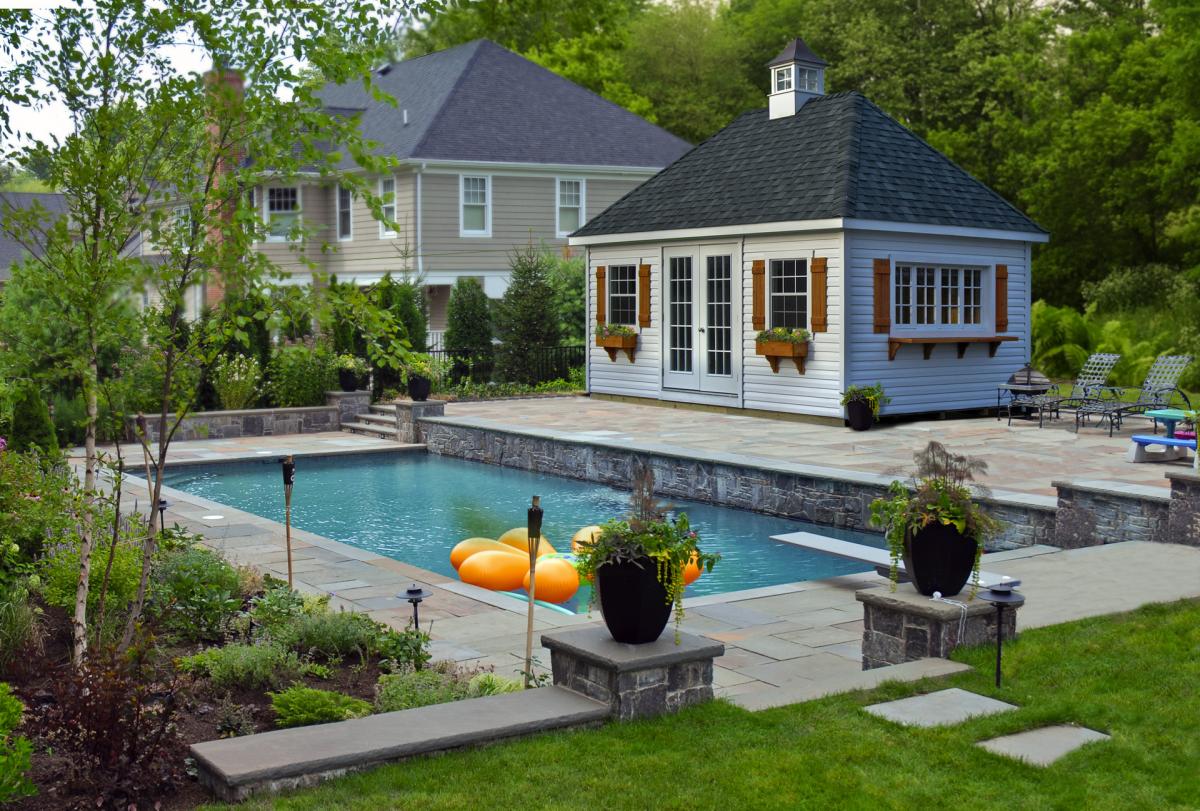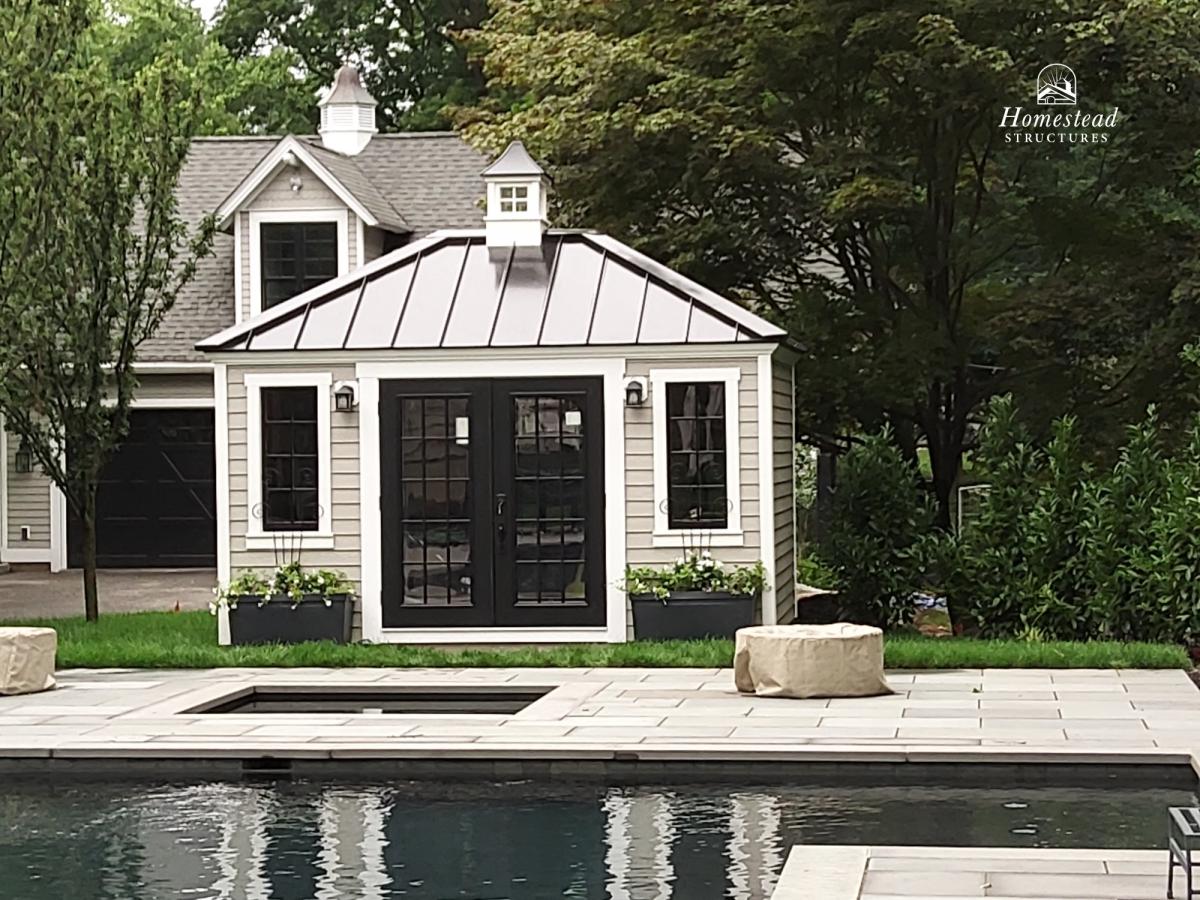 A pool shed or a pool house makes a valuable backyard structure for any pool owner. Anyone with a pool knows how necessary maintenance supplies, tools, and toys are to have around. When first getting a pool, many homeowners elect to keep these supplies in the garage or in outdoor cabinets. However, as the summer approaches and pool parties begin (especially if you have kids), dragging all the equipment out becomes a hassle.
A pool shed is an easy storage solution, keeping everything close to the pool and well-organized. It's a relatively small structure that stores all of your supplies and toys next to the pool deck with easy access. If you have the space and the desire for more versatility, you could upgrade over a shed and add a pool house instead.
Pool Houses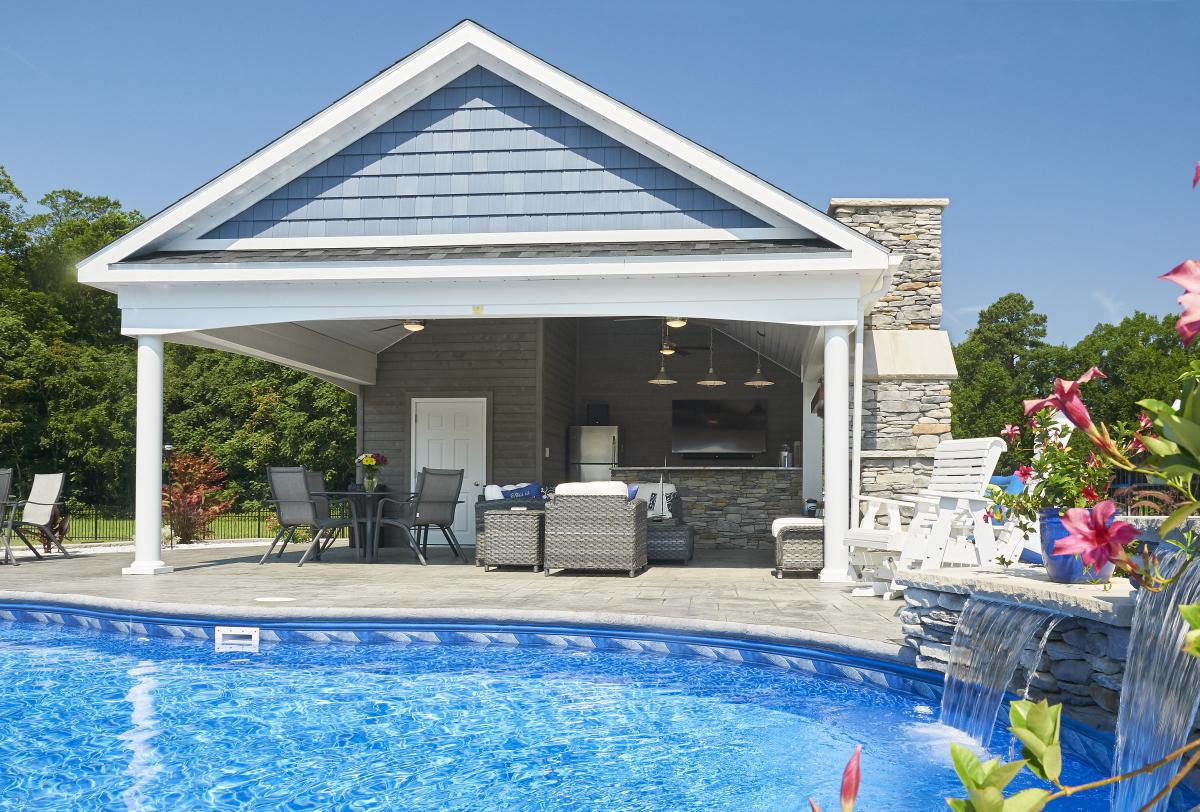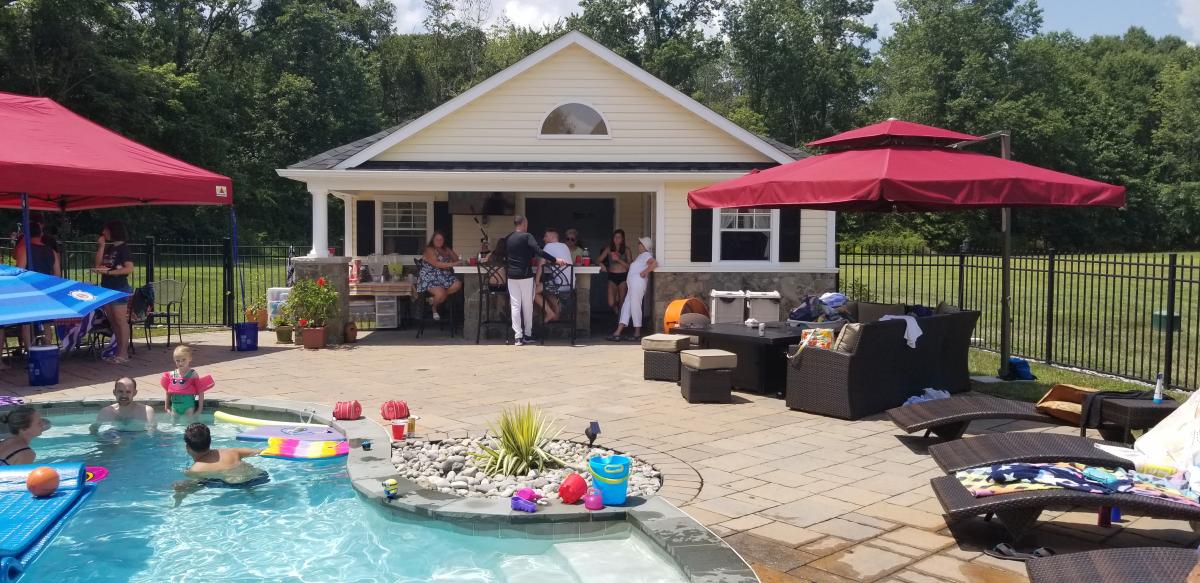 The primary difference between a pool house and a shed is that pool houses are much more than just storage space. Imagine being able to lounge comfortably by the pool on a separate, shaded patio. Or imagine entertaining guests with a poolside bar. A pool house can even have plumbing so you can add a restroom for you and your guests right next to the pool.
With the extra space and amenities, a pool house opens up so many new opportunities for backyard leisure and entertainment. Depending on how you design your pool house or pool shed, you can create your own private oasis right in your backyard!
Pergolas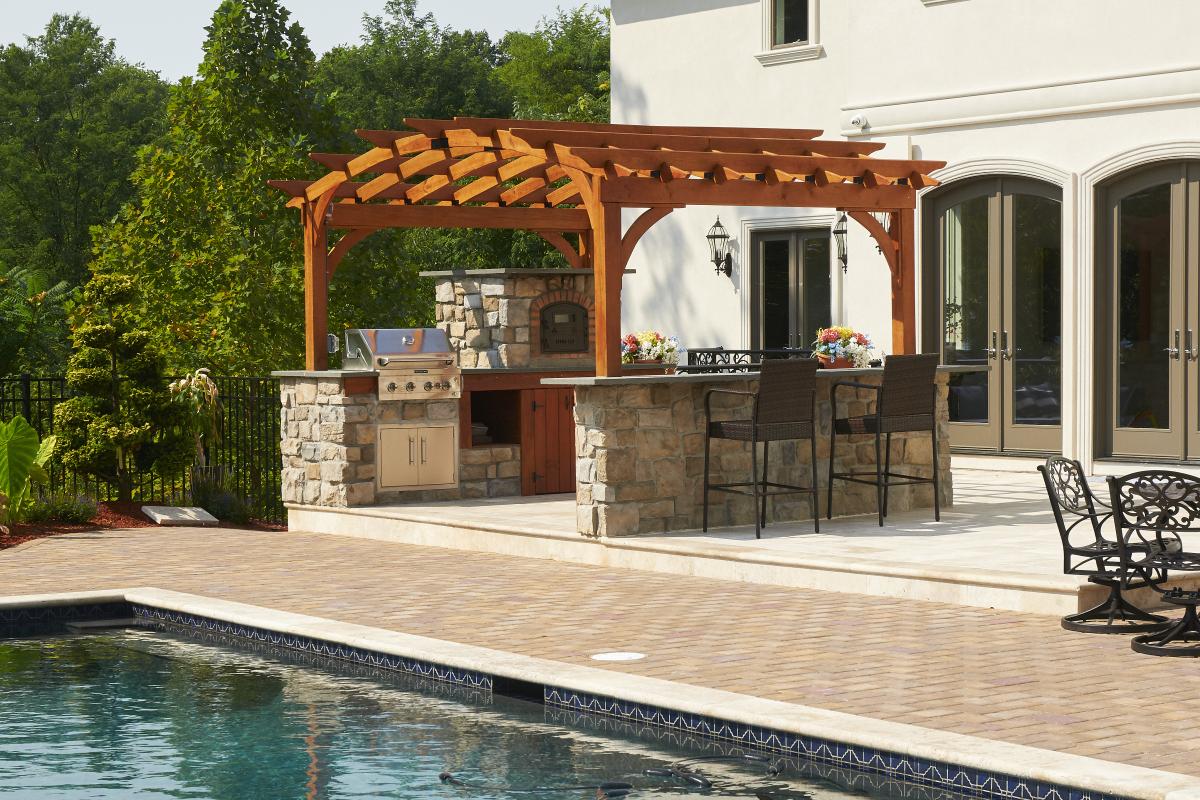 If you want an attractive shade structure that is also quite practical, consider adding a pergola to your backyard. Pergolas are patio covers built with vertical posts and upper frameworks of crossbeams or lattice that provide partial shade. They can be layered with cloth or mesh when extra shade is needed. In addition to patios, pergolas may cover walkways, pool decks, or sitting areas.
Many people like to add these structures to other buildings like a pool shed, house, or backyard pavilion. By building a pergola on the side, you can enhance the aesthetic while clearly designating purpose in your outdoor living space. For example, a pergola may shade the gathering area outside your house or by the pool. No matter where it's located, a pergola is sure to lend a look of sophistication to any backyard.
Arbor
An arbor is a type of backyard structure commonly seen in gardens and planted walkways, or as the entrance to a walled-off outdoor space. It's a wooden archway made of boards or lattice and commonly draped with vining plants. They can take a variety of forms, and a larger arbor may also provide a seating area with benches or chairs underneath.
Garden Sheds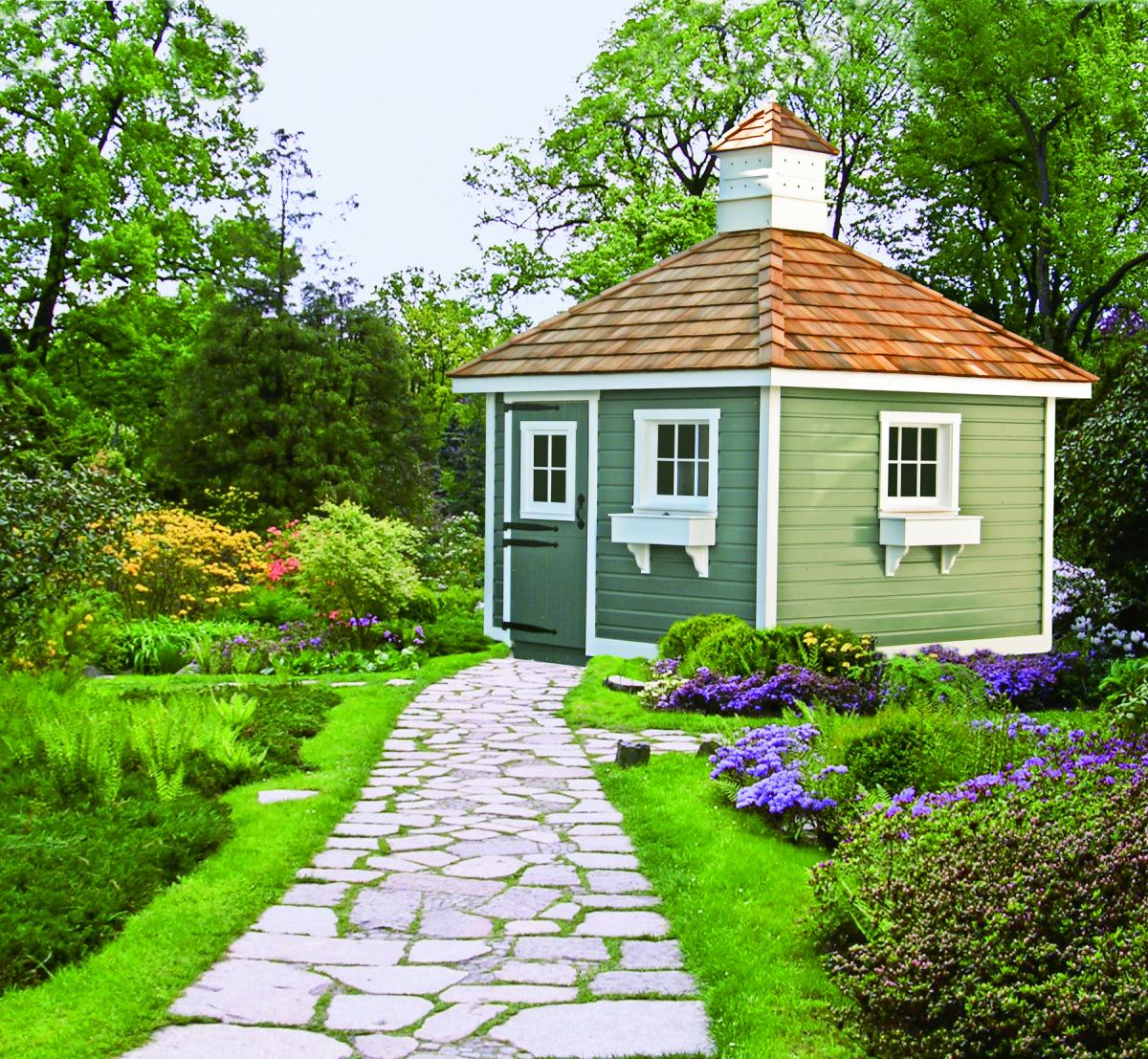 If you simply want a place to store tools and perhaps some seasonal outdoor items, a gardening shed is the right structure for you. These buildings can actually be quite attractive and add a certain charm to your yard when they are well-built.
A garden shed can be built with additional perks as well. For example, you can construct a shed with flower boxes, electricity, a workbench, or custom windows. Available in different sizes and designs, a small shed can take up very little space and hold just the essentials, but a large one could hold a riding mower and many more tools.
Garages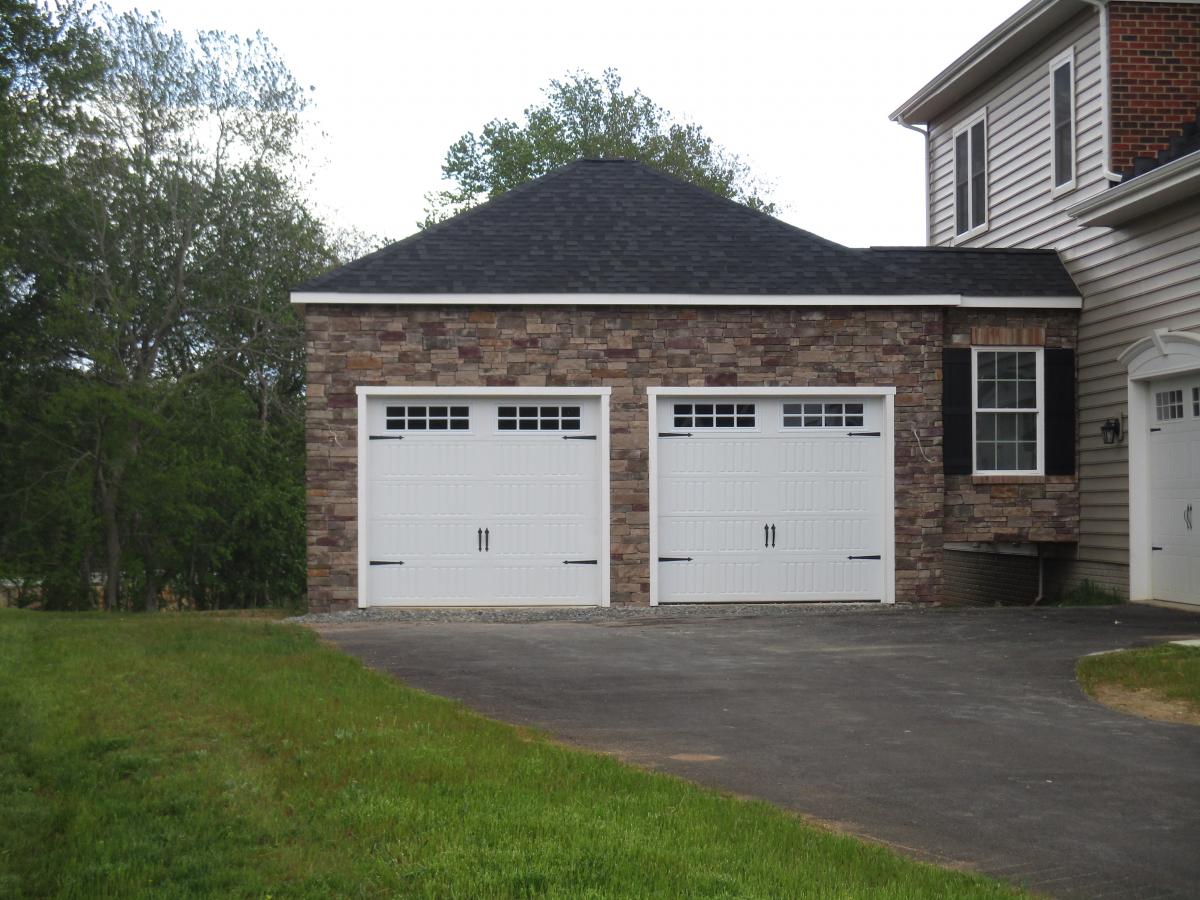 If you have multiple cars, trucks, or any building projects, then you know you need extra space for them. Many homes have some form of an attached garage, but having a detached garage can be quite beneficial if you have additional vehicles or projects. More than just a practical structure, however, garages can actually be quite attractive and add a lot of value to a property.
A garage designed to match with the house can add visual balance to the property while making functional use of yard space. You might simply use the building for storage, but you could also use it as a place to relax, work on a hobby, or play games with the family. Even though the word "garage" typically implies vehicle storage, you can use a well-built garage for just about anything, and really get the most out of your outdoor space.
From Pool Sheds To Pergolas, There's A Structure For Every Need
All of these outdoor structures have one intent: maximize your enjoyment of your backyard space. That might be a pool shed or house that contains your pool supplies, so you don't have to lug them out of the garage. Or it might be a beautifully-crafted pergola that adds an artistic flair to your backyard space. Regardless of what you buy, each of these structures will enable you to enjoy your space and feel relaxed.
Of course, you don't have to pick one of these structures. If you have something else in mind entirely, you can always contact us, so that we can make your outdoor space perfect!